Improving Efficiency in Dental School Clinics by Computerizing a Manual Task
School of Dentistry, University of Michigan, Ann Arbor, MI 48109, USA
*
Author to whom correspondence should be addressed.
Received: 6 February 2019 / Revised: 10 April 2019 / Accepted: 13 April 2019 / Published: 1 May 2019
Abstract
Background:
We computerized a formerly manual task of requesting dental faculty to conduct quality checks on student providers during patient encounters. We surveyed student providers who experienced the manual and computerized versions of the faculty request process for one year each.
Methods:
All surveys were emailed to student providers and there were no reminders or incentives to complete the survey. Simple descriptive data were used to present the results of the study and Institutional Review Board (IRB) approval was provided by the University of Michigan Medical School Committee on Human Research (HUM00131029) on 1 June 2018
Results:
The response rate for the survey was 47.1%. A total of 16.1% of student providers reported that the Faculty Request System (FRS) helped them save 1–10 min per clinic session, 22.3% said it saved them 11–20 min, 29.5% said it saved them 21–30 min, 21.4% said it saved 31–40 min, 2.67% said it saved 41–50 min, and 7.14% said it saved more than 50 min per clinic session. Regarding how student providers used the additional time they gained from the FRS, 96.4% said they used some of the time to write up their notes, 88.4% said they used some of the time to discuss treatments with their patients, 83.9% said they engaged in general conversation with their patients, 81.3% said they took care of other patient-related duties, while 1.8% said they had less time available after the implementation of the FRS.
Conclusions:
The FRS enabled student providers to remain with their patients for almost a full 30 min more (during a 3 h session). This paper describes several benefits experienced by student providers, and the resulting impacts on patient experiences.
View Full-Text
►

▼

Figures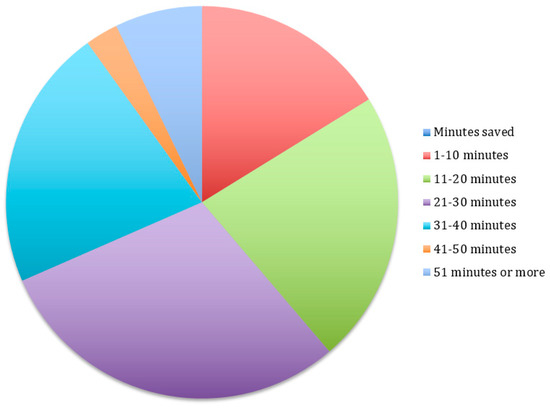 Figure 1
This is an open access article distributed under the
Creative Commons Attribution License
which permits unrestricted use, distribution, and reproduction in any medium, provided the original work is properly cited (CC BY 4.0).

Share & Cite This Article
MDPI and ACS Style
Virun, V.; Singhe Dhaliwal, G.; Liu, C.-H.J.; Sharma, P.; Kaur, H.; Nalliah, R.P. Improving Efficiency in Dental School Clinics by Computerizing a Manual Task. Dent. J. 2019, 7, 44.
Note that from the first issue of 2016, MDPI journals use article numbers instead of page numbers. See further details here.
Related Articles
Comments
[Return to top]