Assessing Clinical Outcomes in Colorectal Cancer with Assays for Invasive Circulating Tumor Cells
1
Stony Brook Medicine, Stony Brook, NY 11794, USA
2
Division of Hematology/Oncology, Department of Medicine, Stony Brook University Hospital, Stony Brook, NY 11794, USA
3
Department of Medicine and Research, Veterans Affairs Medical Center, Northport, NY 11768, USA
4
Vitatex Inc., 25 Health Sciences Drive, Stony Brook, NY 11790, USA
*
Author to whom correspondence should be addressed.
Received: 10 April 2018 / Revised: 17 May 2018 / Accepted: 1 June 2018 / Published: 6 June 2018
Abstract
Colorectal carcinoma (CRC) is the second leading cause of cancer-related mortality. The goals of this study are to evaluate the association between levels of invasive circulating tumor cells (iCTCs) with CRC outcomes and to explore the molecular characteristics of iCTCs. Peripheral blood from 93 patients with Stage I–IV CRC was obtained and assessed for the detection and characterization of iCTCs using a functional collagen-based adhesion matrix (CAM) invasion assay. Patients were followed and assessed for overall survival. Tumor cells isolated by CAM were characterized using cell culture and microarray analyses. Of 93 patients, 88 (95%) had detectable iCTCs, ranging over 0–470 iCTCs/mL. Patients with Stage I–IV disease exhibited median counts of 0.0 iCTCs/mL (
n
= 6), 13.0 iCTCs/mL (
n
= 12), 41.0 iCTCs/mL (
n
= 12), and 133.0 iCTCs/mL (
n
= 58), respectively (
p
< 0.001). Kaplan–Meier curve analysis demonstrated a significant survival benefit in patients with low iCTC counts compared with in patients with high iCTC counts (log-rank
p
< 0.001). Multivariable Cox model analysis revealed that iCTC count was an independent prognostic factor of overall survival (
p
= 0.009). Disease stage (
p
= 0.01, hazard ratio 1.66; 95% confidence interval: 1.12–2.47) and surgical intervention (
p
= 0.03, HR 0.37; 95% CI: 0.15–0.92) were also independent prognostic factors. Gene expression analysis demonstrated the expression of both endothelial and tumor progenitor cell biomarkers in iCTCs. CAM-based invasion assay shows a high detection sensitivity of iCTCs that inversely correlated with overall survival in CRC patients. Functional and gene expression analyses showed the phenotypic mosaics of iCTCs, mimicking the survival capability of circulating endothelial cells in the blood stream.
View Full-Text
►

▼

Figures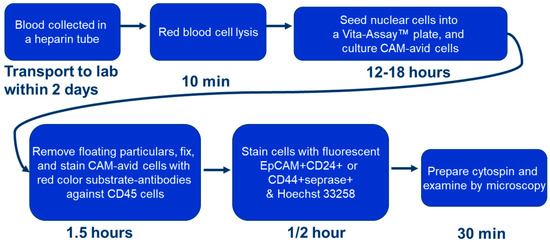 Figure 1
This is an open access article distributed under the
Creative Commons Attribution License
which permits unrestricted use, distribution, and reproduction in any medium, provided the original work is properly cited (CC BY 4.0).

Share & Cite This Article
MDPI and ACS Style
Zhang, Y.; Zarrabi, K.; Hou, W.; Madajewicz, S.; Choi, M.; Zucker, S.; Chen, W.-T. Assessing Clinical Outcomes in Colorectal Cancer with Assays for Invasive Circulating Tumor Cells. Biomedicines 2018, 6, 69.
Note that from the first issue of 2016, MDPI journals use article numbers instead of page numbers. See further details here.
Related Articles
Comments
[Return to top]