Dealing with an Unconventional Genetic Code in  Mitochondria: The Biogenesis and Pathogenic  Defects of the 5‐Formylcytosine Modification in  Mitochondrial tRNAMet
Mitochondrial Genetics, Medical Research Council Mitochondrial Biology Unit, University of Cambridge,  Wellcome Trust/MRC Building, Cambridge Biomedical Campus, Hills Road, Cambridge CB2 0XY, UK
*
Author to whom correspondence should be addressed.
Academic Editor: Valérie de Crécy‐Lagard
Received: 13 January 2017 / Accepted: 24 February 2017 / Published: 2 March 2017
Abstract
Human mitochondria contain their own genome, which uses an unconventional genetic code. In addition to the standard AUG methionine codon, the single mitochondrial tRNA Methionine (mt‐tRNAMet) also recognises AUA during translation initiation and elongation. Post‐transcriptional modifications of tRNAs are important for structure, stability, correct folding and aminoacylation as well as decoding. The unique 5‐formylcytosine (f5C) modification of position 34 in mt‐tRNAMet has been long postulated to be crucial for decoding of unconventional methionine codons and efficient mitochondrial translation. However, the enzymes responsible for the formation of mitochondrial f5C have been identified only recently. The first step of the f5C pathway consists of methylation of cytosine by NSUN3. This is followed by further oxidation by ABH1. Here, we review the role of f5C, the latest breakthroughs in our understanding of the biogenesis of this unique mitochondrial tRNA modification and its involvement in human disease.
View Full-Text
►

▼

Figures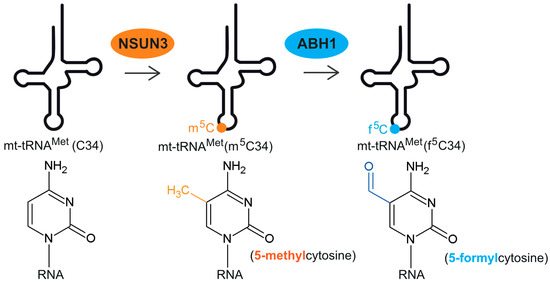 Figure 1
This is an open access article distributed under the
Creative Commons Attribution License
which permits unrestricted use, distribution, and reproduction in any medium, provided the original work is properly cited (CC BY 4.0).

Share & Cite This Article
MDPI and ACS Style
Van Haute, L.; Powell, C.; Minczuk, M. Dealing with an Unconventional Genetic Code in  Mitochondria: The Biogenesis and Pathogenic  Defects of the 5‐Formylcytosine Modification in  Mitochondrial tRNAMet. Biomolecules 2017, 7, 24.
Note that from the first issue of 2016, MDPI journals use article numbers instead of page numbers. See further details here.
Related Articles
Comments
[Return to top]