Kinetic Research on the Curing Reaction of Hydroxyl-Terminated Polybutadiene Based Polyurethane Binder System via FT-IR Measurements
1
Chemical Engineering and Environment College, North University of China, Taiyuan 030051, China
2
Department of ESH, Science and Technology University of Sichuan Staff, Chengdu 610101, China
3
Graduate School at Shenzhen, Tsinghua University, Shenzhen 518000, China
4
School of Ammunition Engineering, Army Engineering University, Shijiazhuang 050003, China
5
College of Engineering, Sichuan Normal University, Chengdu 610101, China
*
Authors to whom correspondence should be addressed.
Received: 5 April 2018 / Revised: 24 April 2018 / Accepted: 30 April 2018 / Published: 4 May 2018
Abstract
Polyurethane binder systems based on hydroxyl-terminated polybutadiene (HTPB) possess several superior properties such as superior adhesion, high solid-loading capacity, outstanding mechanical performance, etc. They have been widely used in coatings and adhesives as well as in medical and military industries. The cure reaction between hydroxyl-terminated polybutadiene (HTPB) and diisocyanates plays a key role in the properties of final products as well as the adjustment of process parameters. FT-IR spectroscopy is applied to investigate the kinetics of the curing reaction of HTPB and isophorone diisocyanate (IPDI) in the presence of a low toxic and low viscosity catalyst, stannous isooctoate (TECH). The concentrations of the isocyanate groups (NCO) characterized by FT-IR during the cure reaction with respect to time were recorded at different temperatures and at constant stoichiometric ratio R
n[NCO]/n[OH]
= 1.0. The kinetic parameters, i.e., activation energy (
Ea
), pre-exponential factor (
A
), activation enthalpy (Δ
H
) and activation entropy (Δ
S
) were determined. In addition, the curing process and mechanism of the HTPB-IPDI reaction are discussed.
View Full-Text
►

▼

Figures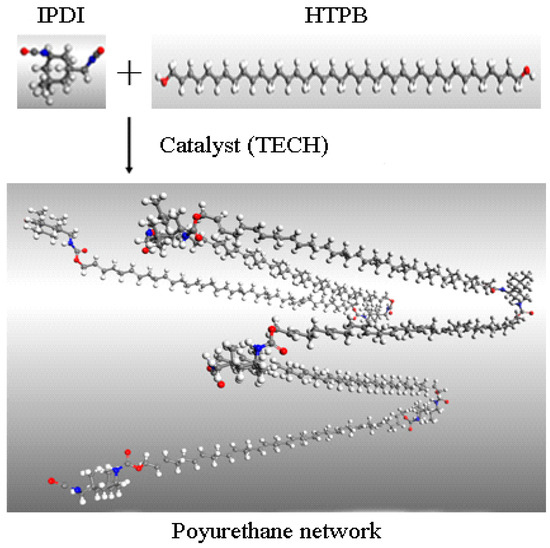 Figure 1
This is an open access article distributed under the
Creative Commons Attribution License
which permits unrestricted use, distribution, and reproduction in any medium, provided the original work is properly cited (CC BY 4.0).

Share & Cite This Article
MDPI and ACS Style
Guo, J.; Chai, T.; Liu, Y.; Cui, J.; Ma, H.; Jing, S.; Zhong, L.; Qin, S.; Wang, G.; Ren, X. Kinetic Research on the Curing Reaction of Hydroxyl-Terminated Polybutadiene Based Polyurethane Binder System via FT-IR Measurements. Coatings 2018, 8, 175.
Note that from the first issue of 2016, MDPI journals use article numbers instead of page numbers. See further details here.
Related Articles
Comments
[Return to top]