Galactosylated Liposomes for Targeted Co-Delivery of Doxorubicin/Vimentin siRNA to Hepatocellular Carcinoma
1
Department of Biomedical Laboratory Science, Konyang University, Daejeon 35365, Korea
2
Department of Medicine, New York University School of Medicine, New York, NY 10016, USA
3
Department of Bioscience and Biotechnology, Konkuk University, Seoul 05029, Korea
4
Department of Biochemistry, College of Veterinary Medicine, Seoul National University, Seoul 08826, Korea
*
Authors to whom correspondence should be addressed.
Academic Editor: Ilaria Armentano
Received: 5 June 2016 / Revised: 6 July 2016 / Accepted: 18 July 2016 / Published: 30 July 2016
Abstract
The combination of therapeutic nucleic acids and chemotherapeutic drugs has shown great promise for cancer therapy. In this study, asialoglycoprotein receptors (ASGPR) targeting-ligand-based liposomes were tested to determine whether they can co-deliver vimentin siRNA and doxorubicin to hepatocellular carcinoma (HCC) selectively. To achieve this goal, we developed an ASGPR receptor targeted co-delivery system called gal-doxorubicin/vimentin siRNA liposome (Gal-DOX/siRNA-L). The Gal-DOX/siRNA-L was created via electrostatic interaction of galactose linked-cationic liposomal doxorubicin (Gal-DOX-L) on vimentin siRNA. Previous studies have shown that Gal-DOX/siRNA-L inhibited tumor growth by combined effect of DOX and vimentin siRNA than single delivery of either DOX or vimentin siRNA. These Gal-DOX/siRNA-Ls showed stronger affinity to human hepatocellular carcinoma cells (Huh7) than other cells (lung epithelial carcinoma, A549). These liposomes also have demonstrated that novel hepatic drug/gene delivery systems composed of cationic lipid (DMKE:
O,O'
-dimyristyl-
N
-lysyl glutamate), cholesterol, galactosylated ceramide, POPC (1-palmitoyl-2-oleoyl-
sn
-glycero-3-phosphocholine), and PEG
2000
-DSPE (distearoyl phosphatidyl ethanolamine) at 2:1:1:1:0.2 (moral ratios) can be used as an effective drug/gene carrier specifically targeting the liver in vivo. These results suggest that Gal-DOX-siRNA-L could effectively target tumor cells, enhance transfection efficacy and subsequently achieve the co-delivery of DOX and siRNA, demonstrating great potential for synergistic anti-tumor therapy.
View Full-Text
►

▼

Figures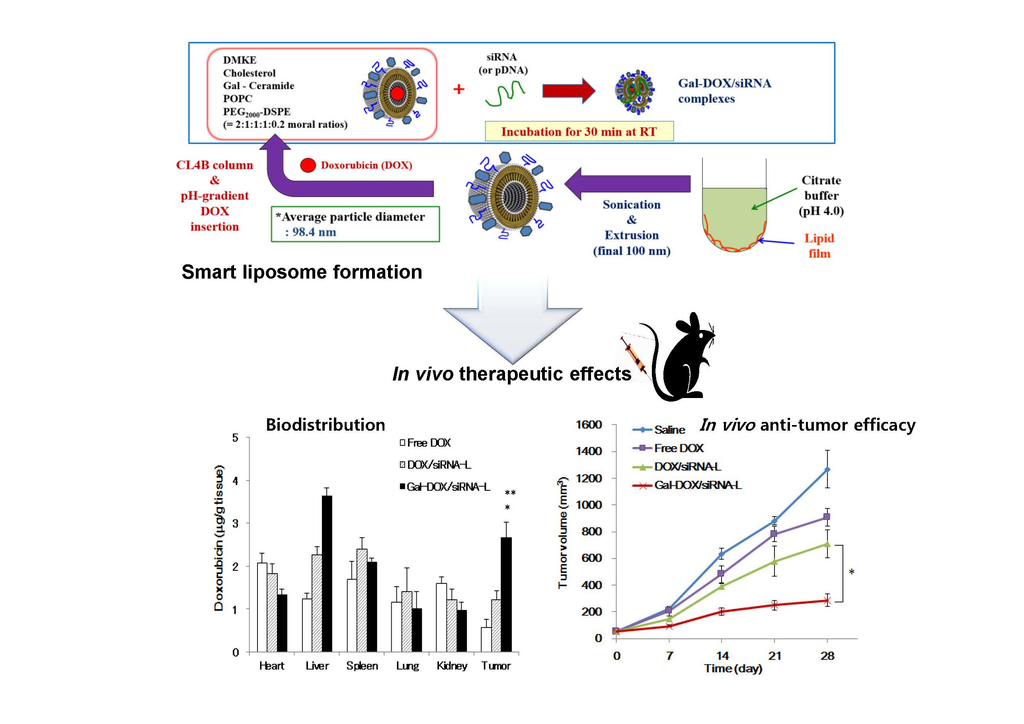 Graphical abstract
This is an open access article distributed under the
Creative Commons Attribution License
which permits unrestricted use, distribution, and reproduction in any medium, provided the original work is properly cited (CC BY 4.0).

Share & Cite This Article
MDPI and ACS Style
Oh, H.R.; Jo, H.-Y.; Park, J.S.; Kim, D.-E.; Cho, J.-Y.; Kim, P.-H.; Kim, K.-S. Galactosylated Liposomes for Targeted Co-Delivery of Doxorubicin/Vimentin siRNA to Hepatocellular Carcinoma. Nanomaterials 2016, 6, 141.
Note that from the first issue of 2016, MDPI journals use article numbers instead of page numbers. See further details here.
Related Articles
Comments
[Return to top]