The Development of Tyrosyl-DNA Phosphodiesterase 1 Inhibitors. Combination of Monoterpene and Adamantine Moieties via Amide or Thioamide Bridges
1
Institute of Chemical Biology and Fundamental Medicine, Siberian Branch of Russian Academy of Sciences, 8, Lavrentiev Ave., Novosibirsk 630090, Russia
2
N.N. Vorozhtsov Novosibirsk Institute of Organic Chemistry, Siberian Branch of Russian Academy of Sciences, 9, Lavrentiev Ave., Novosibirsk 630090, Russia
3
Novosibirsk State University, 2, Pirogova Str., Novosibirsk 630090, Russia
4
School of Chemical Sciences, The University of Auckland, Private Bag 92019, Victoria Street West, Auckland 1142, New Zealand
5
School of Pharmacy, Keele University, Hornbeam Building, Staffordshire ST5 5BG, UK
6
Maurice Wilkins Centre for Molecular Biodiscovery, The University of Auckland, Private Bag 92019, Victoria Street West, Auckland 1142, New Zealand
*
Author to whom correspondence should be addressed.
Received: 12 June 2019 / Revised: 2 July 2019 / Accepted: 3 July 2019 / Published: 9 July 2019
(This article belongs to the Section
Chemistry
)
Abstract
Eleven amide and thioamide derivatives with monoterpene and adamantine substituents were synthesised. They were tested for their activity against the tyrosyl-DNA phosphodiesterase 1 DNA (Tdp1) repair enzyme with the most potent compound
47a
, having an IC
50
value of 0.64 µM. When tested in the A-549 lung adenocarcinoma cell line, no or very limited cytotoxic effect was observed for the ligands. However, in conjunction with topotecan, a well-established Topoisomerase 1 (Top1) poison in clinical use against cancer, derivative
46a
was very cytotoxic at 5 µM concentration, displaying strong synergism. This effect was only seen for
46a
(IC
50
—3.3 µM) albeit some other ligands had better IC
50
values. Molecular modelling into the catalytic site of Tdp1 predicted plausible binding mode of
46a
, effectively blocking access to the catalytic site.
View Full-Text
►

▼

Figures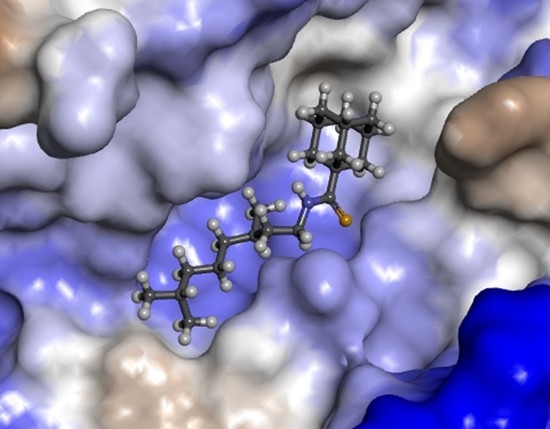 Graphical abstract
This is an open access article distributed under the
Creative Commons Attribution License
which permits unrestricted use, distribution, and reproduction in any medium, provided the original work is properly cited (CC BY 4.0).

Share & Cite This Article
MDPI and ACS Style
Chepanova, A.A.; Mozhaitsev, E.S.; Munkuev, A.A.; Suslov, E.V.; Korchagina, D.V.; Zakharova, O.D.; Zakharenko, A.L.; Patel, J.; Ayine-Tora, D.M.; Reynisson, J.; Leung, I.K.H.; Volcho, K.P.; Salakhutdinov, N.F.; Lavrik, O.I. The Development of Tyrosyl-DNA Phosphodiesterase 1 Inhibitors. Combination of Monoterpene and Adamantine Moieties via Amide or Thioamide Bridges. Appl. Sci. 2019, 9, 2767.
Note that from the first issue of 2016, MDPI journals use article numbers instead of page numbers. See further details here.
Related Articles
Comments
[Return to top]