Titanian Clinohumite-Bearing Peridotite from the Ulamertoq Ultramafic Body in the 3.0 Ga Akia Terrane of Southern West Greenland
1
Graduate School of Natural Science and Technology, Kanazawa University, Kanazawa, Ishikawa 920-1192, Japan
2
Faculty of Geosciences and Civil Engineering, Institute of Science and Engineering, Kanazawa University, Kanazawa, Ishikawa 920-1192, Japan
3
Lamont-Doherty Earth Observatory, Columbia University, New York, NY 10027, USA
4
Department of Geosciences and Natural Resource Management, University of Copenhagen, 10, 1165 Copenhagen, Denmark
5
Department of Earth and Atmospheric Science, Univesity of Alberta, Edmonton, AB T6G 2B4, Canada
6
National Museum of Nature and Science, Tokyo 110-8718, Japan
7
Institute of Geology and Geoinformation Geological Survey of Japan/AIST, Tsukuba, Ibaraki 305-8560, Japan
*
Author to whom correspondence should be addressed.
Received: 27 December 2018 / Revised: 27 March 2019 / Accepted: 28 March 2019 / Published: 1 April 2019
Abstract
A titanian clinohumite-bearing dunite was recently found in the Ulamertoq ultramafic body within the 3.0 Ga Akia Terrane of southern West Greenland. Titanian clinohumite occurs as disseminated and discrete grains. Titanian clinohumite contains relatively high amounts of fluorine, reaching up to 2.4 wt.%. The high-Fo content of olivine (Fo
93
) coupled with low Cr/(Cr + Al) ratio of orthopyroxene implies that the dunite host is not of residual origin after melt extraction by partial melting of the primitive mantle. Olivine grains are classified into two types based on abundances of opaque mineral inclusions: (1) dusty inclusion-rich and (2) clear inclusion-free olivines. Opaque inclusions in coarse-grained olivines are mainly magnetite. Small amounts of ilmenite are also present around titanian clinohumite grains. The observed mineral association indicates partial replacement of titanian clinohumite to ilmenite (+magnetite) and olivine following the reaction: titanian clinohumite = ilmenite + olivine + hydrous fluid. The coexistence of F-bearing titanian clinohumite, olivine, and chromian chlorite indicates equilibration at around 800–900 °C under garnet-free conditions (<2 GPa). Petrological and mineralogical characteristics of the studied titanian clinohumite-bearing dunite are comparable to deserpentinized peridotites derived from former serpentinites. This study demonstrates the importance of considering the effects of hydration/dehydration processes for the origin of ultramafic bodies found in polymetamorphic Archaean terranes.
View Full-Text
►

▼

Figures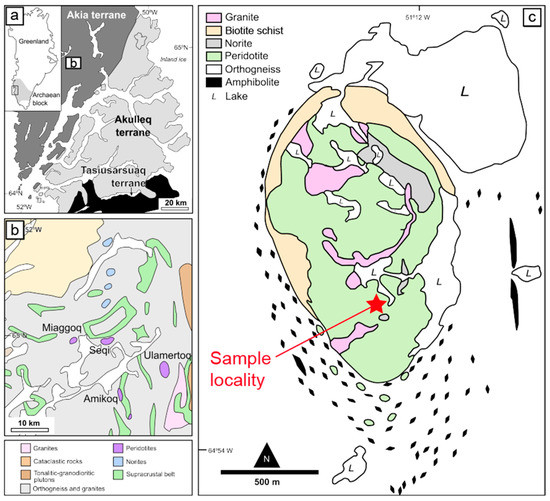 Figure 1
This is an open access article distributed under the
Creative Commons Attribution License
which permits unrestricted use, distribution, and reproduction in any medium, provided the original work is properly cited (CC BY 4.0).

Share & Cite This Article
MDPI and ACS Style
Nishio, I.; Morishita, T.; Szilas, K.; Pearson, G.; Tani, K.-I.; Tamura, A.; Harigane, Y.; Guotana, J.M. Titanian Clinohumite-Bearing Peridotite from the Ulamertoq Ultramafic Body in the 3.0 Ga Akia Terrane of Southern West Greenland. Geosciences 2019, 9, 153.
Note that from the first issue of 2016, MDPI journals use article numbers instead of page numbers. See further details here.
Related Articles
Comments
[Return to top]