Mapping a Subsurface Water Channel with X-Band and C-Band Synthetic Aperture Radar at the Iron Age Archaeological Site of 'Uqdat al-Bakrah (Safah), Oman
1
School of Civil and Environmental Engineering, The University of New South Wales, UNSW SYDNEY, Kingsford, NSW 2052, Australia
2
Department of Near Eastern Studies, Johns Hopkins University, Baltimore, MD 21218, USA
3
Department of Geological Sciences and Geological Engineering, Queen's University, Kingston, ON K7L 3N6 Canada
4
Johns Hopkins University, Sheridan Libraries and Museums, Baltimore, MD 21218, USA
5
Department of Archaeology, The University of Sydney, Sydney, NSW 2006, Australia
6
Center for Advanced Spatial Technologies, University of Arkansas, Fayetteville, AR 72701, USA
7
Jet Propulsion Laboratory, Pasadena, CA 91109 USA
8
Department of Archaeology and Anthropology, University of Saskatchewan, Saskatoon, SK S7N 5C9 Canada
*
Author to whom correspondence should be addressed.
Received: 10 July 2018 / Revised: 25 August 2018 / Accepted: 29 August 2018 / Published: 5 September 2018
Abstract
Subsurface imaging in arid regions is a well-known application of satellite Synthetic Aperture Radar (SAR). Archaeological prospection has often focused on L-band SAR sensors, given the ability of longer wavelengths to penetrate more deeply into sand. In contrast, this study demonstrates capabilities of shorter-wavelength, but higher spatial resolution, C-band and X-band SAR sensors in archaeological subsurface imaging at the site of 'Uqdat al-Bakrah (Safah), Oman. Despite having varying parameters and acquisitions, both the X-band and C-band images analyzed were able to identify a subsurface paleo-channel that is not visible on the ground surface. This feature was first identified through Ground Penetrating Radar (GPR) survey, then recognized in the SAR imagery and further verified by test excavations. Both the GPR and the excavations reveal the base of the paleo-channel at a depth of 0.6 m–0.7 m. Hence, both X-band and C-band wavelengths are appropriate for subsurface archaeological prospection in suitable (dry silt and sand) conditions with specific acquisition parameters. Moreover, these results offer important new insights into the paleo-environmental context of ancient metal-working at 'Uqdat al-Bakrah and demonstrate surface water flow roughly contemporary with the site's occupation.
View Full-Text
►

▼

Figures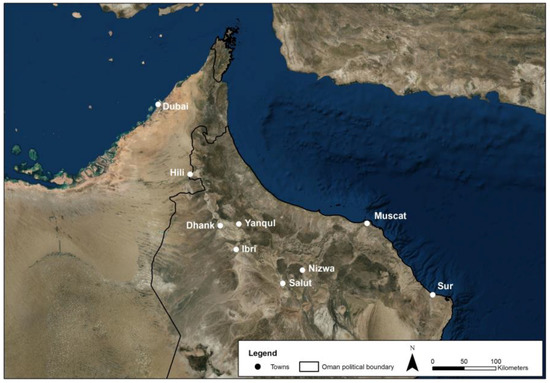 Figure 1
This is an open access article distributed under the
Creative Commons Attribution License
which permits unrestricted use, distribution, and reproduction in any medium, provided the original work is properly cited (CC BY 4.0).

Share & Cite This Article
MDPI and ACS Style
Wiig, F.; Harrower, M.J.; Braun, A.; Nathan, S.; Lehner, J.W.; Simon, K.M.; Sturm, J.O.; Trinder, J.; Dumitru, I.A.; Hensley, S.; Clark, T. Mapping a Subsurface Water Channel with X-Band and C-Band Synthetic Aperture Radar at the Iron Age Archaeological Site of 'Uqdat al-Bakrah (Safah), Oman. Geosciences 2018, 8, 334.
Note that from the first issue of 2016, MDPI journals use article numbers instead of page numbers. See further details here.
Related Articles
Comments
[Return to top]