Developing an Ethically Acceptable Virtual Fencing System for Sheep
1
School of Environmental and Rural Science, University of New England, Armidale, NSW 2350, Australia
2
Commonwealth Scientific and Industrial Research Organisation, Agriculture and Food, Locked Bag 1, Armidale NSW 2350, Australia
3
Behavioural Ecology Group, Department of Animal Sciences, Wageningen University, 6700 Wageningen, The Netherlands
4
Adaptation Physiology Group, Department of Animal Sciences, Wageningen University, 6700 Wageningen, The Netherlands
5
Commonwealth Scientific and Industrial Research Organisation, Agriculture and Food, Locked Bag 2, Glen Osmond, SA 5064, Australia
*
Author to whom correspondence should be addressed.
Received: 24 January 2018 / Revised: 15 February 2018 / Accepted: 26 February 2018 / Published: 27 February 2018
Simple Summary
Virtual fencing has the potential to be implemented in animal management systems where conventional fencing cannot be applied. Previous work has been conducted on cattle with virtual fencing technology that uses a collar that emits a warning audio when an animal approaches a GPS set boundary. If the animal continues walking towards the boundary an electric stimulus is applied. Less research has been conducted on sheep virtual fencing, so alternatives need to be explored to test the proof of concept on the application of virtual fencing with sheep. Using manually controlled training collars, 30 crossbred sheep were trained to respond to an audio cue in order to avoid receiving a low-level electrical stimulus.
To ensure animal welfare isn't compromised when using virtual fencing, animals must be able to associate a benign conditioned stimulus with an aversive stimulus. This study used an associative learning test to train 30, four-year-old, Merino x Suffolk ewes, to associate an audio cue with an electric stimulus. Collars manually controlled by a GPS hand-held unit were used to deliver the audio and electric stimuli cues. For the associative learning, when sheep approached an attractant at a distance of three m from the trough, an audio cue was applied for one s. If the sheep stopped or changed direction, the audio cue ceased immediately and no electrical stimulus was applied. If the sheep did not respond to the audio cue it was followed by a low-level electrical stimulus. Approaches to the attractant significantly decreased from day one to day two. It took a mean of three pairings of the audio cue and electrical stimulus for a change in behaviour to occur, after which sheep that approached the attractant had a 52% probability of avoiding the electrical stimulus and responding to the audio cue alone. Further research is required to determine whether sheep can be trained to associate an audio cue with a negative stimulus for use in group grazing situations.
View Full-Text
►

▼

Show Figures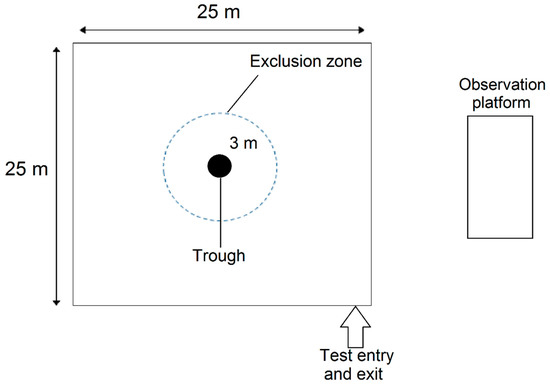 Figure 1
This is an open access article distributed under the
Creative Commons Attribution License
which permits unrestricted use, distribution, and reproduction in any medium, provided the original work is properly cited

Note that from the first issue of 2016, MDPI journals use article numbers instead of page numbers. See further details
here
.