Circulation of Indigenous Bovine Respiratory Syncytial Virus Strains in Turkish Cattle: The First Isolation and Molecular Characterization
1
Department of Veterinary Virology, Faculty of Veterinary Medicine, Ondokuz Mayis University, 55139 Samsun, Turkey
2
Department of Veterinary Experimental Animals, Faculty of Veterinary Medicine, Ondokuz Mayis University, 55139 Samsun, Turkey
3
Veterinary Science Centre, School of Veterinary Medicine, University College of Dublin, Dublin 4, Ireland
4
Bornova Veterinary Control Institute, Veterinary Control Institute Directorates, Ministry of Agriculture and Forestry, 35010 Izmir, Turkey
*
Authors to whom correspondence should be addressed.
Received: 12 August 2020 / Revised: 11 September 2020 / Accepted: 18 September 2020 / Published: 20 September 2020
Simple Summary
Bovine respiratory syncytial virus (BRSV) is an important pathogen of both dairy and beef cattle, and causes huge economic losses annually across the world. This study reports the identification, isolation, and molecular characterization of a new BRSV (subgroup III) strain collected from respiratory distressed cattle in Turkey. The three field isolates obtained showed 100% similarity to each other at the nucleotide (nt) level and were found to be 99.49% and 99.22% identical to another Turkish strain—KY499619—at both (nt) and amino acid (aa) levels, respectively. They were also 97.43% (nt) and 98.44% (aa) similar to the American reference strain KU159366. This important information will inform Turkish BRSV diagnostic and control strategies, as well as highlight the urgent need to better understand the burden that BRSV is placing on the Turkish agricultural sector.
Bovine respiratory disease (BRD) is a huge economic burden on the livestock industries of countries worldwide. Bovine respiratory syncytial virus (BRSV) is one of the most important pathogens that contributes to BRD. In this study, we report the identification and first isolation, with molecular characterization, of a new BRSV strain from lung specimens of three beef cows in Turkey that died from respiratory distress. After the screening of lung tissues for BRD-associated viruses using a multiscreen antigen-ELISA, a BRSV antigen was detected. This was then confirmed by real-time RT-PCR specific for BRSV. Following confirmation, virus isolation was conducted in MDBK cell cultures and clear CPE, including syncytia compatible with BRSV, were detected. RT-nested PCR, using F gene-specific primers, was performed on the cultured isolates, and the products were sequenced and deposited to Genbank with accession numbers MT179304, MT024766, and MT0244767. Phylogenetic analysis of these sequences indicated that the cattle were infected with BRSV from subgroup III and were closely related to previously identified American and Turkish strains, but contained some amino acid and nucleotide differences. This research paves the way for further studies on the molecular characteristics of natural BRSV isolates, including full genome analysis and disease pathogenesis, and also contributes to the development of robust national strategies against this virus.
View Full-Text
►

▼

Show Figures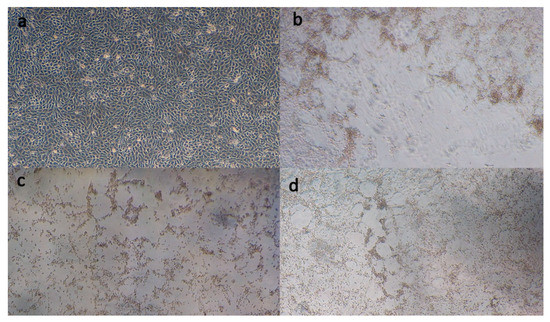 Figure 1
This is an open access article distributed under the
Creative Commons Attribution License
which permits unrestricted use, distribution, and reproduction in any medium, provided the original work is properly cited

MDPI and ACS Style
Yazici, Z.; Ozan, E.; Tamer, C.; Muftuoglu, B.; Barry, G.; Kurucay, H.N.; Elhag, A.E.; Cagirgan, A.A.; Gumusova, S.; Albayrak, H. Circulation of Indigenous Bovine Respiratory Syncytial Virus Strains in Turkish Cattle: The First Isolation and Molecular Characterization. Animals 2020, 10, 1700.
Show more citation formats
Show less citations formats
Note that from the first issue of 2016, MDPI journals use article numbers instead of page numbers. See further details
here
.