Combining Orchardgrass and Alfalfa: Effects of Forage Ratios on In Vitro Rumen Degradation and Fermentation Characteristics of Silage Compared with Hay
1
Key Laboratory of Grasslands Management and Utilization, Ministry of Agriculture and Rural Affairs, College of Grassland Science and Technology, China Agricultural University, Beijing 100193, China
2
State Key Laboratory of Animal Nutrition, College of Animal Science and Technology, China Agricultural University, Beijing 100193, China
3
IFAS-Range Cattle Research and Education Center, University of Florida, Gainesville, FL 32611, USA
*
Author to whom correspondence should be addressed.
Received: 9 December 2019 / Revised: 22 December 2019 / Accepted: 23 December 2019 / Published: 28 December 2019
Simple Summary
Forages are an essential portion of ruminant rations to maintain rumen function. Exploring how orchardgrass and alfalfa interact in the rumen is necessary to better understand their feed use potential as both hay and silage. This study evaluated in vitro rumen degradation, fermentation characteristics, and methane production responses to different forage ratios of alfalfa and orchardgrass. The results indicate that dry matter and organic matter degradability and methane production were greater for mixed silages compared to mixed hays. A forage ratio of 50:50 for orchardgrass and alfalfa favor the growth of rumen microorganisms without compromising nutrient digestion and rumen fermentation.
This study aimed to investigate the effects of different forage ratios of orchardgrass (
Dactylis glomerata
) and alfalfa (
Medicago sativa
) on in vitro rumen degradation and fermentation characteristics. Orchardgrass and alfalfa were harvested separately and prepared as hay and silage mixtures at ratios of 100:0, 75:25, 50:50, 25:75, and 0:100 (w/w on a dry matter basis) and anaerobically incubated for 48 h with rumen fluid obtained from lactating dairy cows. Fermented residues and cultured fluids were used to determine nutrient degradability, fermentation parameters, and associative effect indices. Increasing the proportion of alfalfa in hay and silage mixtures quadratically increased in vitro organic matter disappearance (IVOMD, up +5.14%) and marginally decreased in vitro neutral detergent fiber disappearance (NDFD, down −1.79%). Meanwhile, increasing the proportion of alfalfa accelerated the rumen fermentation process (e.g., gas production) and remarkably enhanced the growth of rumen microbes as indicated by microbial protein production (MCP, 13.4% increase). Increments of rumen degradability and methane production were more pronounced in silage mixtures than hay mixtures. In combination, a forage ratio of 50:50 for orchardgrass and alfalfa is recommended for both hay and silage in order to improve the feed use potential in ruminants.
View Full-Text
►

▼

Show Figures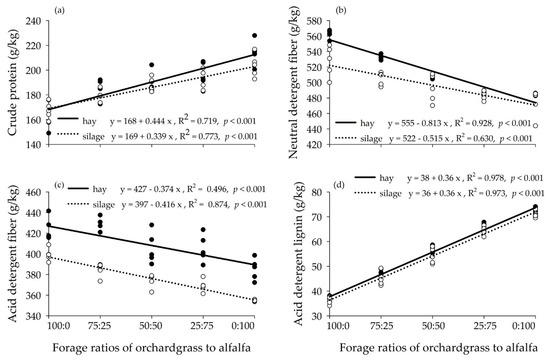 Figure 1
This is an open access article distributed under the
Creative Commons Attribution License
which permits unrestricted use, distribution, and reproduction in any medium, provided the original work is properly cited

MDPI and ACS Style
Xue, Z.; Liu, N.; Wang, Y.; Yang, H.; Wei, Y.; Moriel, P.; Palmer, E.; Zhang, Y. Combining Orchardgrass and Alfalfa: Effects of Forage Ratios on In Vitro Rumen Degradation and Fermentation Characteristics of Silage Compared with Hay. Animals 2020, 10, 59.
Show more citation formats
Show less citations formats
Note that from the first issue of 2016, MDPI journals use article numbers instead of page numbers. See further details
here
.