EBV-Positive Lymphoproliferations of B- T- and NK-Cell Derivation in Non-Immunocompromised Hosts
1
Department of Cellular Pathology, University Hospital of Wales, Cardiff CF14 4XW, UK
2
Institute of Pathology and Neuropathology and Comprehensive Cancer Center Tübingen, University Hospital Tübingen, Eberhard-Karls-University, 72076 Tübingen, Germany
*
Author to whom correspondence should be addressed.
Received: 4 February 2018 / Revised: 27 February 2018 / Accepted: 5 March 2018 / Published: 7 March 2018
Abstract
The contribution of Epstein-Barr virus (EBV) to the development of specific types of benign lymphoproliferations and malignant lymphomas has been extensively studied since the discovery of the virus over the last 50 years. The importance and better understanding of the EBV-associated lymphoproliferative disorders (LPD) of B, T or natural killer (NK) cell type has resulted in the recognition of new entities like EBV+ mucocutaneous ulcer or the addition of chronic active EBV (CAEBV) infection in the revised 2016 World Health Organization (WHO) lymphoma classification. In this article, we review the definitions, morphology, pathogenesis, and evolving concepts of the various EBV-associated disorders including EBV+ diffuse large B-cell lymphoma, not otherwise specified (DLBCL, NOS), EBV+ mucocutaneous ulcer, DLBCL associated with chronic inflammation, fibrin-associated DLBCL, lymphomatoid granulomatosis, the EBV+ T and NK-cell LPD of childhood, aggressive NK leukaemia, extranodal NK/T-cell lymphoma, nasal type, and the new provisional entity of primary EBV+ nodal T- or NK-cell lymphoma. The current knowledge regarding the pathogenesis of B-cell lymphomas that can be EBV-associated including Burkitt lymphoma, plasmablastic lymphoma and classic Hodgkin lymphoma will be also explored.
View Full-Text
►

▼

Figures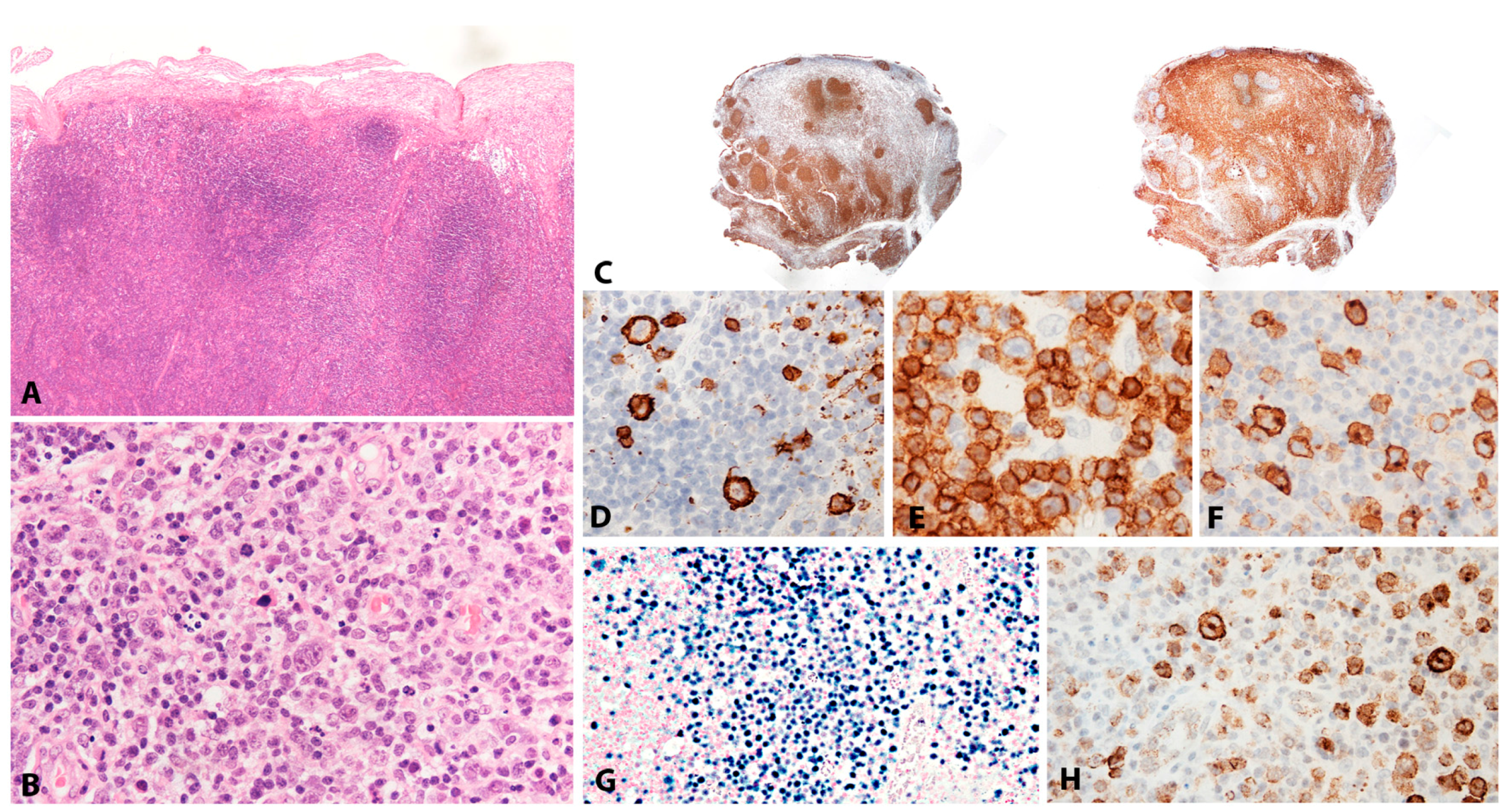 Figure 1
This is an open access article distributed under the
Creative Commons Attribution License
which permits unrestricted use, distribution, and reproduction in any medium, provided the original work is properly cited (CC BY 4.0).

Share & Cite This Article
MDPI and ACS Style
Dojcinov, S.D.; Fend, F.; Quintanilla-Martinez, L. EBV-Positive Lymphoproliferations of B- T- and NK-Cell Derivation in Non-Immunocompromised Hosts. Pathogens 2018, 7, 28.
Note that from the first issue of 2016, MDPI journals use article numbers instead of page numbers. See further details here.
Related Articles
Comments
[Return to top]