Experiments and Modeling of Fatigue Behavior of Friction Stir Welded Aluminum Lithium Alloy
1
Department of Mechanical Engineering, The University of Alabama, Tuscaloosa, AL 35487, USA
2
U.S. Army Engineer Research & Development Center, Geotechnical and Structures Lab, Vicksburg, MS 39180, USA
3
Department of Metallurgical and Materials Engineering, The University of Alabama, Tuscaloosa, AL 35487, USA
4
Center for Advanced Vehicular Systems (CAVS), Mississippi State University, Mississippi State, MS 39762, USA
*
Author to whom correspondence should be addressed.
Received: 3 February 2019 / Revised: 21 February 2019 / Accepted: 23 February 2019 / Published: 5 March 2019
Abstract
An extensive experimental and computational investigation of the fatigue behavior of friction stir welding (FSW) of aluminum–lithium alloy (AA2099) is presented. In this study, friction stir butt welds were created by joining AA2099 using two different welding parameter sets. After FSW, microstructure characterization was carried out using microhardness testing, scanning electron microscopy, and transmission electron microscopy techniques. In particular, the metastable strengthening precipitates T
1
(Al
2
CuLi) and δ'(Al
3
Li) seen in the base metal were observed to coarsen and dissolve due to the FSW process. In order to evaluate the static and fatigue behavior of the FSW of the AA2099, monotonic tensile and fully-reversed strain-controlled fatigue testing were performed. Mechanical testing of the FSW specimens found a decrease in the ultimate tensile strength and fatigue life compared to the base metal. While the process parameters had an effect on the monotonic properties, no significant difference was observed in the number of cycles to failure between the FSW parameters explored in this study. Furthermore, post-mortem fractography analysis of the FSW specimens displayed crack deflection, transgranular fracture, and delamination failure features commonly observed in other parent Al–Li alloys. Lastly, a microstructurally-sensitive fatigue model was used to elucidate the influence of the FSW process on fatigue life based on variations in grain size, microhardness, and particle size in the AA2099 FSW.
View Full-Text
►

▼

Figures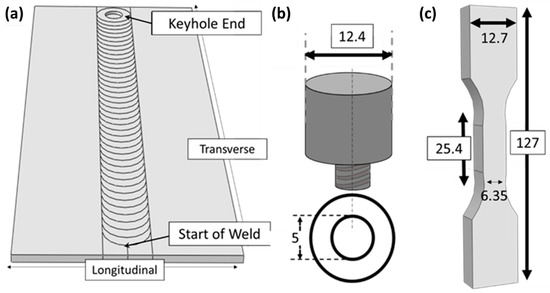 Figure 1
This is an open access article distributed under the
Creative Commons Attribution License
which permits unrestricted use, distribution, and reproduction in any medium, provided the original work is properly cited (CC BY 4.0).

Share & Cite This Article
MDPI and ACS Style
Cisko, A.R.; Jordon, J.B.; Avery, D.Z.; Liu, T.; Brewer, L.N.; Allison, P.G.; Carino, R.L.; Hammi, Y.; Rushing, T.W.; Garcia, L. Experiments and Modeling of Fatigue Behavior of Friction Stir Welded Aluminum Lithium Alloy. Metals 2019, 9, 293.
Note that from the first issue of 2016, MDPI journals use article numbers instead of page numbers. See further details here.
Related Articles
Comments
[Return to top]