Magnetite and Carbon Extraction from Coal Fly Ash Using Magnetic Separation and Flotation Methods
1
I.P. Bardin Laboratory for Problems of Metallurgy for Complex Ores, A.A. Baikov Institute of Metallurgy and Materials Science, Russian Academy of Science, Leninsky prosp., 49, Moscow 119334, Russia
2
Laboratory No. 4.2. Complex processing of non-traditional mineral materials, Research Institute of Comprehensive Exploitation of Mineral Resources-IPKON, Russian Academy of Sciences, Kryukovskii tupik 4, Moscow 111020, Russia
3
Laboratory of Material Diagnostics, A.A. Baikov Institute of Metallurgy and Materials Science, Russian Academy of Science, Leninsky prosp., 49, Moscow 119334, Russia
4
Faculty of Technology of Inorganic Substances and High-Temperature Materials, D. Mendeleev University of Chemical Technology of Russia, Mjusskaja square, 9, Moscow 125047, Russia
5
School of Metallurgical and Materials Engineering, Jiangsu University of Science and Technology, Zhangjiagang Campus, Zhangjiagang 215600, China
*
Author to whom correspondence should be addressed.
Received: 16 April 2019 / Revised: 20 May 2019 / Accepted: 23 May 2019 / Published: 25 May 2019
Abstract
In this study, enrichment methods for coal fly ash (CFA) from Omsk thermal power station No. 4 (TPS-4) were investigated. The magnetite and unburned carbon concentrates were obtained by magnetic separation and flotation methods. The wet magnetic separation used in the study increased the magnetite content in the magnetic fraction from 10.48 to 12.72 wt % compared to dry magnetic separation. The XRD analysis showed that the magnetic fraction primarily consists of magnetite, mullite, and quartz. The SEM analysis demonstrated that magnetite is located primarily on the surface of alumosilicate spheres and has three types of shape: dendritic structures, hexagonal bulk agglomerates, and star-like structures. For the flotation tests, a low-price diesel was used as the collector. It was found that, if CFA particles of 40–71 µm are used, ~99% of unburned carbon can be recovered. It was also found by SEM that, if CFA particles of 71–100 µm are used, alumosilicates on a carbon surface prevent complete interaction of diesel with carbon particles and decrease thereby carbon recovery to 83%.
View Full-Text
►

▼

Figures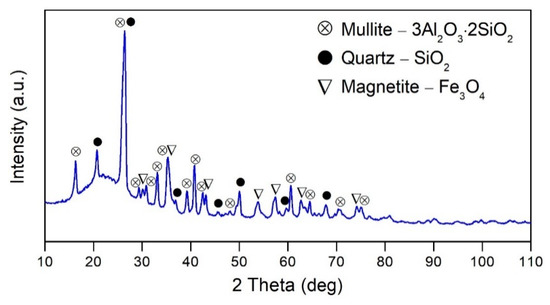 Figure 1
This is an open access article distributed under the
Creative Commons Attribution License
which permits unrestricted use, distribution, and reproduction in any medium, provided the original work is properly cited (CC BY 4.0).

Share & Cite This Article
MDPI and ACS Style
Valeev, D.; Kunilova, I.; Alpatov, A.; Varnavskaya, A.; Ju, D. Magnetite and Carbon Extraction from Coal Fly Ash Using Magnetic Separation and Flotation Methods. Minerals 2019, 9, 320.
Note that from the first issue of 2016, MDPI journals use article numbers instead of page numbers. See further details here.
Related Articles
Comments
[Return to top]