The Crystal Chemistry of Rathite Based on New Electron-Microprobe Data and Single-Crystal Structure Refinements: The Role of Thallium
1
Naturhistorisches Museum, Burgring 7, 1010 Wien, Austria
2
Institut für Mineralogie und Kristallographie, Universität Wien, Althanstraße 14, 1090 Wien, Austria
*
Author to whom correspondence should be addressed.
Received: 21 September 2018 / Revised: 4 October 2018 / Accepted: 15 October 2018 / Published: 18 October 2018
Abstract
Crystal-structure refinements in space group
P
2
1
/
c
were performed on five grains of rathite with different types and degrees of thallium, silver, and antimony substitutions, as well as quantitative electron-microprobe analyses of more than 800 different rathite samples. The results of these studies both enlarged and clarified the complex spectrum of cation substitutions and the crystal chemistry of rathite. The [Tl
+
+ As
3+
] ↔ 2Pb
2+
scheme of substitution acts at the structural sites Pb1, Pb2, and Me6, the [Ag
+
+ As
3+
] ↔ 2Pb
2+
substitution at Me5, and the Sb-for-As substitution at the Me3 site only. The homogeneity range of rathite was determined to be unusually large, ranging from very Tl-poor compositions (0.16 wt%; refined single-crystal unit-cell parameters:
a
= 8.471(2),
b
= 7.926(2),
c
= 25.186(5) Å, β = 100.58(3)°,
V
= 1662.4(6) Å
3
) to very Tl-rich compositions (11.78 wt%;
a
= 8.521(2),
b
= 8.005(2),
c
= 25.031(5) Å, β = 100.56(3)°,
V
= 1678.4(6) Å
3
). The Ag content is only slightly variable (3.1 wt%–4.1 wt%) with a mean value of 3.6 wt%. The Sb content is strongly variable (0.20 wt%–7.71 wt%) and not correlated with the Tl content. With increasing Tl content (0.16 wt%–11.78 wt%), a clear increase of the unit-cell parameters
a
,
b
, and
V
, and a slight decrease of
c
is observed, although this is somewhat masked by the randomly variable Sb content. The revised general formula of rathite may be written as Ag
x
Tl
y
Pb
16−2(

x+y

)
As
16+

x+y

−

z
Sb
z
S
40
(with 1.6 <
x
< 2, 0 <
y
< 3, 0 <
z
< 3.5). Based on Pb–S bond lengths, polyhedral characteristics and Pb-site bond-valence sums, we conclude that the Pb1 site is more affected by Tl substitution than the Pb2 site. When Tl substitution reaches values above 13 wt% (or 3
apfu
), a new phase ("SR"), belonging to the rahite group, appears as lamellar exsolution intergrowths with Tl-rich rathite (11.78 wt%). Rathite is found only in the Lengenbach and Reckibach deposits, Binntal, Canton Wallis, Switzerland.
View Full-Text
►

▼

Figures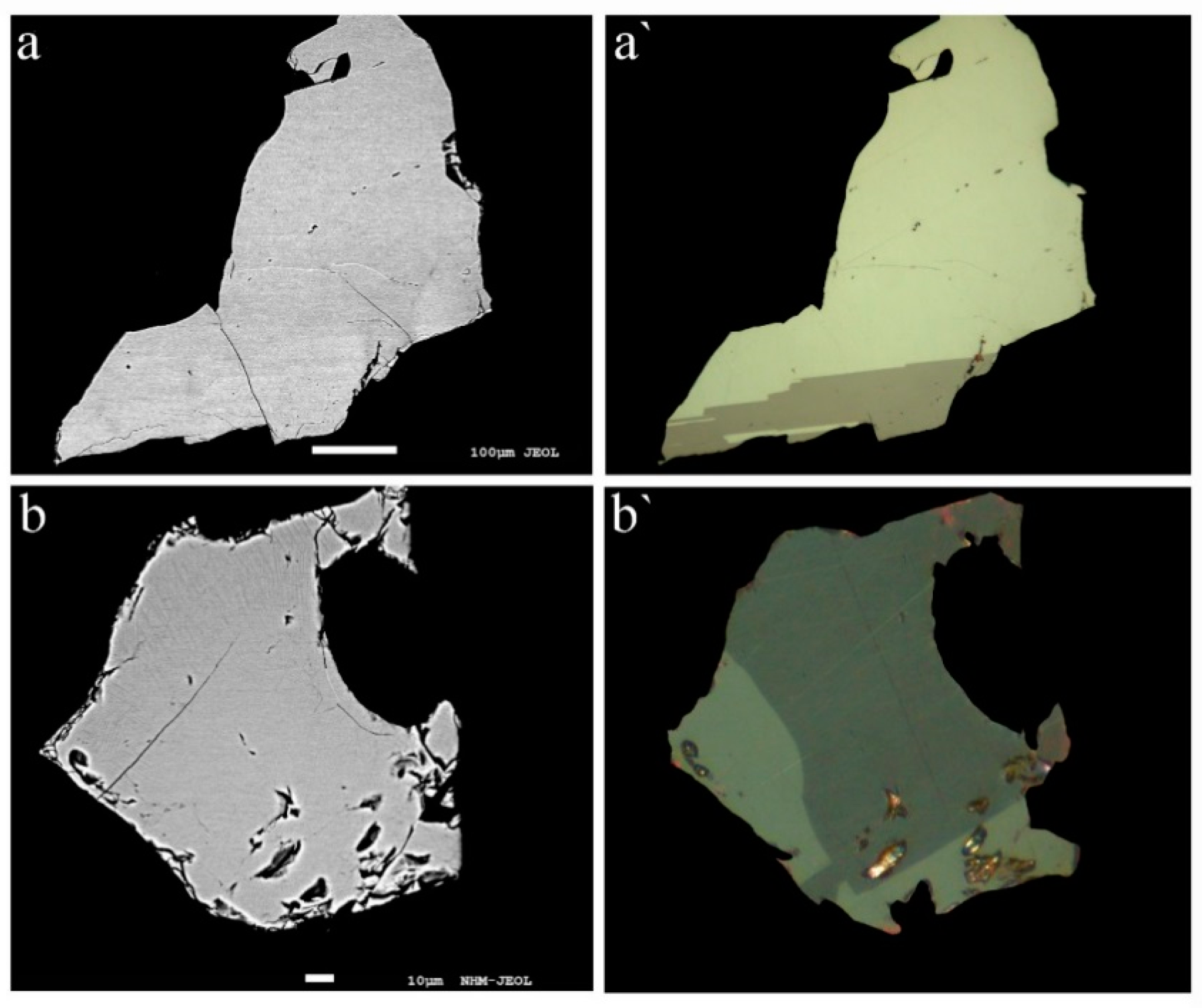 Figure 1
This is an open access article distributed under the
Creative Commons Attribution License
which permits unrestricted use, distribution, and reproduction in any medium, provided the original work is properly cited (CC BY 4.0).

Share & Cite This Article
MDPI and ACS Style
Topa, D.; Kolitsch, U. The Crystal Chemistry of Rathite Based on New Electron-Microprobe Data and Single-Crystal Structure Refinements: The Role of Thallium. Minerals 2018, 8, 466.
Note that from the first issue of 2016, MDPI journals use article numbers instead of page numbers. See further details here.
Related Articles
Comments
[Return to top]