The Role of Organic Matter in the Formation of High-Grade Al Deposits of the Dopolan Karst Type Bauxite, Iran: Mineralogy, Geochemistry, and Sulfur Isotope Data
Department of Earth Sciences, Shiraz University, Shiraz 71454, Iran
*
Author to whom correspondence should be addressed.
Academic Editor: Pablo Cubillas
Received: 23 March 2017 / Revised: 20 May 2017 / Accepted: 31 May 2017 / Published: 12 June 2017
Abstract
Mineralogical and geochemical analyses of the Dopolan karstic bauxite ore were performed to identify the characteristics of four bauxite horizons, which comprise from top to bottom, bauxitic kaolinite, diaspore-rich bauxite, clay-rich bauxite, and pyrite-rich bauxite. Diaspore, kaolinite, and pyrite are the main minerals; böhmite, muscovite, rutile, and anatase are the accessory minerals. The main minerals of the Dopolan bauxite deposit indicate slightly acidic to alkaline reducing conditions during bauxitization. Immobile elements (Nb, Ta, Zr, Hf, and rare earth elements) are enriched in the diaspore-rich horizon, which also has the highest alumina content, whereas redox sensitive elements (e.g., Cr, Cu, Ni, Pb, Zn, Ag, U, and V) are enriched in the lowest horizon of pyrite-rich bauxite. The presence of a high content of organic matter was identified in different horizons of bauxitic ore from wet chemistry. The presence of organic matter favored Fe bioleaching, which resulted in Al enrichment and the formation of diaspore-rich bauxite. The leached Fe
2+
reacted with the hydrogen sulfur that was produced due to bacterial metabolism, resulting in the formation of the pyrite-rich horizon towards the bottom of the Dopolan bauxite horizons. Biogeochemical activity in the Dopolan bauxitic ore was deduced from the reducing environment of bauxitization, and the deposition of framboidal and cubic or cubic/octahedral pyrite crystals, with large negative values of δ
34
S of pyrite (−10‰ to −34‰) and preserved fossil cells of microorganisms.
View Full-Text
►

▼

Figures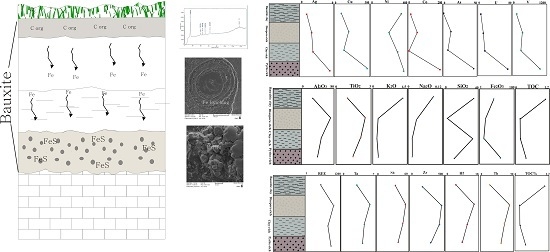 Graphical abstract
This is an open access article distributed under the
Creative Commons Attribution License
which permits unrestricted use, distribution, and reproduction in any medium, provided the original work is properly cited (CC BY 4.0).

Share & Cite This Article
MDPI and ACS Style
Salamab Ellahi, S.; Taghipour, B.; Nejadhadad, M. The Role of Organic Matter in the Formation of High-Grade Al Deposits of the Dopolan Karst Type Bauxite, Iran: Mineralogy, Geochemistry, and Sulfur Isotope Data. Minerals 2017, 7, 97.
Note that from the first issue of 2016, MDPI journals use article numbers instead of page numbers. See further details here.
Related Articles
Comments
[Return to top]