A Robust Localization, Slip Estimation, and Compensation System for WMR in the Indoor Environments
1
State Key Laboratory of Computer Architecture, Institute of Computing Technology, University of Chinese Academy of Sciences, Beijing, 100190, China
2
University of Chinese Academy of Sciences, Beijing, 100049, China
3
Institute of Software, Chinese Academy of Sciences, Beijing 100049, China
*
Author to whom correspondence should be addressed.
Received: 9 April 2018 / Revised: 21 April 2018 / Accepted: 3 May 2018 / Published: 9 May 2018
Abstract
A novel approach is proposed for the path tracking of a Wheeled Mobile Robot (WMR) in the presence of an unknown lateral slip. Much of the existing work has assumed pure rolling conditions between the wheel and ground. Under the pure rolling conditions, the wheels of a WMR are supposed to roll without slipping. Complex wheel-ground interactions, acceleration and steering system noise are the factors which cause WMR wheel slip. A basic research problem in this context is localization and slip estimation of WMR from a stream of noisy sensors data when the robot is moving on a slippery surface, or moving at a high speed. DecaWave based ranging system and Particle Filter (PF) are good candidates to estimate the location of WMR indoors and outdoors. Unfortunately, wheel-slip of WMR limits the ultimate performance that can be achieved by real-world implementation of the PF, because location estimation systems typically partially rely on the robot heading. A small error in the WMR heading leads to a large error in location estimation of the PF because of its cumulative nature. In order to enhance the tracking and localization performance of the PF in the environments where the main reason for an error in the PF location estimation is angular noise, two methods were used for heading estimation of the WMR (1): Reinforcement Learning (RL) and (2): Location-based Heading Estimation (LHE). Trilateration is applied to DecaWave based ranging system for calculating the probable location of WMR, this noisy location along with PF current mean is used to estimate the WMR heading by using the above two methods. Beside the WMR location calculation, DecaWave based ranging system is also used to update the PF weights. The localization and tracking performance of the PF is significantly improved through incorporating heading error in localization by applying RL and LHE. Desired trajectory information is then used to develop an algorithm for extracting the lateral slip along
X
- and
Y
-axis from the PF estimated position of the WMR, the lateral slip along
X
- and
Y
-axis is then used to take some corrective measures. Lateral slip information is also used to find the direction along which WMR has to move to get back along the desired trajectory. Simulation results show that our proposed LHE and RL heading estimation methods significantly improve the PF localization and tracking performance on a slippery surface in both indoor and outdoor environments. The simulation results also show that the accurate locations of WMR and desired path information are used to estimate and compensate the lateral slip.
View Full-Text
►

▼

Figures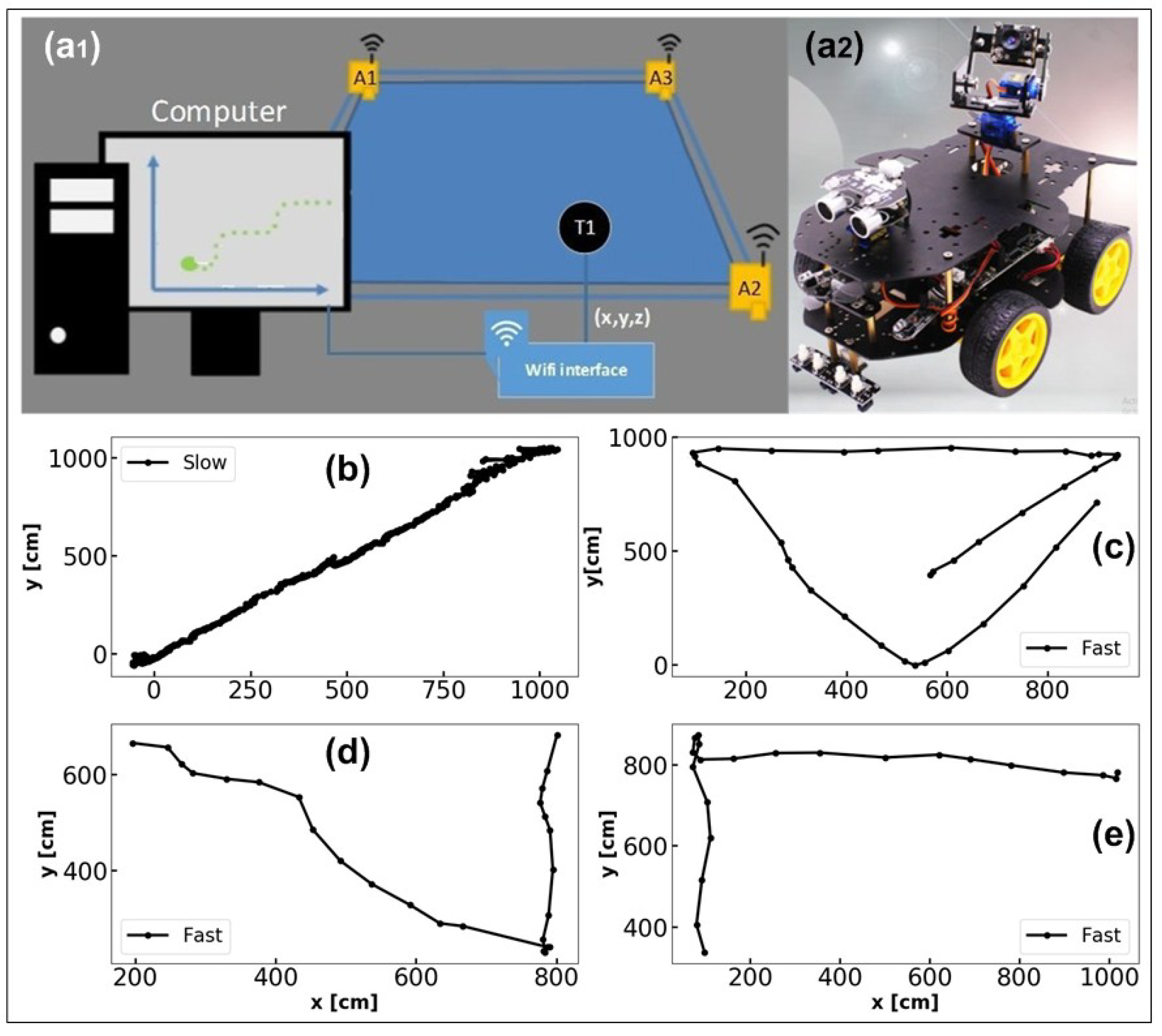 Figure 1
This is an open access article distributed under the
Creative Commons Attribution License
which permits unrestricted use, distribution, and reproduction in any medium, provided the original work is properly cited (CC BY 4.0).

Share & Cite This Article
MDPI and ACS Style
Ullah, Z.; Xu, Z.; Lei, Z.; Zhang, L. A Robust Localization, Slip Estimation, and Compensation System for WMR in the Indoor Environments. Symmetry 2018, 10, 149.
Note that from the first issue of 2016, MDPI journals use article numbers instead of page numbers. See further details here.
Related Articles
Comments
[Return to top]