Evaluation of Version-7 TRMM Multi-Satellite Precipitation Analysis Product during the Beijing Extreme Heavy Rainfall Event of 21 July 2012
1
Anhui Province Key Lab of Atmospheric Science and Satellite Remote Sensing, Anhui Meteorological Institute, Hefei 230061, China
2
Advanced Radar Research Center, National Weather Center, Norman, OK 73072, USA
3
School of Civil Engineering and Environmental Science, University of Oklahoma, Norman, OK 73072, USA
4
Enterprise Electronics Corporation, Enterprise, Alabama 36330, USA
5
Beijing Weather Modification Office, Beijing 100089, China
6
Department of Natural Resource Ecology and Management, Oklahoma State University, Stillwater, OK 74078, USA
7
Jiangsu Key Laboratory of Forestry Ecological Engineering, Nanjing Forestry University, Nanjing 210037, China
8
Department of Hydraulic Engineering, Tsinghua University, Beijing 100084, China
9
College of Surveying and Geo-Informatics, Tongji University, Shanghai 200092, China
10
College of Hydrometeorology, Nanjing University of Information Science &Technology, Nanjing 210044, China
*
Author to whom correspondence should be addressed.
Received: 25 October 2013 / Revised: 5 December 2013 / Accepted: 5 December 2013 / Published: 27 December 2013
Abstract
The latest Version-7 (V7) Tropical Rainfall Measuring Mission (TRMM) Multi-satellite Precipitation Analysis (TMPA) products were released by the National Aeronautics and Space Administration (NASA) in December of 2012. Their performance on different climatology, locations, and precipitation types is of great interest to the satellite-based precipitation community. This paper presents a study of TMPA precipitation products (3B42RT and 3B42V7) for an extreme precipitation event in Beijing and its adjacent regions (from 00:00 UTC 21 July 2012 to 00:00 UTC 22 July 2012). Measurements from a dense rain gauge network were used as the ground truth to evaluate the latest TMPA products. Results are summarized as follows. Compared to rain gauge measurements, both 3B42RT and 3B42V7 generally captured the rainfall spatial and temporal pattern, having a moderate spatial correlation coefficient (CC, 0.6) and high CC values (0.88) over the broader Hebei, Beijing and Tianjin (HBT) regions, but the rainfall peak is 6 h ahead of gauge observations. Overall, 3B42RT showed higher estimation than 3B42V7 over both HBT and Beijing. At the storm center, both 3B42RT and 3B42V7 presented a relatively large deviation from the temporal variation of rainfall and underestimated the storm by 29.02% and 36.07%, respectively. The current study suggests that the latest TMPA products still have limitations in terms of resolution and accuracy, especially for this type of extreme event within a latitude area on the edge of coverage of TRMM precipitation radar and microwave imager. Therefore, TMPA users should be cautious when 3B42RT and 3B42V7 are used to model, monitor, and forecast both flooding hazards in the Beijing urban area and landslides in the mountainous west and north of Beijing.
View Full-Text
►

▼

Figures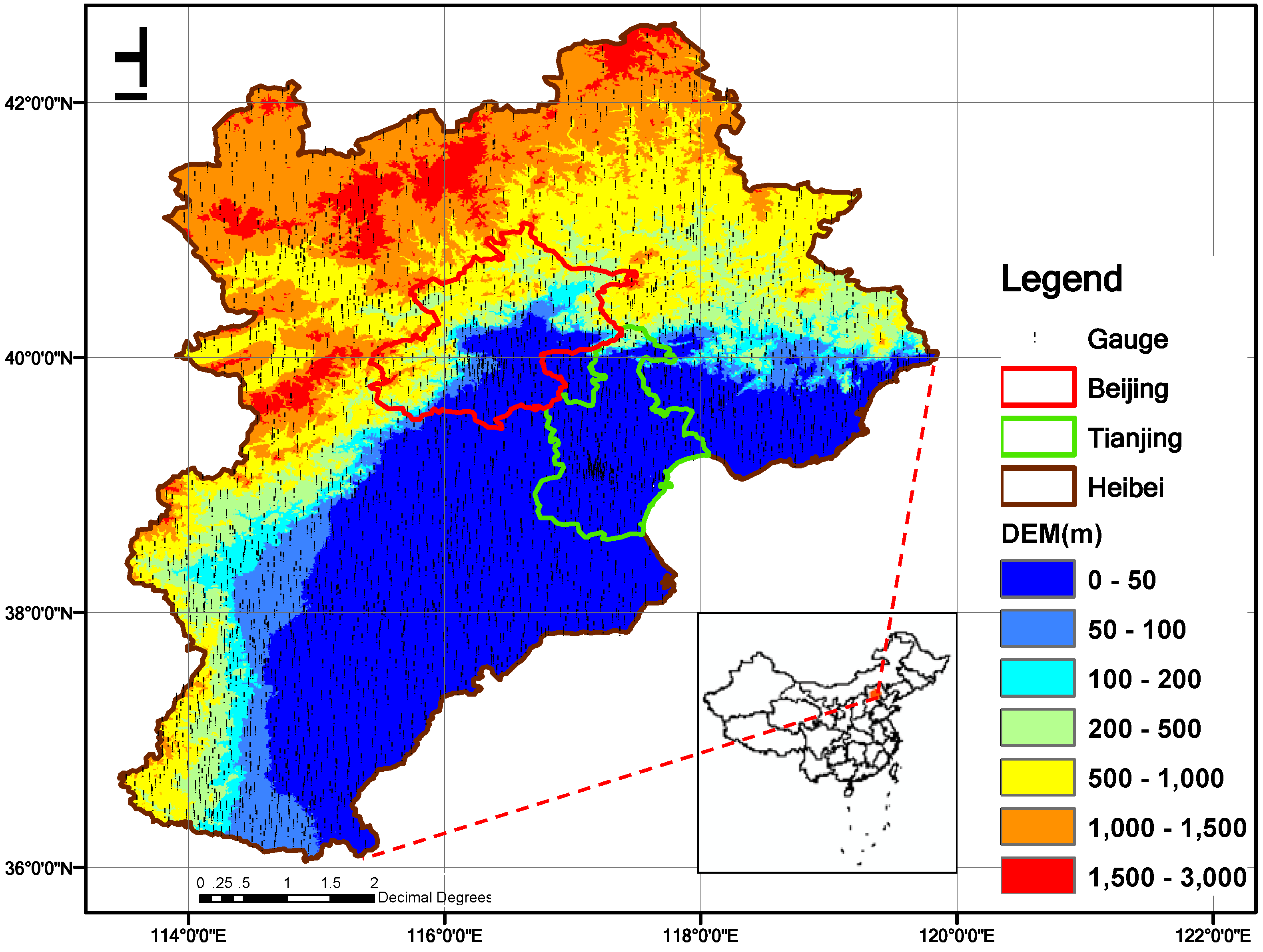 Figure 1

Share & Cite This Article
MDPI and ACS Style
Huang, Y.; Chen, S.; Cao, Q.; Hong, Y.; Wu, B.; Huang, M.; Qiao, L.; Zhang, Z.; Li, Z.; Li, W.; Yang, X. Evaluation of Version-7 TRMM Multi-Satellite Precipitation Analysis Product during the Beijing Extreme Heavy Rainfall Event of 21 July 2012. Water 2014, 6, 32-44.
Related Articles
Comments
[Return to top]