From Chromosomes to Genome: Insights into the Evolutionary Relationships and Biogeography of Old World Knifefishes (Notopteridae; Osteoglossiformes)
1
Departamento de Genética e Evolução, Universidade Federal de São Carlos (UFSCar), Rodovia Washington Luiz Km. 235, C.P. 676, São Carlos, SP 13565-905, Brazil
2
Laboratory of Fish Genetics, Institute of Animal Physiology and Genetics, Czech Academy of Sciences, Rumburská 89, 277 21 Liběchov, Czech Republic
3
Institute of Oceanography, National Taiwan University, Roosevelt Road, Taipei 10617, Taiwan
4
Institute for Applied Ecology, University of Canberra, Canberra, ACT 2617, Australia
5
Diversity Arrays Technology, University of Canberra, Bruce, Australian Capital Territory, Canberra, ACT 2617, Australia
6
Departamento de Biologia Estrutural, Molecular e Genética, Universidade Estadual de Ponta Grossa, Ponta Grossa, PR 84030-900 Brazil
7
Department of Fisheries and Aquaculture, Adamawa State University, P.M.B. 25 Mubi. Adamawa State, Nigeria
8
Toxic Substances in Livestock and Aquatic Animals Research Group, KhonKaen University, Muang, KhonKaen 40002, Thailand
9
Institute of Human Genetics, University Hospital Jena, 07747 Jena, Germany
*
Author to whom correspondence should be addressed.
Received: 23 May 2018 / Revised: 13 June 2018 / Accepted: 15 June 2018 / Published: 19 June 2018
Abstract
In addition to its wide geographical distribution, osteoglossiform fishes represent one of the most ancient freshwater teleost lineages; making it an important group for systematic and evolutionary studies. These fishes had a Gondwanan origin and their past distribution may have contributed to the diversity present in this group. However, cytogenetic and genomic data are still scarce, making it difficult to track evolutionary trajectories within this order. In addition, their wide distribution, with groups endemic to different continents, hinders an integrative study that allows a globalized view of its evolutionary process. Here, we performed a detailed chromosomal analysis in Notopteridae fishes, using conventional and advanced molecular cytogenetic methods. Moreover, the genetic distances of examined species were assessed by genotyping using diversity arrays technology sequencing (DArTseq). These data provided a clear picture of the genetic diversity between African and Asian Notopteridae species, and were highly consistent with the chromosomal, geographical, and historical data, enlightening their evolutionary diversification. Here, we discuss the impact of continental drift and split of Pangea on their recent diversity, as well as the contribution to biogeographical models that explain their distribution, highlighting the role of the Indian subcontinent in the evolutionary process within the family.
View Full-Text
►

▼

Figures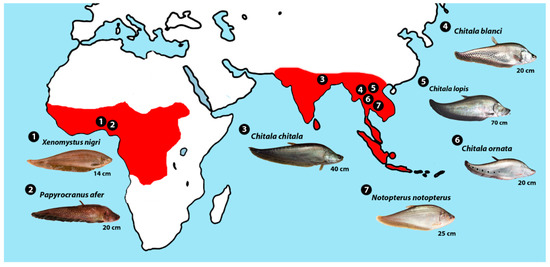 Figure 1
This is an open access article distributed under the
Creative Commons Attribution License
which permits unrestricted use, distribution, and reproduction in any medium, provided the original work is properly cited (CC BY 4.0).

Share & Cite This Article
MDPI and ACS Style
Barby, F.F.; Ráb, P.; Lavoué, S.; Ezaz, T.; Bertollo, L.A.C.; Kilian, A.; Maruyama, S.R.; Aguiar de Oliveira, E.; Artoni, R.F.; Santos, M.H.; Ilesanmi Jegede, O.; Hatanaka, T.; Tanomtong, A.; Liehr, T.; Cioffi, M.D.B. From Chromosomes to Genome: Insights into the Evolutionary Relationships and Biogeography of Old World Knifefishes (Notopteridae; Osteoglossiformes). Genes 2018, 9, 306.
Note that from the first issue of 2016, MDPI journals use article numbers instead of page numbers. See further details here.
Related Articles
Comments
[Return to top]