Genomic Differentiation during Speciation-with-Gene-Flow: Comparing Geographic and Host-Related Variation in Divergent Life History Adaptation in
Rhagoletis pomonella
1
Department of Biological Sciences, University of Notre Dame, Notre Dame, IN 46556, USA
2
Environmental Change Initiative, University of Notre Dame, Notre Dame, IN 46556, USA
3
Department of Integrative Biology, University of Colorado, Denver, CO 80217, USA
4
Department of Biosciences, Rice University, Houston, TX 77005, USA
5
Advanced Diagnostics and Therapeutics Initiative, University of Notre Dame, Notre Dame, IN 46556, USA
6
Department of Biological Sciences, State University of New York, Binghamton, NY 13902, USA
7
Department of Computer Science, Johns Hopkins University, Baltimore, MD 21218, USA
8
Department of Entomology and Nematology, University of Florida, Gainesville, FL 32611, USA
9
Department of Entomology, University of Illinois at Urbana-Champaign, Urbana, IL 61801, USA
10
Lyman Briggs College and Department of Entomology, Michigan State University, East Lansing, MI 48824, USA
11
Department of Animal and Plant Sciences, University of Sheffield, Sheffield S10 2TN, UK
*
Author to whom correspondence should be addressed.
Received: 25 February 2018 / Revised: 9 May 2018 / Accepted: 9 May 2018 / Published: 18 May 2018
Abstract
A major goal of evolutionary biology is to understand how variation within populations gets partitioned into differences between reproductively isolated species. Here, we examine the degree to which diapause life history timing, a critical adaptation promoting population divergence, explains geographic and host-related genetic variation in ancestral hawthorn and recently derived apple-infesting races of
Rhagoletis pomonella
. Our strategy involved combining experiments on two different aspects of diapause (initial diapause intensity and adult eclosion time) with a geographic survey of genomic variation across four sites where apple and hawthorn flies co-occur from north to south in the Midwestern USA. The results demonstrated that the majority of the genome showing significant geographic and host-related variation can be accounted for by initial diapause intensity and eclosion time. Local genomic differences between sympatric apple and hawthorn flies were subsumed within broader geographic clines; allele frequency differences within the races across the Midwest were two to three-fold greater than those between the races in sympatry. As a result, sympatric apple and hawthorn populations displayed more limited genomic clustering compared to geographic populations within the races. The findings suggest that with reduced gene flow and increased selection on diapause equivalent to that seen between geographic sites, the host races may be recognized as different genotypic entities in sympatry, and perhaps species, a hypothesis requiring future genomic analysis of related sibling species to
R. pomonella
to test. Our findings concerning the way selection and geography interplay could be of broad significance for many cases of earlier stages of divergence-with-gene flow, including (1) where only modest increases in geographic isolation and the strength of selection may greatly impact genetic coupling and (2) the dynamics of how spatial and temporal standing variation is extracted by selection to generate differences between new and discrete units of biodiversity.
View Full-Text
►

▼

Figures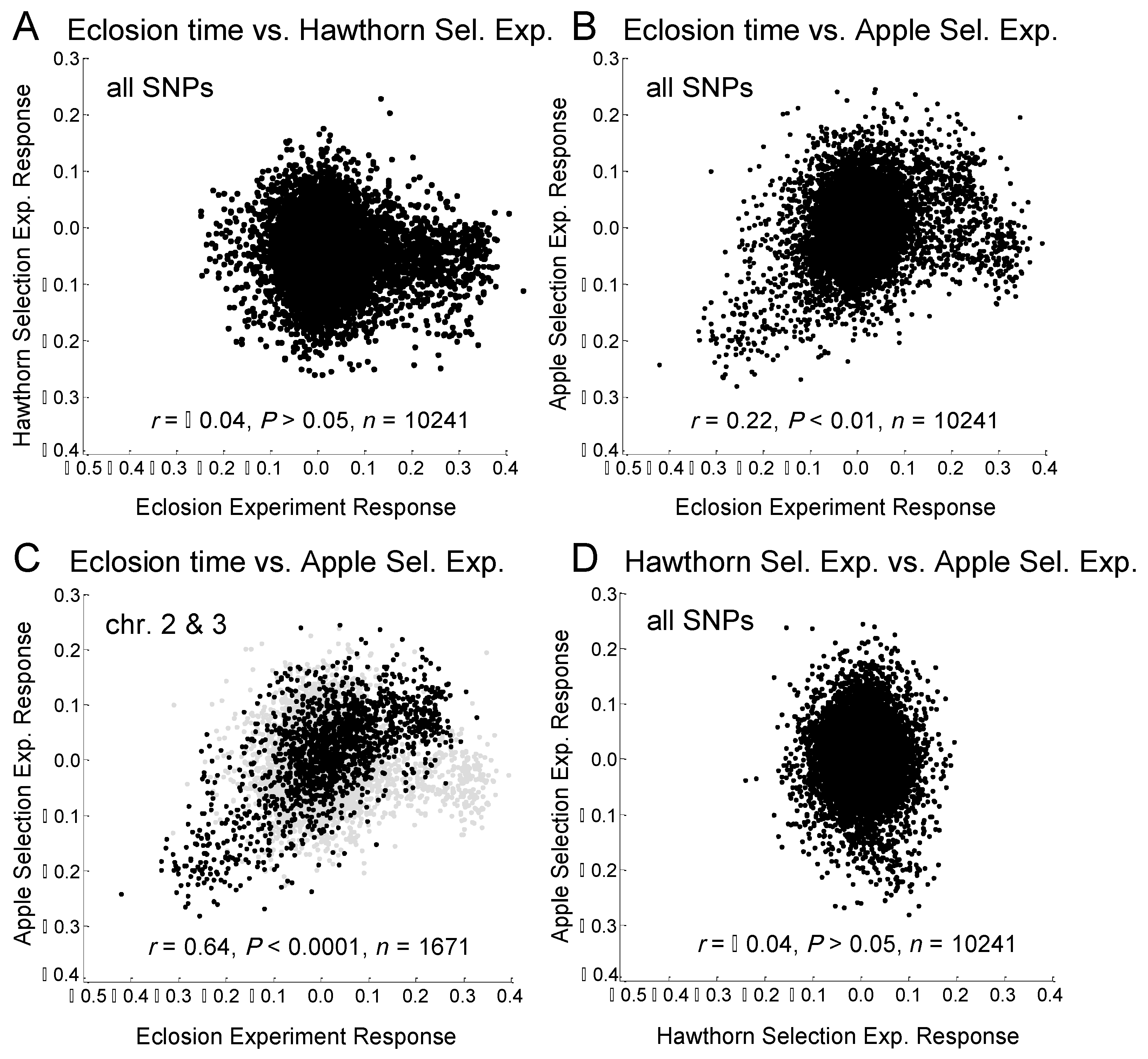 Figure 1
This is an open access article distributed under the
Creative Commons Attribution License
which permits unrestricted use, distribution, and reproduction in any medium, provided the original work is properly cited (CC BY 4.0).

Share & Cite This Article
MDPI and ACS Style
Doellman, M.M.; Ragland, G.J.; Hood, G.R.; Meyers, P.J.; Egan, S.P.; Powell, T.H.Q.; Lazorchak, P.; Glover, M.M.; Tait, C.; Schuler, H.; Hahn, D.A.; Berlocher, S.H.; Smith, J.J.; Nosil, P.; Feder, J.L. Genomic Differentiation during Speciation-with-Gene-Flow: Comparing Geographic and Host-Related Variation in Divergent Life History Adaptation in Rhagoletis pomonella. Genes 2018, 9, 262.
Note that from the first issue of 2016, MDPI journals use article numbers instead of page numbers. See further details here.
Related Articles
Comments
[Return to top]