Dissecting the Contribution of Release Factor Interactions to Amber Stop Codon Reassignment Efficiencies of the
Methanocaldococcus jannaschii

Orthogonal Pair

Department of Chemistry, University of Colorado Denver, Campus Box 194, P.O. Box 173364, Denver, CO 80217-3364, USA

*

Author to whom correspondence should be addressed.

Received: 18 October 2018 / Revised: 5 November 2018 / Accepted: 5 November 2018 / Published: 12 November 2018
Abstract
Non-canonical amino acids (ncAAs) are finding increasing use in basic biochemical studies and biomedical applications. The efficiency of ncAA incorporation is highly variable, as a result of competing system composition and codon context effects. The relative quantitative contribution of the multiple factors affecting incorporation efficiency are largely unknown. This manuscript describes the use of green fluorescent protein (GFP) reporters to quantify the efficiency of amber codon reassignment using the
Methanocaldococcus jannaschii
orthogonal pair system, commonly employed for ncAA incorporation, and quantify the contribution of release factor 1 (RF1) to the overall efficiency of amino acid incorporation. The efficiencies of amber codon reassignments were quantified at eight positions in GFP and evaluated in multiple combinations. The quantitative contribution of RF1 competition to reassignment efficiency was evaluated through comparisons of amber codon suppression efficiencies in normal and genomically recoded
Escherichia coli
strains. Measured amber stop codon reassignment efficiencies for eight single stop codon GFP variants ranged from 51 to 117% in
E. coli
DH10B and 76 to 104% in the RF1 deleted
E. coli
C321.ΔA.exp. Evaluation of efficiency changes in specific sequence contexts in the presence and absence of RF1 suggested that RF1 specifically interacts with +4 Cs and that the RF1 interactions contributed approximately half of the observed sequence context-dependent variation in measured reassignment efficiency. Evaluation of multisite suppression efficiencies suggests that increasing demand for translation system components limits multisite incorporation in cells with competing RF1.
View Full-Text
►

▼

Figures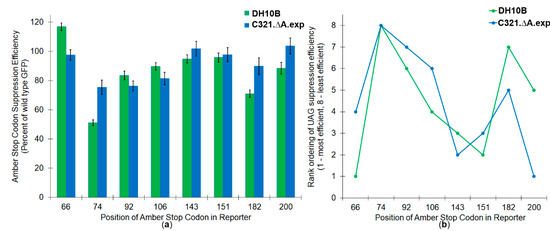 Figure 1
This is an open access article distributed under the
Creative Commons Attribution License
which permits unrestricted use, distribution, and reproduction in any medium, provided the original work is properly cited (CC BY 4.0).

Share & Cite This Article
MDPI and ACS Style
Schwark, D.G.; Schmitt, M.A.; Fisk, J.D. Dissecting the Contribution of Release Factor Interactions to Amber Stop Codon Reassignment Efficiencies of the Methanocaldococcus jannaschii Orthogonal Pair. Genes 2018, 9, 546.
Note that from the first issue of 2016, MDPI journals use article numbers instead of page numbers. See further details here.
Related Articles
Comments
[Return to top]