The Effect of Intra-articular Injection of Autologous Microfragmented Fat Tissue on Proteoglycan Synthesis in Patients with Knee Osteoarthritis
1
St. Catherine Specialty Hospital, 49210 Zabok/ 10000 Zagreb, Croatia
2
Clinical Hospital "Sveti Duh", 10000 Zagreb, Croatia
3
School of medicine, JJ Strossmayer University of Osijek, 31000 Osijek, Croatia
4
School of Medicine, University of Split, 21000 Split, Croatia
5
University of Rijeka, Medical School, 51000 Rijeka, Croatia
6
Genos Glycoscience Research Laboratory, 10000 Zagreb, Croatia
7
Faculty of Pharmacy and Biochemistry, University of Zagreb, 10000 Zagreb, Croatia
8
School of Medicine, University of Zagreb, 10000 Zagreb, Croatia
9
Gen-info, 10000 Zagreb, Croatia
10
Children's Hospital Srebrnjak, 10000 Zagreb, Croatia
11
Eberly College of Science, The Pennsylvania State University, University Park, State College, 16802 PA, USA
12
The Henry C. Lee College of Criminal Justice and Forensic Sciences, University of New Haven, West Haven, 06516 CT, USA
*
Authors to whom correspondence should be addressed.
Received: 10 July 2017 / Revised: 27 September 2017 / Accepted: 6 October 2017 / Published: 13 October 2017
Abstract
Osteoarthritis (OA) is one of the leading musculoskeletal disorders in the adult population. It is associated with cartilage damage triggered by the deterioration of the extracellular matrix tissue. The present study explores the effect of intra-articular injection of autologous microfragmented adipose tissue to host chondrocytes and cartilage proteoglycans in patients with knee OA. A prospective, non-randomized, interventional, single-center, open-label clinical trial was conducted from January 2016 to April 2017. A total of 17 patients were enrolled in the study, and 32 knees with osteoarthritis were assessed. Surgical intervention (lipoaspiration) followed by tissue processing and intra-articular injection of the final microfragmented adipose tissue product into the affected knee(s) was performed in all patients. Patients were assessed for visual analogue scale (VAS), delayed gadolinium-enhanced magnetic resonance imaging of cartilage (dGEMRIC) and immunoglobulin G (IgG) glycans at the baseline, three, six and 12 months after the treatment. Magnetic resonance sequence in dGEMRIC due to infiltration of the anionic, negatively charged contrast gadopentetate dimeglumine (Gd-DTPA
2−
) into the cartilage indicated that the contents of cartilage glycosaminoglycans significantly increased in specific areas of the treated knee joint. In addition, dGEMRIC consequently reflected subsequent changes in the mechanical axis of the lower extremities. The results of our study indicate that the use of autologous and microfragmented adipose tissue in patients with knee OA (measured by dGEMRIC MRI) increased glycosaminoglycan (GAG) content in hyaline cartilage, which is in line with observed VAS and clinical results.
View Full-Text
►

▼

Figures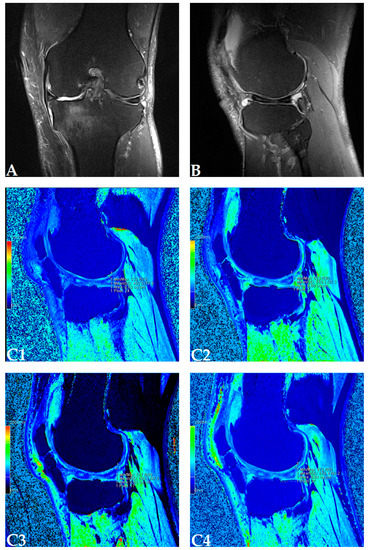 Figure 1
This is an open access article distributed under the
Creative Commons Attribution License
which permits unrestricted use, distribution, and reproduction in any medium, provided the original work is properly cited (CC BY 4.0).

Share & Cite This Article
MDPI and ACS Style
Hudetz, D.; Borić, I.; Rod, E.; Jeleč, Ž.; Radić, A.; Vrdoljak, T.; Skelin, A.; Lauc, G.; Trbojević-Akmačić, I.; Plečko, M.; Polašek, O.; Primorac, D. The Effect of Intra-articular Injection of Autologous Microfragmented Fat Tissue on Proteoglycan Synthesis in Patients with Knee Osteoarthritis. Genes 2017, 8, 270.
Note that from the first issue of 2016, MDPI journals use article numbers instead of page numbers. See further details here.
Related Articles
Comments
[Return to top]