Stem-Loop RT-qPCR as an Efficient Tool for the Detection and Quantification of Small RNAs in
Giardia lamblia
1
CONACYT-Instituto Nacional de Pediatría, Secretaría de Salud, Ciudad de México 04530, Mexico
2
Laboratorio de Bioquímica Genética, Instituto Nacional de Pediatría, Secretaría de Salud, Ciudad de México 04530, Mexico
3
Laboratorio de Ingeniería Genética y Metabolitos Secundarios, Departamento de Biotecnología, Universidad Autónoma Metropolitana-Iztapalapa, Ciudad de México 09340, Mexico
4
Laboratorio de Neurociencias, Instituto Nacional de Pediatría, Secretaría de Salud, Ciudad de México 04530, Mexico
5
Laboratorio de Parasitología Experimental, Instituto Nacional de Pediatría, Secretaría de Salud, Ciudad de México 04530, Mexico
6
Colegio de Ciencias y Humanidades, Plantel Casa Libertad, Universidad Autónoma de la Ciudad de México, Ciudad de México 09620, Mexico
7
Departamento de Química de Biomacromoléculas, Instituto de Química, Universidad Nacional Autónoma de México, Circuito Exterior s/n, Ciudad Universitaria, Ciudad de México 04510, Mexico
*
Author to whom correspondence should be addressed.
†
These authors contributed equally to this work.
Academic Editor: Paolo Cinelli
Received: 3 September 2016 / Revised: 26 November 2016 / Accepted: 26 November 2016 / Published: 20 December 2016
Abstract
Stem-loop quantitative reverse transcription PCR (RT-qPCR) is a molecular technique used for identification and quantification of individual small RNAs in cells. In this work, we used a Universal ProbeLibrary (UPL)-based design to detect—in a rapid, sensitive, specific, and reproducible way—the small nucleolar RNA (snoRNA) GlsR17 and its derived miRNA (miR2) of
Giardia lamblia
using a stem-loop RT-qPCR approach. Both small RNAs could be isolated from both total RNA and small RNA samples. Identification of the two small RNAs was carried out by sequencing the PCR-amplified small RNA products upon ligation into the pJET1.2/blunt vector. GlsR17 is constitutively expressed during the 72 h cultures of trophozoites, while the mature miR2 is present in 2-fold higher abundance during the first 48 h than at 72 h. Because it has been suggested that miRNAs in
G
.
lamblia
have an important role in the regulation of gene expression, the use of the stem-loop RT-qPCR method could be valuable for the study of miRNAs of
G
.
lamblia
. This methodology will be a powerful tool for studying gene regulation in
G. lamblia
, and will help to better understand the features and functions of these regulatory molecules and how they work within the RNA interference (RNAi) pathway in
G. lamblia
.
View Full-Text
►

▼

Figures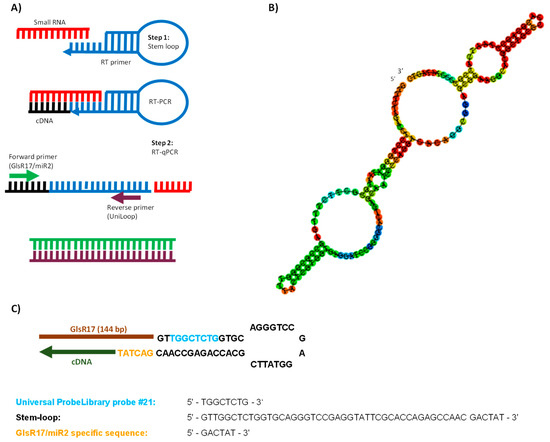 Figure 1
This is an open access article distributed under the
Creative Commons Attribution License
which permits unrestricted use, distribution, and reproduction in any medium, provided the original work is properly cited (CC BY 4.0).

Share & Cite This Article
MDPI and ACS Style
Marcial-Quino, J.; Gómez-Manzo, S.; Fierro, F.; Vanoye-Carlo, A.; Rufino-González, Y.; Sierra-Palacios, E.; Castillo-Villanueva, A.; Castillo-Rodríguez, R.A.; Rodríguez-Bustamante, E.; Arreguin-Espinosa, R.; Reyes-Vivas, H. Stem-Loop RT-qPCR as an Efficient Tool for the Detection and Quantification of Small RNAs in Giardia lamblia. Genes 2016, 7, 131.
Note that from the first issue of 2016, MDPI journals use article numbers instead of page numbers. See further details here.
Related Articles
Comments
[Return to top]