High-Density Well-Aligned Dislocations Introduced by Plastic Deformation in Bi1−

x

Sbx Topological Insulator Single Crystals
Institute of Industrial Science, The University of Tokyo, Komaba, Meguro-ku, Tokyo 153-8505, Japan
*
Author to whom correspondence should be addressed.
Received: 24 May 2019 / Revised: 13 June 2019 / Accepted: 16 June 2019 / Published: 19 June 2019
Abstract
Topological insulators (TIs) have a bulk bandgap and gapless edge or surface states that host helically spin-polarized Dirac fermions. Theoretically, it has been predicted that gapless states could also be formed along dislocations in TIs. Recently, conductivity measurements on plastically deformed bismuth antimony (Bi
1−

x
Sb
x
) TIs have revealed excess conductivity owing to dislocation conduction. For further application of them, fundamental study on dislocations in TIs is indispensable. Dislocations controlled based on fundamental studies could potentially be useful not only for experimental investigations of the dislocation properties but also for diverse device applications. In the present study, Bi
1−

x
Sb
x
TI single crystals were fabricated by a zone-melting method. The crystals were plastically deformed at room temperature. The resultant dislocations were observed by transmission electron microscopy (TEM). It was found that high-density dislocations with the Burgers vector satisfying the condition for the formation of gapless states were successfully introduced. The dislocations were mostly of edge type with lengths on the order of more than a few micrometers.
View Full-Text
►

▼

Figures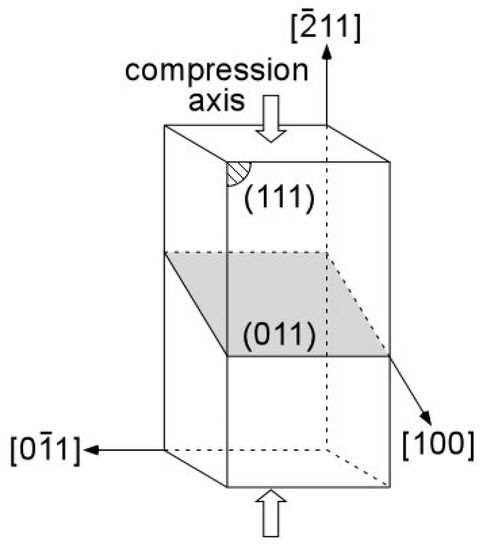 Figure 1
This is an open access article distributed under the
Creative Commons Attribution License
which permits unrestricted use, distribution, and reproduction in any medium, provided the original work is properly cited (CC BY 4.0).

Share & Cite This Article
MDPI and ACS Style
Tokumoto, Y.; Fujiwara, R.; Edagawa, K. High-Density Well-Aligned Dislocations Introduced by Plastic Deformation in Bi1−xSbx Topological Insulator Single Crystals. Crystals 2019, 9, 317.
Note that from the first issue of 2016, MDPI journals use article numbers instead of page numbers. See further details here.
Related Articles
Comments
[Return to top]