X-ray Structure Refinement and Vibrational Spectroscopy of Metavauxite FeAl2(PO4)2(OH)2·8H2O
1
Dipartimento di Scienze, Università Roma Tre, Largo S. L. Murialdo 1, 00146 Rome, Italy
2
Istituto Nazionale di Fisica Nucleare, Via E. Fermi 40, I-00044 Rome, Italy
3
Institute of Crystallography-CNR, Via Salaria Km 29.300, 00016 Monterotondo (Roma), Italy
4
Dipartimento di Scienze dell'Ambiente e della Terra (DISAT), Piazza della Scienza 4, 20126 Milano, Italy
5
Dipartimento di Scienze della Terra e Geoambientali, Università di Bari, via E. Orabona 4, 70125 Bari, Italy
*
Author to whom correspondence should be addressed.
Received: 11 May 2019 / Revised: 1 June 2019 / Accepted: 3 June 2019 / Published: 6 June 2019
Abstract
In this paper, we provide a crystal-chemical investigation of metavauxite, ideally FeAl
2
(PO
4
)
2
(OH)
2
·8H
2
O, from Llallagua (Bolivia) by using a multi-methodological approach based on EDS microchemical analysis, single crystal X-ray diffraction, and Raman and Fourier transform infrared (FTIR) spectroscopy. Our new diffraction results allowed us to locate all hydrogen atoms from the structure refinements in the monoclinic
P
2
1
/c
space group. Metavauxite structure displays a complex framework consisting of a stacking of [Al(PO
4
)
3
(OH)(H
2
O)
2
]
7−
layers linked to isolated [Fe(H
2
O)
6
]
2+
cationic octahedral complex solely by hydrogen bonding. The hydrogen-bonding scheme was inferred from bond-valence calculations and donor-acceptor distances. Accordingly, strong hydrogen bonds, due to four coordinated H
2
O molecules, bridge the [Fe(H
2
O)
6
]
2+
units to the Al/P octahedral/tetrahedral layer. The hydroxyl group, coordinated by two Al atoms, contributes to the intra-layer linkage. FTIR and Raman spectra in the high-frequency region (3700–3200 cm
−1
) are very similar, and show a complex broad band consisting of several overlapping components due to the H
2
O molecules connecting the isolated Fe(H
2
O)
6
and the adjacent Al/P octahedral/tetrahedral layers. A sharp peak at 3540 cm
−1
is assigned to the stretching mode of the OH group. The patterns collected in the low-frequency region are dominated by the stretching and bending modes of the PO
4
3−
group and the metal-oxygen polyhedra.
View Full-Text
►

▼

Figures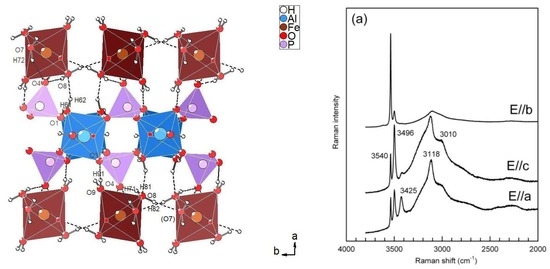 Graphical abstract
This is an open access article distributed under the
Creative Commons Attribution License
which permits unrestricted use, distribution, and reproduction in any medium, provided the original work is properly cited (CC BY 4.0).

Share & Cite This Article
MDPI and ACS Style
Della Ventura, G.; Capitelli, F.; Capitani, G.; Ventruti, G.; Monno, A. X-ray Structure Refinement and Vibrational Spectroscopy of Metavauxite FeAl2(PO4)2(OH)2·8H2O. Crystals 2019, 9, 297.
Note that from the first issue of 2016, MDPI journals use article numbers instead of page numbers. See further details here.
Related Articles
Comments
[Return to top]