Effect of Transition Metal Substitution on the Charge-Transfer Phase Transition and Ferromagnetism of Dithiooxalato-Bridged Hetero Metal Complexes, (
n

-C3H7)4N[FeII1−

x

MnIIxFeIII(dto)3]

1

Department of Chemistry, Faculty of Science Division I, Tokyo University of Science, Tokyo 162-8601, Japan

2

Department of Basic Science, Graduate School of Arts and Sciences, The University of Tokyo, Tokyo 153-8902, Japan

3

Toyota Physical and Chemical Research Institute, Aichi 480-1192, Japan

*

Author to whom correspondence should be addressed.

Received: 2 October 2018 / Revised: 19 November 2018 / Accepted: 21 November 2018 / Published: 28 November 2018
Abstract
The dithiooxalato-bridged iron mixed-valence complex (
n
-C
3
H
7
)
4
N[Fe
II
Fe
III
(dto)
3
] (dto = dithiooxalato) undergoes a novel charge-transfer phase transition (CTPT) accompanied by electron transfer between adjacent Fe
II
and Fe
III
sites. The CTPT influences the ferromagnetic transition temperature according to the change of spin configuration on the iron sites. To reveal the mechanism of the CTPT, we have synthesized the series of metal-substituted complexes (
n-
C
3
H
7
)
4
N[Fe
II
1-

x
Mn
II
x
Fe
III
(dto)
3
] (
x
= 0–1) and investigated their physical properties by means of magnetic susceptibility and dielectric constant measurements. With increasing Mn
II
concentration,
x
, Mn
II
-substituted complexes show the disappearance of CTPT above
x
= 0.04, while the ferromagnetic phase remains in the whole range of
x
. These results are quite different from the physical properties of the Zn
II
-substituted complex, (
n-
C
3
H
7
)
4
N[Fe
II
1-

x
Zn
II
x
Fe
III
(dto)
3
], which is attributed to the difference of ion radius as well as the spin states of Mn
II
and Zn
II
.
View Full-Text
►

▼

Figures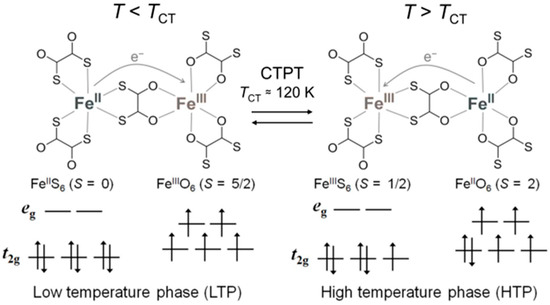 Figure 1
This is an open access article distributed under the
Creative Commons Attribution License
which permits unrestricted use, distribution, and reproduction in any medium, provided the original work is properly cited (CC BY 4.0).

Share & Cite This Article
MDPI and ACS Style
Enomoto, M.; Ida, H.; Okazawa, A.; Kojima, N. Effect of Transition Metal Substitution on the Charge-Transfer Phase Transition and Ferromagnetism of Dithiooxalato-Bridged Hetero Metal Complexes, (n-C3H7)4N[FeII1−xMnIIxFeIII(dto)3]. Crystals 2018, 8, 446.
Note that from the first issue of 2016, MDPI journals use article numbers instead of page numbers. See further details here.
Related Articles
Comments
[Return to top]