Influence of the Initial Powder's Specific Surface Area on the Properties of Sm-Doped Ceria Thin Films
1
Department of Physics, Kaunas University of Technology, Studentu street 50, LT-51368 Kaunas, Lithuania
2
Department of Thermal Physics and Technical Physics, Al-Farabi Kazakh National University, 71 al-Farabi Avenue, 050040 Almaty, Kazakhstan
*
Author to whom correspondence should be addressed.
Received: 30 October 2018 / Revised: 22 November 2018 / Accepted: 23 November 2018 / Published: 27 November 2018
Abstract
The influence of a specific surface area of evaporating powder on the properties of thin Sm-doped cerium (SDC) oxide films has not yet been sufficiently investigated. Therefore, SDC films were deposited by e-beam evaporation using Sm
0.2
Ce
0.8
O
2-δ
powders of 6.2 m
2
/g, 11.3 m
2
/g, and 201.3 m
2
/g specific surface area on SiO
2
, and Al
2
O
3
substrates. X-Ray Diffraction (XRD) analysis showed that SDC thin films deposited on 600 °C SiO
2
substrates changed their preferred orientation from (111) to (311), (200), and (220) when evaporating 6.2 m
2
/g and 11.3 m
2
/g powders and using 0.2 nm/s, 1.2 nm/s, and 1.6 nm/s deposition rates. However, thin films deposited by evaporating powder of 201.3 m
2
/g specific surface area do not change their preferred orientation. The crystallite size of the SDC thin films depends on the substrate temperature and specific surface area of the evaporating powder. It increases from 6.40 nm to 89.1 nm with increasing substrate temperature (50–600 °C). Moreover, crystallites formed by evaporating a powder of 201.3 m
2
/g specific surface area are 1.4 times larger than crystallites formed by evaporating a powder of 6.2 m
2
/g specific surface area. An impedance analysis revealed that the normalized resistance of "grains" is higher than the normalized resistance of grain boundaries. Moreover, a total conductivity depends on crystallite size. It changes from 4.4 × 10
−7
S/cm to 1.1 × 10
−2
S/cm (600 °C) when the crystallite sizes vary from 6.40 nm to 89.10 nm. In addition, the optical band gap becomes wider with increasing crystallite size proving that the Ce
3+
concentration decreases with an increasing crystallite size.
View Full-Text
►

▼

Figures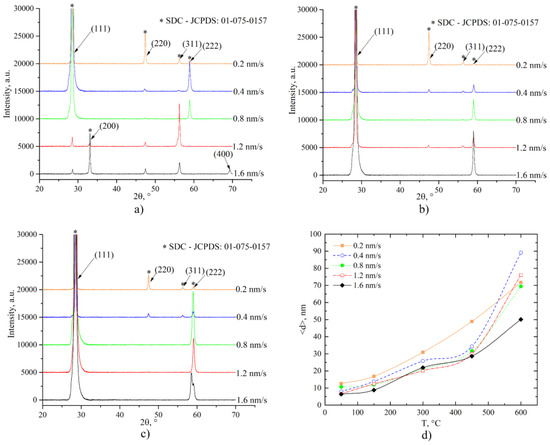 Figure 1
This is an open access article distributed under the
Creative Commons Attribution License
which permits unrestricted use, distribution, and reproduction in any medium, provided the original work is properly cited (CC BY 4.0).

Share & Cite This Article
MDPI and ACS Style
Sriubas, M.; Bockute, K.; Kainbayev, N.; Laukaitis, G. Influence of the Initial Powder's Specific Surface Area on the Properties of Sm-Doped Ceria Thin Films. Crystals 2018, 8, 443.
Note that from the first issue of 2016, MDPI journals use article numbers instead of page numbers. See further details here.
Related Articles
Comments
[Return to top]