Ruthenium Supported on Ionically Cross-linked Chitosan-Carrageenan Hybrid MnFe2O4 Catalysts for 4-Nitrophenol Reduction
1
School of Chemical Sciences and Food Technology, Faculty of Science and Technology, Universiti Kebangsaan Malaysia, Bangi 43600 UKM, Selangor Darul Ehsan, Malaysia
2
Fuell cell Institute (FCI), Universiti Kebangsaan Malaysia, Bangi 43600 UKM, Selangor Darul Ehsan, Malaysia
3
REQUIMTE-LAQV, Department of Chemistry and Biochemistry, Faculty of Sciences, University of Porto, 4169-007 Porto, Portugal
4
Kluster Perubatan Regeneratif, Institut Perubatan dan Pergigian Termaju, Universiti Sains Malaysia, Bertam Kepala Batas 13200, Pulau Pinang, Malaysia
*
Authors to whom correspondence should be addressed.
Received: 23 January 2019 / Revised: 28 February 2019 / Accepted: 28 February 2019 / Published: 12 March 2019
Abstract
Herein, we report a facile procedure to synthesize the hybrid magnetic catalyst (
[email protected]
@Mn) using ruthenium (Ru) supported on ionically cross-linked chitosan-carrageenan (CS-CR) and manganese ferrite (MnFe
2
O
4
) nanoparticles with excellent catalytic activity. The ionic gelation of CS-CR is acting as a protecting layer to promote the encapsulation of MnFe
2
O
4
and Ru nanoparticles by electrostatic interactions. The presence of an active metal and a CS-CR layer on the as-prepared
[email protected]
@Mn catalyst was well determined by a series of physicochemical analyses. Subsequently, the catalytic performances of the
[email protected]
@Mn catalysts were further examined in the 4-nitrophenol (4-NP) reduction reaction in the presence of sodium borohydride (reducing agent) at ambient temperature. The
[email protected]
@Mn catalyst performed excellent catalytic activity in the 4-NP reduction, with a turnover frequency (TOF) values of 925 h
−1
and rate constant (
k
) of 0.078 s
−1
. It is worth to mentioning that the
[email protected]
@Mn catalyst can be recycled and reused up to at least ten consecutive cycles in the 4-NP reduction with consistency in catalytic performance. The
[email protected]
@Mn catalyst is particularly attractive as a catalyst due to its superior catalytic activity and superparamagnetic properties for easy separation. We foresee this catalyst having high potential to be extended in a wide range of chemistry applications.
View Full-Text
►

▼

Figures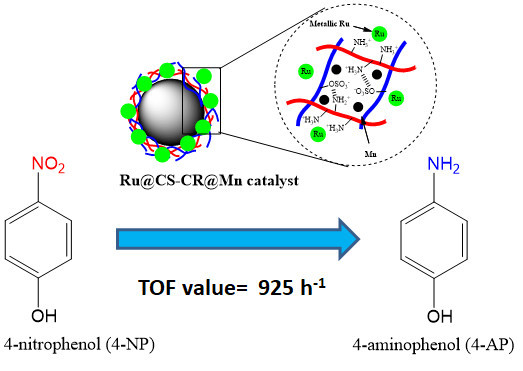 Graphical abstract
This is an open access article distributed under the
Creative Commons Attribution License
which permits unrestricted use, distribution, and reproduction in any medium, provided the original work is properly cited (CC BY 4.0).

Share & Cite This Article
MDPI and ACS Style
Liew, K.H.; Lee, T.K.; Yarmo, M.A.; Loh, K.S.; Peixoto, A.F.; Freire, C.; Yusop, R.M. Ruthenium Supported on Ionically Cross-linked Chitosan-Carrageenan Hybrid MnFe2O4 Catalysts for 4-Nitrophenol Reduction. Catalysts 2019, 9, 254.
Note that from the first issue of 2016, MDPI journals use article numbers instead of page numbers. See further details here.
Related Articles
Comments
[Return to top]