N-Acylphthalimides: Efficient Acyl Coupling Reagents in Suzuki–Miyaura Cross-Coupling by N–C Cleavage Catalyzed by Pd–PEPPSI Precatalysts
Department of Chemistry, Rutgers University, 73 Warren Street, Newark, NJ 07102, USA
*
Author to whom correspondence should be addressed.
†
These authors contributed equally to this work.
Received: 21 December 2018 / Revised: 8 January 2019 / Accepted: 16 January 2019 / Published: 1 February 2019
Abstract
We report a general, highly selective method for Suzuki–Miyaura cross-coupling of N-acylphthalimides via N–C(O) acyl cleavage catalyzed by Pd–PEPPSI-type precatalysts. Of broad synthetic interest, the method introduces N-acylphthalimides as new, bench-stable, highly reactive, twist-controlled, amide-based precursors to acyl-metal intermediates. The reaction delivers functionalized biaryl ketones by acylative Suzuki–Miyaura cross-coupling with readily available boronic acids. Studies demonstrate that cheap, easily prepared, and broadly applicable Pd–PEPPSI-type precatalysts supported by a sterically demanding IPr (1,3-Bis-(2,6-diisopropylphenyl)imidazol-2-ylidene) ancillary ligand provide high yields in this reaction. Preliminary selectivity studies and the effect of Pd–N-heterocyclic carbenes (NHC) complexes with allyl-type throw-away ligands are described. We expect that N-acylphthalimides will find significant use as amide-based acyl coupling reagents and cross-coupling precursors to acyl-metal intermediates.
View Full-Text
►

▼

Figures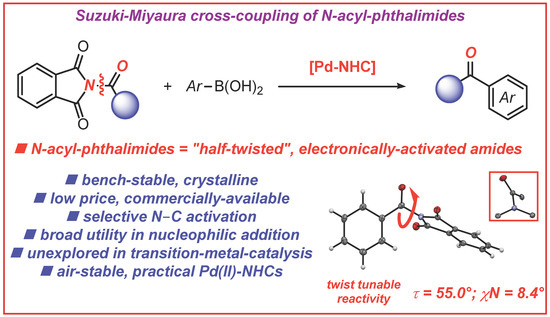 Graphical abstract
This is an open access article distributed under the
Creative Commons Attribution License
which permits unrestricted use, distribution, and reproduction in any medium, provided the original work is properly cited (CC BY 4.0).

Share & Cite This Article
MDPI and ACS Style
Rahman, M.M.; Buchspies, J.; Szostak, M. N-Acylphthalimides: Efficient Acyl Coupling Reagents in Suzuki–Miyaura Cross-Coupling by N–C Cleavage Catalyzed by Pd–PEPPSI Precatalysts. Catalysts 2019, 9, 129.
Note that from the first issue of 2016, MDPI journals use article numbers instead of page numbers. See further details here.
Related Articles
Comments
[Return to top]