N,S Co-Doped Carbon Nanofibers Derived from Bacterial Cellulose/Poly(Methylene blue) Hybrids: Efficient Electrocatalyst for Oxygen Reduction Reaction
1
Key Laboratory of Applied Surface and Colloid Chemistry (MOE); Shaanxi Key Laboratory for Advanced Energy Devices; Shaanxi Engineering Lab for Advanced Energy Technology, School of Materials Science and Engineering, Shaanxi Normal University, Xi'an 710119, China
2
Jiangsu Key Laboratory of Biofuction Molecule, Department of Life Sciences and Chemistry, Jiangsu Second Normal University, Nanjing 210013, China
3
National Key Laboratory of Science and Technology on Combustion and Explosion, Xi'an Modern Chemistry Research Institute, 168 East Zhangba Road, Xi'an 710065, China
*
Author to whom correspondence should be addressed.
Received: 26 May 2018 / Revised: 27 June 2018 / Accepted: 27 June 2018 / Published: 30 June 2018
Abstract
Exploring inexpensive and highly efficient electrocatalyst to decrease the overpotential of oxygen reduction reaction (ORR) is one of the key issues for the commercialization of energy conversion and storage devices. Heteroatom-doped carbon materials have attracted increasing attention as promising electrocatalysts. Herein, we prepared a highly active electrocatalyst, nitrogen, sulfur co-doped carbon nanofibers (N/S-CNF), via in situ chemical oxidative polymerization of methylene blue on the bacterial cellulose nanofibers, followed by carbonization process. It was found that the type of nitrogen/sulfur source, methylene blue and poly(methylene blue), has significantly influence on the catalytic activity of the resultant carbon nanofibers. Benefiting from the porous structure and high surface area (729 m
2
/g) which favors mass transfer and exposing of active N and S atoms, the N/S-CNF displays high catalytic activity for the ORR in alkaline media with a half-wave potential of about 0.80 V, and better stability and stronger methanol tolerance than that of 20 wt % Pt/C, indicating great potential application in the field of alkaline fuel cell.
View Full-Text
►

▼

Figures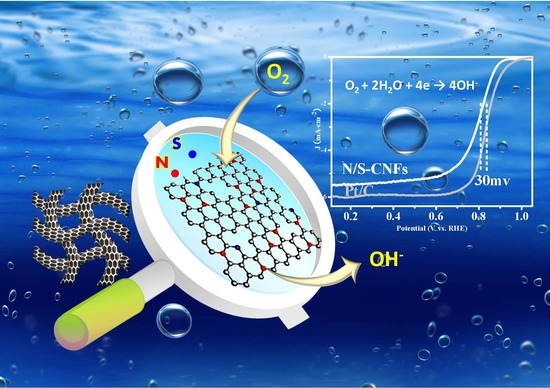 Graphical abstract
This is an open access article distributed under the
Creative Commons Attribution License
which permits unrestricted use, distribution, and reproduction in any medium, provided the original work is properly cited (CC BY 4.0).

Share & Cite This Article
MDPI and ACS Style
Liu, J.; Ji, Y.-G.; Qiao, B.; Zhao, F.; Gao, H.; Chen, P.; An, Z.; Chen, X.; Chen, Y. N,S Co-Doped Carbon Nanofibers Derived from Bacterial Cellulose/Poly(Methylene blue) Hybrids: Efficient Electrocatalyst for Oxygen Reduction Reaction. Catalysts 2018, 8, 269.
Note that from the first issue of 2016, MDPI journals use article numbers instead of page numbers. See further details here.
Related Articles
Comments
[Return to top]