Synthesis and Application of Cerium-Incorporated SBA-16 Supported Ni-Based Oxygen Carrier in Cyclic Chemical Looping Steam Methane Reforming
Department of Chemical Engineering, Shiraz University, Shiraz 71345, Iran
*
Author to whom correspondence should be addressed.
Received: 31 October 2017 / Revised: 22 December 2017 / Accepted: 25 December 2017 / Published: 10 January 2018
Abstract
Hydrogen, as a clean energy carrier, could be produced aided by cyclic oxidation-reduction of oxygen carriers (OCs) in contact with carbonaceous fuel in chemical looping steam methane reforming (CL-SMR) process. In this study, the cerium was incorporated into the SBA-16 support structure to synthesize the Ni/Ce-SBA-16 OC. The supports were synthesized using hydrothermal method followed by impregnation of Ni and characterized via low and wide angle X-ray diffraction (XRD), Brunauer-Emmett-Teller (BET), scanning electron microscopy (SEM), coupled with energy dispersive X-ray (EDX) spectroscopy, and transmission electron micrograph (TEM) techniques. In addition, the effect of various Si/Ce molar ratios (20–60) in the support structure, Ni loading (10–30 wt %), reaction temperature (500–750 °C), and life time of optimal oxygen carrier over 16 cycles were investigated. The results of wide angle XRD and SEM revealed that the incorporation of CeO
2
in the channels of SBA-16 caused the formation of nickel metallic particles with smaller size and prevents the coke formation. The results showed that OC with 15 wt % Ni and Si/Ce molar ratio of 40 (15Ni/Ce-SBA-16(40)) has the best performance when compared with other OCs in terms of catalytic activity and structural properties. The methane conversion of about 99.7% was achieved at 700 °C using 15Ni/Ce-SBA-16(40) OC. We anticipate that the strategy can be extended to investigate a variety of novel modified mesoporous silica as the supporting material for the Ni based OCs.
View Full-Text
►

▼

Figures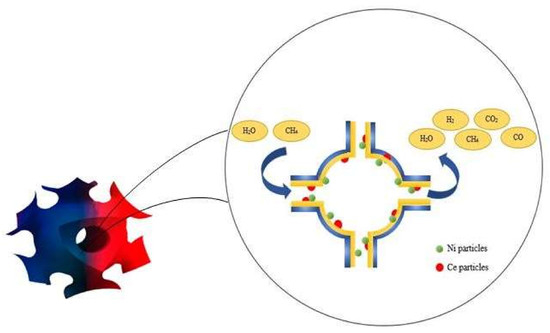 Graphical abstract
This is an open access article distributed under the
Creative Commons Attribution License
which permits unrestricted use, distribution, and reproduction in any medium, provided the original work is properly cited (CC BY 4.0).

Share & Cite This Article
MDPI and ACS Style
Meshksar, M.; Rahimpour, M.R.; Daneshmand-Jahromi, S.; Hafizi, A. Synthesis and Application of Cerium-Incorporated SBA-16 Supported Ni-Based Oxygen Carrier in Cyclic Chemical Looping Steam Methane Reforming. Catalysts 2018, 8, 18.
Note that from the first issue of 2016, MDPI journals use article numbers instead of page numbers. See further details here.
Related Articles
Comments
[Return to top]