Functional and Biochemical Analysis of Glucose-6-Phosphate Dehydrogenase (G6PD) Variants: Elucidating the Molecular Basis of G6PD Deficiency
1
Laboratorio de Bioquímica Genética, Instituto Nacional de Pediatría, Secretaría de Salud, Mexico City 04530, Mexico
2
Consejo Nacional de Ciencia y Tecnología (CONACYT), Instituto Nacional de Pediatría, Secretaría de Salud, Mexico City 04530, Mexico
3
Laboratorio de Nutrición Experimental, Instituto Nacional de Pediatría, Secretaría de Salud, Mexico City 04530, Mexico
4
Consejo Nacional de Ciencia y Tecnología (CONACYT), Laboratorio de Agrobiotecnología, Tecnoparque CLQ, Universidad de Colima, Carretera los Limones-Loma de Juárez, Colima 28629, Mexico
5
Departamento de Biología Molecular y Biotecnología, Instituto de Investigaciones Biomédicas, Universidad Nacional Autónoma de México, Mexico City 04510, Mexico
6
Laboratorio de Neurociencias, Instituto Nacional de Pediatría, Secretaría de Salud, Mexico City 04530, Mexico
7
Laboratorio de Inmunoquímica, Hospital Infantil de México Federico Gómez, Mexico City 06720, Mexico
8
Colegio de Ciencias y Humanidades, Plantel Casa Libertad, Universidad Autónoma de la Ciudad de México, Mexico City 09620, Mexico
*
Authors to whom correspondence should be addressed.
Academic Editor: José R. B. Gomes
Received: 10 March 2017 / Revised: 27 April 2017 / Accepted: 28 April 2017 / Published: 2 May 2017
Abstract
G6PD deficiency is the most common enzymopathy, leading to alterations in the first step of the pentose phosphate pathway, which interferes with the protection of the erythrocyte against oxidative stress and causes a wide range of clinical symptoms of which hemolysis is one of the most severe. The G6PD deficiency causes several abnormalities that range from asymptomatic individuals to more severe manifestations that can lead to death. Nowadays, only 9.2% of all recognized variants have been related to clinical manifestations. It is important to understand the molecular basis of G6PD deficiency to understand how gene mutations can impact structure, stability, and enzymatic function. In this work, we reviewed and compared the functional and structural data generated through the characterization of 20 G6PD variants using different approaches. These studies showed that severe clinical manifestations of G6PD deficiency were related to mutations that affected the catalytic and structural nicotinamide adenine dinucleotide phosphate (NADPH) binding sites, and suggests that the misfolding or instability of the 3D structure of the protein could compromise the half-life of the protein in the erythrocyte and its activity.
View Full-Text
►

▼

Figures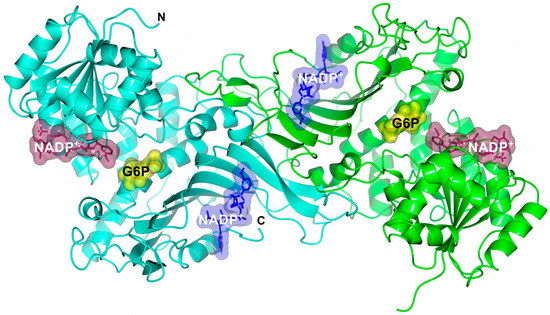 Figure 1
This is an open access article distributed under the
Creative Commons Attribution License
which permits unrestricted use, distribution, and reproduction in any medium, provided the original work is properly cited (CC BY 4.0).

Share & Cite This Article
MDPI and ACS Style
Gómez-Manzo, S.; Marcial-Quino, J.; Ortega-Cuellar, D.; Serrano-Posada, H.; González-Valdez, A.; Vanoye-Carlo, A.; Hernández-Ochoa, B.; Sierra-Palacios, E.; Castillo-Villanueva, A.; Reyes-Vivas, H. Functional and Biochemical Analysis of Glucose-6-Phosphate Dehydrogenase (G6PD) Variants: Elucidating the Molecular Basis of G6PD Deficiency. Catalysts 2017, 7, 135.
Note that from the first issue of 2016, MDPI journals use article numbers instead of page numbers. See further details here.
Related Articles
Comments
[Return to top]