A Green Route to Copper Loaded Silica Nanoparticles Using Hyperbranched Poly(Ethylene Imine) as a Biomimetic Template: Application in Heterogeneous Catalysis
1
Institute of Nanoscience and Nanotechnology, National Center for Scientific Research "Demokritos", Aghia Paraskevi, 153 10 Athens, Greece
2
Chemical Process Engineering Laboratory, Department of Chemical Engineering, National Technical University of Athens, 9 Heroon Polytechniou Str., Zografou Campus, 157 80 Athens, Greece
3
Laboratory of Adsorption and Catalysis, Department of Chemistry, University of Antwerpen (CDE), Universiteitsplein 1, 2610 Wilrijk, Belgium
*
Author to whom correspondence should be addressed.
Received: 24 November 2017 / Revised: 8 December 2017 / Accepted: 11 December 2017 / Published: 14 December 2017
Abstract
Copper containing silica nanostructures are easily produced through a low cost versatile approach by means of hyperbranched polyethyleneimine (PEI), a water soluble dendritic polymer. This dendritic molecule enables the formation of hybrid organic/inorganic silica nanoparticles in buffered aqueous media, at room temperature and neutral pH, through a biomimetic silicification process. Furthermore, the derived hybrid organic/inorganic materials dispersed in water can be easily loaded with various copper amounts, due to the presence of PEI, which, despite having been integrated in the silica network, retains its strong copper chelating ability. Following calcination, the obtained copper loaded nanopowders are characterized by X-ray diffraction (XRD), Scanning electron microscopy (SEM), N
2
adsorption, Temperature programmed reduction (TPR) and UV-Vis diffuse reflectance (UV-Vis-DR) techniques and evaluated for automotive exhaust purification under simulated conditions at the stoichiometric point. Effective control over final materials' pore structural and morphological characteristics is provided by employing different buffer solutions, i.e., tris(hydroxymethyl)aminomethane (Tris) or phosphate buffer. It was found that the enhancement of the nanopowders textural features, obtained in the presence of Tris buffer, had a great impact on the material's catalytic behavior, improving significantly its activity towards pollutants oxidation.
View Full-Text
►

▼

Figures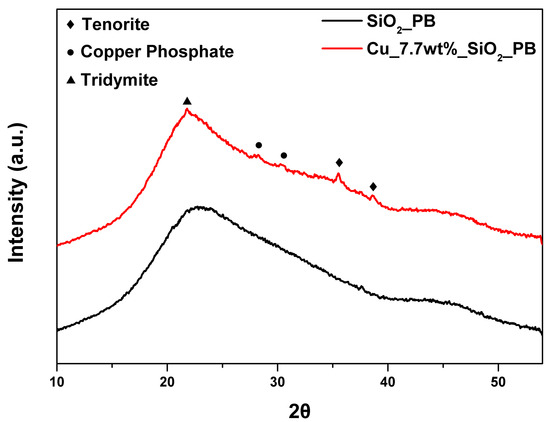 Figure 1
This is an open access article distributed under the
Creative Commons Attribution License
which permits unrestricted use, distribution, and reproduction in any medium, provided the original work is properly cited (CC BY 4.0).

Share & Cite This Article
MDPI and ACS Style
Tsiourvas, D.; Papavasiliou, A.; Deze, E.G.; Papageorgiou, S.K.; Katsaros, F.K.; Romanos, G.E.; Poulakis, E.; Philippopoulos, C.J.; Xin, Q.; Cool, P. A Green Route to Copper Loaded Silica Nanoparticles Using Hyperbranched Poly(Ethylene Imine) as a Biomimetic Template: Application in Heterogeneous Catalysis. Catalysts 2017, 7, 390.
Note that from the first issue of 2016, MDPI journals use article numbers instead of page numbers. See further details here.
Related Articles
Comments
[Return to top]