In Situ FTIR Analysis of CO-Tolerance of a Pt-Fe Alloy with Stabilized Pt Skin Layers as a Hydrogen Anode Catalyst for Polymer Electrolyte Fuel Cells
1
Special Doctoral Program for Green Energy Conversion Science and Technology, Interdisciplinary Graduate School of Medicine and Engineering, University of Yamanashi, 4 Takeda, Kofu 400-8510, Japan
2
Fuel Cell Nanomaterials Center, University of Yamanashi, 4 Takeda, Kofu 400-8510, Japan
3
Department of Applied Chemistry, Faculty of Engineering, University of Yamanashi, 4 Takeda, Kofu 400-8510, Japan
4
Clean Energy Research Center, University of Yamanashi, 4 Takeda, Kofu 400-8510, Japan
*
Author to whom correspondence should be addressed.
Academic Editor: Minhua Shao
Received: 25 November 2016 / Revised: 22 December 2016 / Accepted: 24 December 2016 / Published: 29 December 2016
Abstract
The CO-tolerance mechanism of a carbon-supported Pt-Fe alloy catalyst with two atomic layers of stabilized Pt-skin (Pt
2AL
–PtFe/C) was investigated, in comparison with commercial Pt
2
Ru
3
/C (c-Pt
2
Ru
3
/C), by in situ attenuated total reflection Fourier transform infrared (ATR-FTIR) spectroscopy in 0.1 M HClO
4
solution at 60 °C. When 1% CO (H
2
-balance) was bubbled continuously in the solution, the hydrogen oxidation reaction (HOR) activities of both catalysts decreased severely because the active sites were blocked by CO
ad
, reaching the coverage θ
CO
≈ 0.99. The bands in the IR spectra observed on both catalysts were successfully assigned to linearly adsorbed CO (CO
L
) and bridged CO (CO
B
), both of which consisted of multiple components (CO
L
or CO
B
at terraces and step/edge sites). The Pt
2AL
–PtFe/C catalyst lost 99% of its initial mass activity (
MA
) for the HOR after 30 min, whereas about 10% of the initial
MA
was maintained on c-Pt
2
Ru
3
/C after 2 h, which can be ascribed to a suppression of linearly adsorbed CO at terrace sites (CO
L, terrace
). In contrast, the HOR activities of both catalysts with pre-adsorbed CO recovered appreciably after bubbling with CO-free pure H
2
. We clarify, for the first time, that such a recovery of activity can be ascribed to an increased number of active sites by a transfer of CO
L, terrace
to CO
L, step/edge
, without removal of CO
ad
from the surface. The Pt
2AL
–PtFe/C catalyst showed a larger decrease in the band intensity of CO
L, terrace
. A possible mechanism for the CO-tolerant HOR is also discussed.
View Full-Text
►

▼

Figures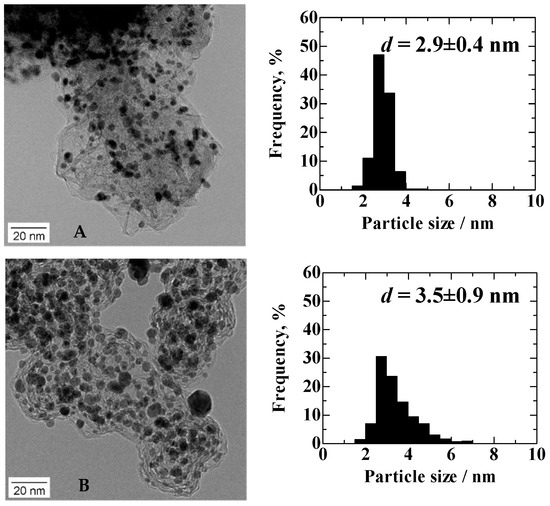 Figure 1
This is an open access article distributed under the
Creative Commons Attribution License
which permits unrestricted use, distribution, and reproduction in any medium, provided the original work is properly cited (CC BY 4.0).

Share & Cite This Article
MDPI and ACS Style
Ogihara, Y.; Yano, H.; Matsumoto, T.; Tryk, D.A.; Iiyama, A.; Uchida, H. In Situ FTIR Analysis of CO-Tolerance of a Pt-Fe Alloy with Stabilized Pt Skin Layers as a Hydrogen Anode Catalyst for Polymer Electrolyte Fuel Cells. Catalysts 2017, 7, 8.
Note that from the first issue of 2016, MDPI journals use article numbers instead of page numbers. See further details here.
Related Articles
Comments
[Return to top]