Steam Reforming of Bio-Ethanol to Produce Hydrogen over Co/CeO2 Catalysts Derived from Ce1−

x

CoxO2−

y

Precursors
Research Institute of Energy Frontier, National Institute of Advanced Industrial Science and Technology, AIST, Tsukuba West, Onogawa 16-1, Tsukuba, Ibaraki 305-8569, Japan
*
Author to whom correspondence should be addressed.
Academic Editors: Rafael Luque, Sudipta De and Alina M. Balu
Received: 13 November 2015 / Revised: 22 January 2016 / Accepted: 27 January 2016 / Published: 5 February 2016
Abstract
A series of Ce
1−

x
Co
x
O
2−

y
precursors were prepared by homogeneous precipitation using urea as a precipitant. The Co/CeO
2
catalysts obtained from the Ce
1−

x
Co
x
O
2−

y
precursors were used for the steam reforming of ethanol to produce hydrogen. Co ions could enter the CeO
2
lattices to form Ce
1−

x
Co
x
O
2−

y
mixed oxides at
x
≤ 0.2 using the homogeneous precipitation (hp) method. CeO
2
was an excellent support for Co metal in the steam reforming of ethanol because a strong interaction between support and metal (SISM) exists in the Co/CeO
2
catalysts. Because Co/CeO
2
(hp) prepared by homogeneous precipitation possessed a high BET surface area and small Co metal particles, Co/CeO
2
(hp) showed a higher ethanol conversion than the Co/CeO
2
catalysts prepared using the co-precipitation (cp) method and the impregnation (im) method. The selectivity of CO
2
over Co/CeO
2
(hp) increased with increasing reaction temperature at from 573 to 673 K, and decreased with increasing reaction temperature above 673 K due to the increase of CO formation. The carbonaceous deposits formed on the catalyst surface during the reaction caused a slow deactivation in the steam reforming of ethanol over Co/CeO
2
(hp). The catalytic activity of the used catalysts could be regenerated by an oxidation-reduction treatment, calcined in air at 723 K and then reduced by H
2
at 673 K.
View Full-Text
►

▼

Figures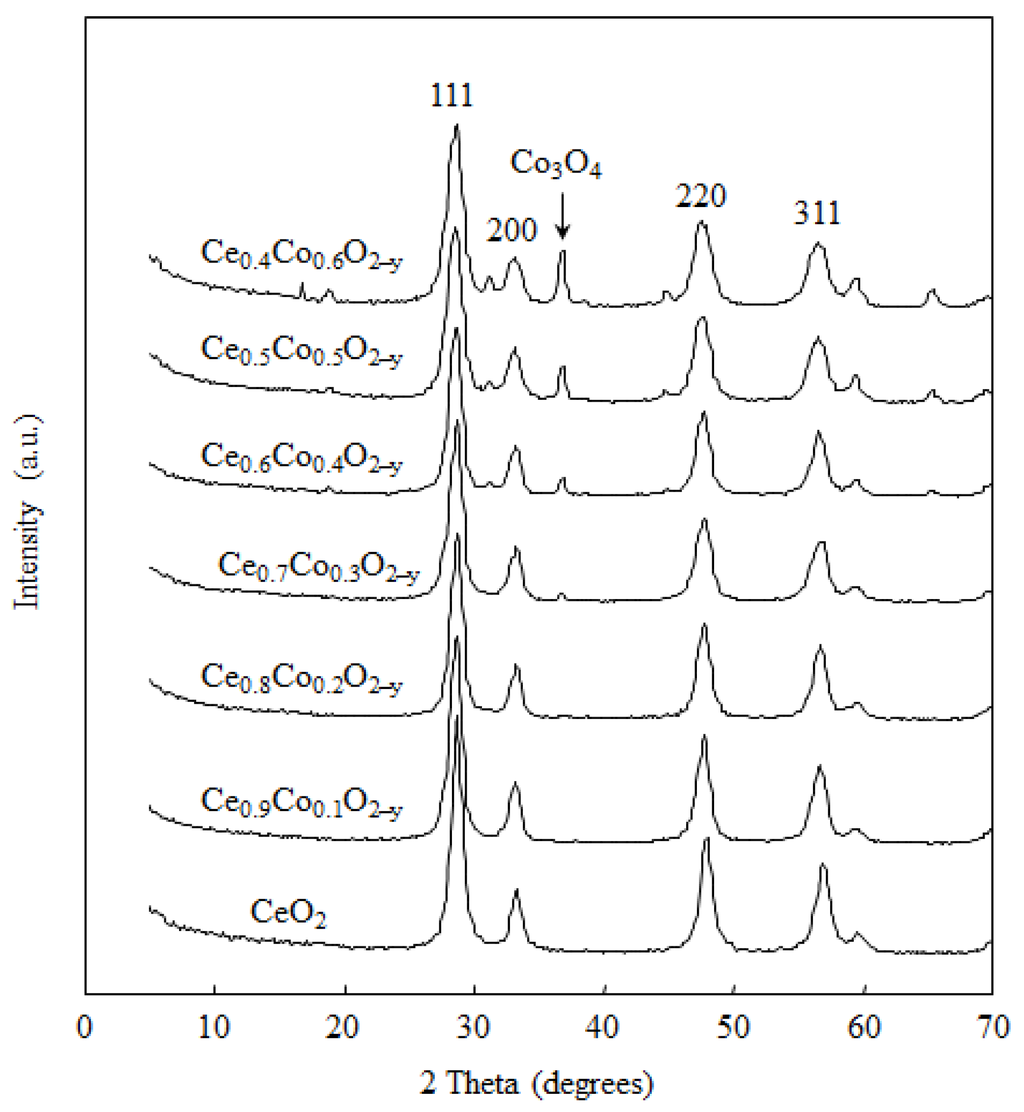 Figure 1
This is an open access article distributed under the
Creative Commons Attribution License
which permits unrestricted use, distribution, and reproduction in any medium, provided the original work is properly cited (CC BY 4.0).

Share & Cite This Article
MDPI and ACS Style
Liu, Y.; Murata, K.; Inaba, M. Steam Reforming of Bio-Ethanol to Produce Hydrogen over Co/CeO2 Catalysts Derived from Ce1−xCoxO2−y Precursors. Catalysts 2016, 6, 26.
Note that from the first issue of 2016, MDPI journals use article numbers instead of page numbers. See further details here.
Related Articles
Comments
[Return to top]