Ni-Based Catalysts for Low Temperature Methane Steam Reforming: Recent Results on Ni-Au and Comparison with Other Bi-Metallic Systems
1
Institute for The Study of Nanostructured Materials (ISMN)-CNR, Via Ugo La Malfa 153, 90146 Palermo, Italy
2
Department of Applied Physics, Northwestern Polytechnical University (NPU), 127 Youyi Xilu, 710072 Xi'an, China
3
Department of Physics and Chemistry, University of Palermo, Viale delle Scienze Ed.17, 90128 Palermo, Italy
*
Author to whom correspondence should be addressed.
Received: 9 April 2013 / Revised: 22 May 2013 / Accepted: 30 May 2013 / Published: 5 June 2013
Abstract
Steam reforming of light hydrocarbons provides a promising method for hydrogen production. Ni-based catalysts are so far the best and the most commonly used catalysts for steam reforming because of their acceptably high activity and significantly lower cost in comparison with alternative precious metal-based catalysts. However, nickel catalysts are susceptible to deactivation from the deposition of carbon, even when operating at steam-to-carbon ratios predicted to be thermodynamically outside of the carbon-forming regime. Reactivity and deactivation by carbon formation can be tuned by modifying Ni surfaces with a second metal, such as Au through alloy formation. In the present review, we summarize the very recent progress in the design, synthesis, and characterization of supported bimetallic Ni-based catalysts for steam reforming. The progress in the modification of Ni with noble metals (such as Au and Ag) is discussed in terms of preparation, characterization and pretreatment methods. Moreover, the comparison with the effects of other metals (such as Sn, Cu, Co, Mo, Fe, Gd and B) is addressed. The differences of catalytic activity, thermal stability and carbon species between bimetallic and monometallic Ni-based catalysts are also briefly shown.
View Full-Text
►

▼

Figures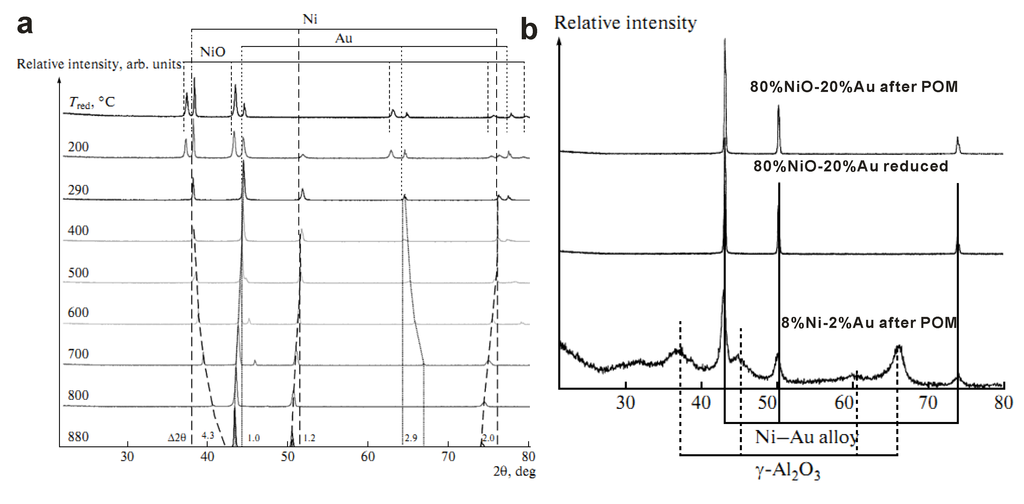 Figure 1

Share & Cite This Article
MDPI and ACS Style
Wu, H.; La Parola, V.; Pantaleo, G.; Puleo, F.; Venezia, A.M.; Liotta, L.F. Ni-Based Catalysts for Low Temperature Methane Steam Reforming: Recent Results on Ni-Au and Comparison with Other Bi-Metallic Systems. Catalysts 2013, 3, 563-583.
Related Articles
Comments
[Return to top]