RASSF6; the Putative Tumor Suppressor of the RASSF Family
1
Department of Medical Biochemistry, Graduate School of Medical and Dental Sciences, Tokyo Medical and Dental University, Tokyo 113-8510, Japan
2
Center for Brain Integration Research, Tokyo Medical and Dental University, Tokyo 113-8510, Japan
*
Author to whom correspondence should be addressed.
Academic Editor: Reinhard Dammann
Received: 2 November 2015 / Revised: 1 December 2015 / Accepted: 1 December 2015 / Published: 9 December 2015
Abstract
Humans have 10 genes that belong to the Ras association (RA) domain family (RASSF). Among them, RASSF7 to RASSF10 have the RA domain in the
N
-terminal region and are called the N-RASSF proteins. In contradistinction to them, RASSF1 to RASSF6 are referred to as the C-RASSF proteins. The C-RASSF proteins have the RA domain in the middle region and the Salvador/RASSF/Hippo domain in the
C
-terminal region. RASSF6 additionally harbors the PSD-95/Discs large/ZO-1 (PDZ)-binding motif. Expression of RASSF6 is epigenetically suppressed in human cancers and is generally regarded as a tumor suppressor. RASSF6 induces caspase-dependent and -independent apoptosis. RASSF6 interacts with mammalian Ste20-like kinases (homologs of
Drosophila
Hippo) and cross-talks with the Hippo pathway. RASSF6 binds MDM2 and regulates p53 expression. The interactions with Ras and Modulator of apoptosis 1 (MOAP1) are also suggested by heterologous protein-protein interaction experiments. RASSF6 regulates apoptosis and cell cycle through these protein-protein interactions, and is implicated in the NF-κB and JNK signaling pathways. We summarize our current knowledge about RASSF6 and discuss what common and different properties RASSF6 and the other C-RASSF proteins have.
View Full-Text
►

▼

Figures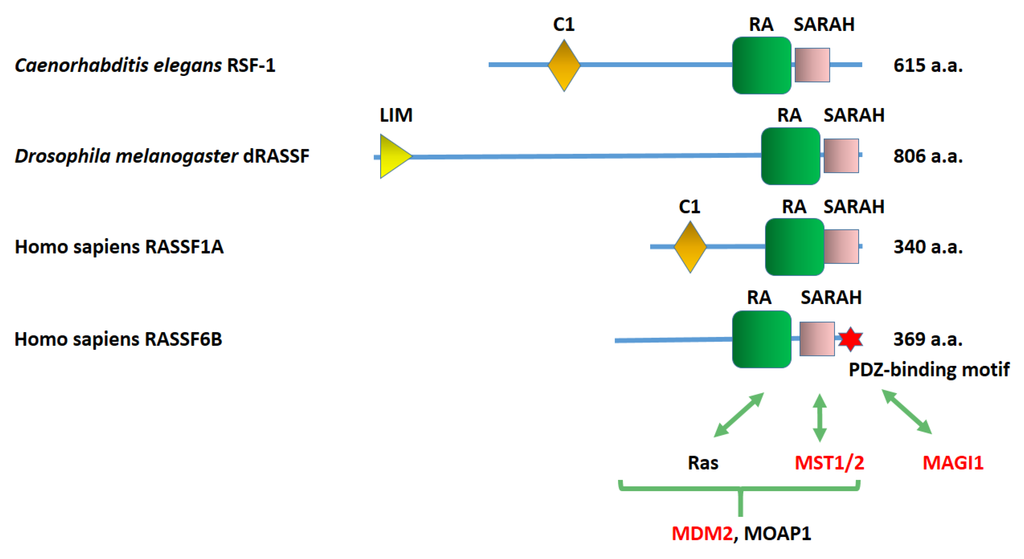 Figure 1
This is an open access article distributed under the
Creative Commons Attribution License
which permits unrestricted use, distribution, and reproduction in any medium, provided the original work is properly cited (CC BY 4.0).

Share & Cite This Article
MDPI and ACS Style
Iwasa, H.; Jiang, X.; Hata, Y. RASSF6; the Putative Tumor Suppressor of the RASSF Family. Cancers 2015, 7, 2415-2426.
Related Articles
Comments
[Return to top]