The Prognostic Roles of Pretreatment Circulating Tumor Cells, Circulating Cancer Stem-Like Cells, and Programmed Cell Death-1 Expression on Peripheral Lymphocytes in Patients with Initially Unresectable, Recurrent or Metastatic Head and Neck Cancer: An Exploratory Study of Three Biomarkers in One-time Blood Drawing
1
Chang Gung University, College of Medicine, Taoyuan 333, Taiwan
2
Division of Hematology-Oncology, Department of Internal Medicine, Chang Gung Memorial Hospital, Keelung 20401, Taiwan
3
Cancer Center, Chang Gung Memorial Hospital, Keelung 20401, Taiwan
4
Circulating Tumor Cell Lab, Division of Hematology-Oncology, Department of Internal Medicine, Chang Gung Memorial Hospital, Linkuo 333, Taiwan
5
Graduate Institute of Biochemical and Biomedical Engineering, Chang Gung University, Taoyuan 333, Taiwan
6
Department of Chemical Engineering, Ming Chi University of Technology, New Taipei City 24301, Taiwan
7
Department of Oncology–Pathology, Karolinska Institutet, Stockholm, Sweden; Cancer Center Karolinska, Karolinska University Hospital, SE-17176 Stockholm, Sweden
8
Department of Otorhinolaryngology, Head and Neck Surgery, Chang Gung Memorial Hospital and Chang Gung University, Taoyuan 333, Taiwan
9
Molecular Imaging Center, Linkou Chang Gung Memorial Hospital and Chang Gung University, Taoyuan 333, Taiwan
10
Department of Nuclear Medicine, Linkou Chang Gung Memorial Hospital and Chang Gung University, Taoyuan 333, Taiwan
11
Department of Diagnostic Radiology, Linkou Chang Gung Memorial Hospital and Chang Gung University, Taoyuan 333, Taiwan
12
Department of Medical Imaging and Radiological Sciences, Chang Gung Memorial Hospital, Chang Gung University, Taoyuan 333, Taiwan
*
Author to whom correspondence should be addressed.
Received: 21 February 2019 / Revised: 21 March 2019 / Accepted: 8 April 2019 / Published: 15 April 2019
Abstract
Circulating tumor cells (CTCs) and immune status are strongly related to cancer prognosis, although few studies have examined both factors. This prospective observational study (ClinicalTrials.gov: NCT02420600) evaluated whether CTCs, circulating cancer stem-like cells (cCSCs), and peripheral lymphocytes with/without Programmed cell death protein 1 (PD-1) expression were associated with prognosis among patients receiving palliative chemotherapy for initially unresectable, recurrent/metastatic head and neck squamous cell carcinoma (rmHNSCC). Thirty-four patients were enrolled between January 2015 and June 2016. Overall survival (OS) was associated with a higher CTC number (hazard ratio [HR]: 1.01,
p
= 0.0004) and cCSC ratio (HR: 29.903,
p
< 0.0001). Progression-free survival (PFS) was also associated with CTC number (HR: 1.013,
p
= 0.002) and cCSC ratio (HR: 10.92,
p
= 0.003). A CD8
+
proportion of ≥ 17% was associated with improved OS (HR: 0.242,
p
= 0.004). A CD4: CD8 ratio of >1.2 was associated with poorer trend of PFS (HR: 2.12,
p
= 0.064). PD-1 expression was not associated with survival outcomes. Baseline CTCs, cCSC ratio, and CD8
+
ratio may predict prognosis in rmHNSCC.
View Full-Text
►

▼

Figures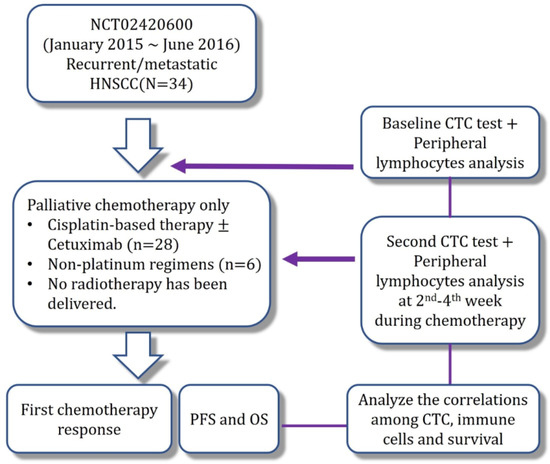 Figure 1
This is an open access article distributed under the
Creative Commons Attribution License
which permits unrestricted use, distribution, and reproduction in any medium, provided the original work is properly cited (CC BY 4.0).

Share & Cite This Article
MDPI and ACS Style
Chang, P.-H.; Wu, M.-H.; Liu, S.-Y.; Wang, H.-M.; Huang, W.-K.; Liao, C.-T.; Yen, T.-C.; Ng, S.-H.; Chen, J.-S.; Lin, Y.-C.; Lin, H.-C.; Hsieh, J. .-H. The Prognostic Roles of Pretreatment Circulating Tumor Cells, Circulating Cancer Stem-Like Cells, and Programmed Cell Death-1 Expression on Peripheral Lymphocytes in Patients with Initially Unresectable, Recurrent or Metastatic Head and Neck Cancer: An Exploratory Study of Three Biomarkers in One-time Blood Drawing. Cancers 2019, 11, 540.
Note that from the first issue of 2016, MDPI journals use article numbers instead of page numbers. See further details here.
Related Articles
Comments
[Return to top]