Proteasome 26S Subunit, non-ATPase 3 (PSMD3) Regulates Breast Cancer by Stabilizing HER2 from Degradation
1
PhD Program for Cancer Molecular Biology and Drug Discovery, College of Medical Science and Technology, Taipei Medical University and Academia Sinica, Taipei 110, Taiwan
2
TMU Research Center of Cancer Translational Medicine, Taipei Medical University, Taipei 110, Taiwan
3
Division of Breast Surgery, Department of Surgery, Taipei Medical University Hospital, Taipei 110, Taiwan
4
Taipei Cancer Center, Taipei Medical University, Taipei 110, Taiwan
5
Department of Medical Laboratory, Taipei Medical University Hospital, Taipei 110, Taiwan
6
School of Medical Laboratory Science and Biotechnology, College of Medical Science and Technology, Taipei Medical University, Taipei 110, Taiwan
7
Joint Biobank, Office of Human Research, Taipei Medical University, Taipei 110, Taiwan
8
Department of Surgery, EnChu Kong Hospital, New Taipei City 237, Taiwan
9
Department of Surgery, School of Medicine, College of Medicine, Taipei Medical University, Taipei 110, Taiwan
*
Author to whom correspondence should be addressed.
†
These authors contributed equally to this work.
Received: 12 March 2019 / Revised: 28 March 2019 / Accepted: 9 April 2019 / Published: 12 April 2019
Abstract
It is well-known that human epidermal growth factor receptor 2 (HER2) is critical for breast cancer (BC) development and progression. Several studies have revealed the role of the ubiquitin/proteasome system (UPS) in cancer. In this study, we investigated the expression level of Proteasome 26S subunit, non-ATPase 3 (PSMD3) in BC using BC cell lines, human BC tissue samples, Oncomine, and TCGA databases and studied the PSMD3-HER2 protein interaction. PSMD3 was upregulated in BC, particularly in the HER2+ subtype. PSMD3 immunostaining was detected in the cytoplasm and nucleus of BC tumor tissues. Strong interaction between PSMD3 and HER2 at the protein level was observed. Knockdown of PSMD3 significantly impaired the stability of HER2, inhibited BC cell proliferation and colony formation, and induced cell apoptosis. Ubiquitination process was strongly enhanced after knockdown of PSMD3 in association with decreased HER2 level. Accumulation and Localization of LAMP-1 in the cell membrane with decreased HER2 immunostaining was observed after knockdown of PSMD3. High expression level of PSMD3 was associated with HER2 expression (
p
< 0.001), tumor size (
p
< 0.001), and clinical stage (
p
= 0.036). High expression level of PSMD3 predicted a short overall survival (OS), particularly for HER2+. Overall, we provide a novel function for PSMD3 in stabilizing HER2 from degradation in HER2+ BC, which suggests that PSMD3 is a novel target for HER2+ BC.
View Full-Text
►

▼

Figures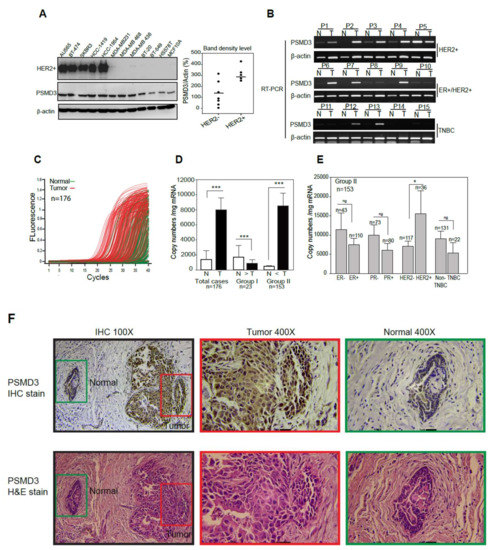 Figure 1
This is an open access article distributed under the
Creative Commons Attribution License
which permits unrestricted use, distribution, and reproduction in any medium, provided the original work is properly cited (CC BY 4.0).

Share & Cite This Article
MDPI and ACS Style
Fararjeh, A.S.; Chen, L.-C.; Ho, Y.-S.; Cheng, T.-C.; Liu, Y.-R.; Chang, H.-L.; Chang, H.-W.; Wu, C.-H.; Tu, S.-H. Proteasome 26S Subunit, non-ATPase 3 (PSMD3) Regulates Breast Cancer by Stabilizing HER2 from Degradation. Cancers 2019, 11, 527.
Note that from the first issue of 2016, MDPI journals use article numbers instead of page numbers. See further details here.
Related Articles
Comments
[Return to top]