Potent In Vitro and In Vivo Anticancer Activity of New Bipyridine and Bipyrimidine Gold (III) Dithiocarbamate Derivatives
1
Department of Chemistry, GC University, Lahore 54000, Pakistan
2
Molecular Oncology, Centro di Riferimento Oncologico di Aviano (CRO) IRCCS, 33081 Aviano, Italy
3
Department of Chemistry, King Fahd University of Petroleum and Minerals, Dhahran 31261, Saudi Arabia
4
Immunopathology and Cancer Biomarkers, Centro di Riferimento Oncologico di Aviano (CRO) IRCCS, 33081 Aviano, Italy
5
Center for Technological Transfer, Edmund Mach Foundation, 38010 Trento, Italy
6
Lab Technical Support Office (LTSO), King Fahd University of Petroleum and Minerals, Dhahran 31261, Saudi Arabia
*
Authors to whom correspondence should be addressed.
†
These authors contributed equally to this work.
Received: 12 February 2019 / Revised: 12 March 2019 / Accepted: 18 March 2019 / Published: 4 April 2019
Abstract
We synthesized eight new bipyridine and bipyrimidine gold (III) dithiocarbamate-containing complexes (
C1
–
C8)
and tested them in a panel of human cancer cell lines. We used osteosarcoma (MG-63), lung (A549), prostate (PC3 and DU145), breast (MCF-7), ovarian (A2780 and A2780cis, cisplatin- and doxorubicin-resistant), and cervical (ME-180 and R-ME-180, cisplatin resistant) cancer cell lines. We found that
C2
,
C3
,
C6
, and
C7
were more cytotoxic than cisplatin in all cell lines tested and overcame cisplatin and doxorubicin resistance in A2780cis and R-ME-180 cells. In the PC3 prostate cancer cell line, the gold (III) complex
C6
([Au
2
(BPM)(DMDTC)
2
]Cl
4
) induced apoptosis and double-stranded DNA breaks, modified cell cycle phases, increased Reactive Oxigen Species (ROS) generation, and reduced thioredoxin reductase and proteasome activities. It inhibited PC3 cell migration and was more cytotoxic against PC3 cells than normal human adipose-derived stromal cells. In mice bearing PC3 tumor xenografts,
C6
reduced tumor growth by more than 70% without causing weight loss. Altogether, our results demonstrate the anticancer activity of these new gold (III) complexes and support the potential of
C6
as a new agent for prostate cancer treatment.
View Full-Text
►

▼

Figures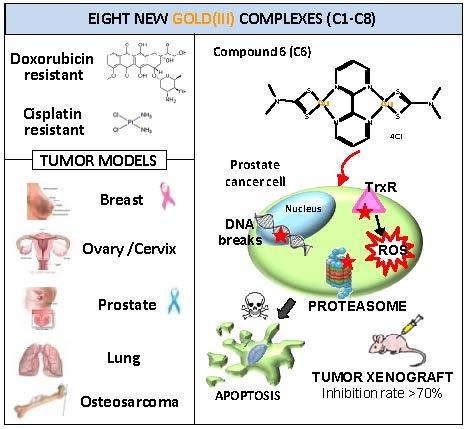 Graphical abstract
This is an open access article distributed under the
Creative Commons Attribution License
which permits unrestricted use, distribution, and reproduction in any medium, provided the original work is properly cited (CC BY 4.0).

Share & Cite This Article
MDPI and ACS Style
Altaf, M.; Casagrande, N.; Mariotto, E.; Baig, N.; Kawde, A.-N.; Corona, G.; Larcher, R.; Borghese, C.; Pavan, C.; Seliman, A.A.; Aldinucci, D.; Isab, A.A. Potent In Vitro and In Vivo Anticancer Activity of New Bipyridine and Bipyrimidine Gold (III) Dithiocarbamate Derivatives. Cancers 2019, 11, 474.
Note that from the first issue of 2016, MDPI journals use article numbers instead of page numbers. See further details here.
Related Articles
Comments
[Return to top]