On the Importance of High-Resolution Time Series of Optical Imagery for Quantifying the Effects of Snow Cover Duration on Alpine Plant Habitat
1
Laboratoire d'étude des Transferts en Hydrologie et Environnement, Université Grenoble Alpes, 460 rue de la Piscine, Saint Martin d'Hères 38400, France
2
Institut de Recherche pour le Développement, Laboratoire d'étude des Transferts en Hydrologie et Environnement, 460 rue de la Piscine, Saint Martin d'Hères 38400, France
3
Centre National de la Recherche Scientifique, Laboratoire d'étude des Transferts en Hydrologie et Environnement, 460 rue de la Piscine, Saint Martin d'Hères 38400, France
4
Université Grenoble Alpes, Laboratoire d'Ecologie Alpine, 2233 rue de la Piscine, Saint Martin d'Hères 38400, France
5
Centre National de la Recherche Scientifique, Laboratoire d'Ecologie Alpine, 2233 rue de la Piscine, Saint Martin d'Hères 38400, France
6
Long Term Ecological Research Network "Zone Atelier Alpes", Saint Martin d'Hères 38400, France
7
University of Otago, National School of Surveying, P.O. Box 56, Dunedin 9054, New Zealand
8
Météo-France, Centre d'Etudes de la Neige, 1441 rue de la Piscine, Saint Martin d'Hères 38400, France
9
Centre National de la Recherche Scientifique, Centre d'Etudes de la Neige, 1441 rue de la Piscine, Saint Martin d'Hères 38400, France
10
Centre National de la Recherche Scientifique, Station Alpine Joseph Fourier, 2233 rue de la Piscine, Saint Martin d'Hères 38400, France
*
Author to whom correspondence should be addressed.
†
These authors contributed equally to this work.
Academic Editors: Olivier Hagolle, Benjamin Koetz, Olivier Arino, Sylvia Sylvander, Clement Atzberger and Prasad S. Thenkabail
Received: 11 March 2016 / Revised: 13 May 2016 / Accepted: 2 June 2016 / Published: 7 June 2016
Abstract
We investigated snow cover dynamics using time series of moderate (MODIS) to high (SPOT-4/5, Landsat-8) spatial resolution satellite imagery in a 3700 km
2
region of the southwestern French Alps. Our study was carried out in the context of the SPOT (Take 5) Experiment initiated by the Centre National d'Etudes Spatiales (CNES), with the aim of exploring the utility of high spatial and temporal resolution multispectral satellite imagery for snow cover mapping and applications in alpine ecology. Our three objectives were: (i) to validate remote sensing observations of first snow free day derived from the Normalized Difference Snow Index (NDSI) relative to ground-based measurements; (ii) to generate regional-scale maps of first snow free day and peak standing biomass derived from the Normalized Difference Vegetation Index (NDVI); and (iii) to examine the usefulness of these maps for habitat mapping of herbaceous vegetation communities above the tree line. Imagery showed strong agreement with ground-based measurements of snow melt-out date, although
R
2
was higher for SPOT and Landsat time series (0.92) than for MODIS (0.79). Uncertainty surrounding estimates of first snow free day was lower in the case of MODIS, however (±3 days as compared to ±9 days for SPOT and Landsat), emphasizing the importance of high temporal as well as high spatial resolution for capturing local differences in snow cover duration. The main floristic differences between plant communities were clearly visible in a two-dimensional habitat template defined by the first snow free day and NDVI at peak standing biomass, and these differences were accentuated when axes were derived from high spatial resolution imagery. Our work demonstrates the enhanced potential of high spatial and temporal resolution multispectral imagery for quantifying snow cover duration and plant phenology in temperate mountain regions, and opens new avenues to examine to what extent plant community diversity and functioning are controlled by snow cover duration.
View Full-Text
►

▼

Figures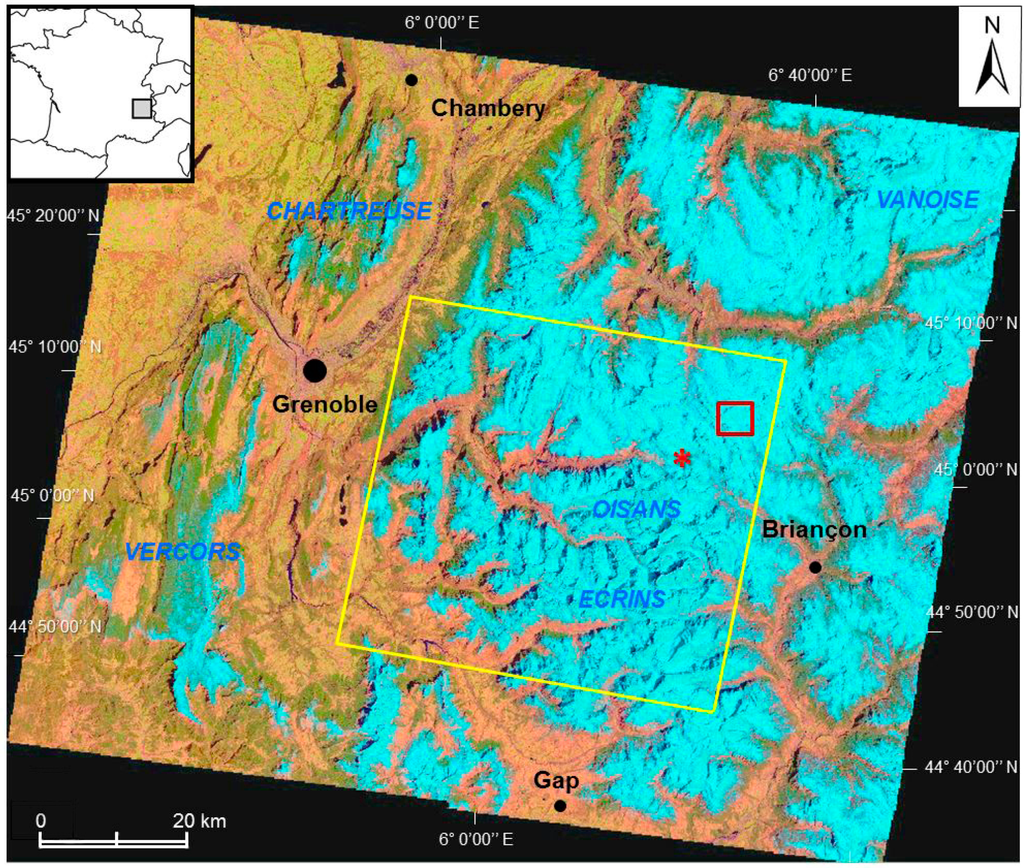 Figure 1
This is an open access article distributed under the
Creative Commons Attribution License
which permits unrestricted use, distribution, and reproduction in any medium, provided the original work is properly cited (CC BY 4.0).

Share & Cite This Article
MDPI and ACS Style
Dedieu, J.-P.; Carlson, B.Z.; Bigot, S.; Sirguey, P.; Vionnet, V.; Choler, P. On the Importance of High-Resolution Time Series of Optical Imagery for Quantifying the Effects of Snow Cover Duration on Alpine Plant Habitat. Remote Sens. 2016, 8, 481.
Note that from the first issue of 2016, MDPI journals use article numbers instead of page numbers. See further details here.
Related Articles
Comments
[Return to top]