Modelling Environmental Burdens of Indoor-Grown Vegetables and Herbs as Affected by Red and Blue LED Lighting
1
Department of Agricultural and Food Sciences (Distal), Research Centre in Urban Environment for Agriculture and Biodiversity (ResCUE-AB), University of Bologna, Viale Fanin, 44, 40127 Bologna, Italy
2
Department of Agricultural, Forest and Food Sciences, DISAFA-VEGMAP, University of Turin, Largo Paolo Braccini, 2, 10097 Grugliasco, Italy
3
Department of Agricultural Engineering, Universidad Politécnica de Cartagena, Paseo Alfonso XIII 48, 30203 Cartagena, Spain
4
Flytech s.r.l., Via dell'Artigianato, 65, Zona artigianale Paludi, 32010 Belluno, Italy
*
Author to whom correspondence should be addressed.
†
These authors equally contributed to this publication.
Received: 14 June 2019 / Revised: 15 July 2019 / Accepted: 25 July 2019 / Published: 27 July 2019
Abstract
Notwithstanding that indoor farming is claimed to reduce the environmental pressures of food systems, electricity needs are elevated and mainly associated with lighting. To date, however, no studies have quantified the environmental and economic profile of Light Emitting Diodes (LED) lighting in indoor farming systems. The goal of this study is to quantify the effect of varying the red (R) and blue (B) LED spectral components (RB ratios of 0.5, 1, 2, 3 and 4) on the eco-efficiency of indoor production of lettuce, chicory, rocket and sweet basil from a life cycle perspective. The functional unit of the assessment was 1 kg of harvested fresh plant edible product, and the International Reference Life Cycle Data System (ILCD) method was employed for impact assessment. Even though most of the materials of the LED lamp and electronic elements were imported from long distances (14,400 km), electricity consumption was the largest contributor to the environmental impacts (with the LED lamps being the main electricity consumers, approximately 70%), apart from the resources use indicator, where the materials of the lamps and the mineral nutrients were also relevant. RB0.5 was the most energy-efficient light treatment but had the lowest eco-efficiency scores due to the lower crop yields.
View Full-Text
►

▼

Figures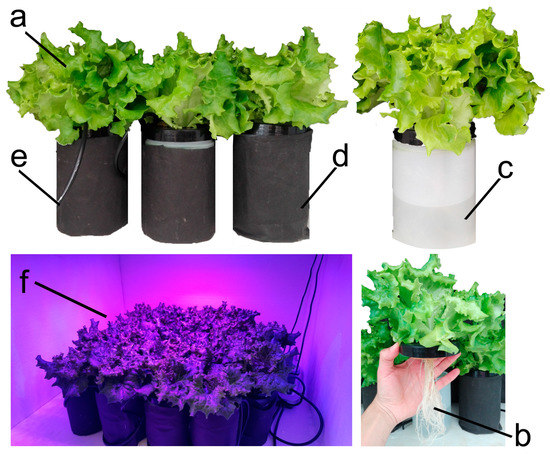 Figure 1
This is an open access article distributed under the
Creative Commons Attribution License
which permits unrestricted use, distribution, and reproduction in any medium, provided the original work is properly cited (CC BY 4.0).

Share & Cite This Article
MDPI and ACS Style
Pennisi, G.; Sanyé-Mengual, E.; Orsini, F.; Crepaldi, A.; Nicola, S.; Ochoa, J.; Fernandez, J.A.; Gianquinto, G. Modelling Environmental Burdens of Indoor-Grown Vegetables and Herbs as Affected by Red and Blue LED Lighting. Sustainability 2019, 11, 4063.
Note that from the first issue of 2016, MDPI journals use article numbers instead of page numbers. See further details here.
Related Articles
Comments
[Return to top]