Membrane Processes Based on Complexation Reactions of Pollutants as Sustainable Wastewater Treatments
Department of Chemical Engineering and Materials, University of Calabria, Via P. Bucci, 44/A, I-87030 Rende (CS), Italy
*
Author to whom correspondence should be addressed.
Received: 12 October 2009 / Accepted: 30 October 2009 / Published: 4 November 2009
Abstract
Water is today considered to be a vital and limited resource due to industrial development and population growth. Developing appropriate water treatment techniques, to ensure a sustainable management, represents a key point in the worldwide strategies. By removing both organic and inorganic species using techniques based on coupling membrane processes and appropriate complexing agents to bind pollutants are very important alternatives to classical separation processes in water treatment. Supported Liquid Membrane (SLM) and Complexation Ultrafiltration (CP-UF) based processes meet the sustainability criteria because they require low amounts of energy compared to pressure driven membrane processes, low amounts of complexing agents and they allow recovery of water and some pollutants (e.g., metals). A more interesting process, on the application point of view, is the Stagnant Sandwich Liquid Membrane (SSwLM), introduced as SLM implementation. It has been studied in the separation of the drug gemfibrozil (GEM) and of copper(II) as organic and inorganic pollutants in water. Obtained results showed in both cases the higher efficiency of SSwLM with respect to the SLM system configuration. Indeed higher stability (335.5 vs. 23.5 hours for GEM; 182.7 vs. 49.2 for copper(II)) and higher fluxes (0.662 vs. 0.302 mmol·h
-1
·m
-2
for GEM; 43.3 vs. 31.0 for copper(II)) were obtained by using the SSwLM. Concerning the CP-UF process, its feasibility was studied in the separation of metals from waters (e.g., from soil washing), giving particular attention to process sustainability such as water and polymer recycle, free metal and water recovery. The selectivity of the CP-UF process was also validated in the separate removal of copper(II) and nickel(II) both contained in synthetic and real aqueous effluents. Thus, complexation reactions involved in the SSwLM and the CP-UF processes play a key role to meet the sustainability criteria.
View Full-Text
►

▼

Figures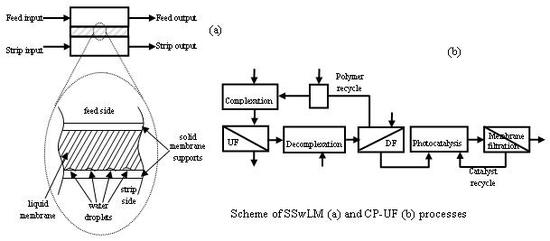 Graphical abstract

Share & Cite This Article
MDPI and ACS Style
Molinari, R.; Argurio, P.; Poerio, T. Membrane Processes Based on Complexation Reactions of Pollutants as Sustainable Wastewater Treatments. Sustainability 2009, 1, 978-993.
Related Articles
Comments
[Return to top]