Human Olfactory Bulb Neural Stem Cells (Hu-OBNSCs) Can Be Loaded with Paclitaxel and Used to Inhibit Glioblastoma Cell Growth
1
Department of Cytology and Histology, Faculty of Veterinary Medicine, Mansoura University, Mansoura 35116, Egypt
2
Institute of Cell Biology and Neurobiology, National Research Council of Italy, 00015 Rome, Italy
3
Biomedical Research Center, Qatar University, Doha 2713, Qatar
4
CRC StaMeTec, Department of Biomedical, Surgical and Dental Sciences, University of Milan, 20133 Milan, Italy
5
Institute of Translational Pharmacology, National Research Council of Italy, 00133 Rome, Italy
6
Cellular Neurobiology Laboratory, Department of Cerebrovascular Diseases, IRCCS Neurological Institute C. Besta, 20133 Milan, Italy
7
IRCCS Istituto Ortopedico Galeazzi, 20161 Milan, Italy
8
Department of Medical Biotechnology and Translational Medicine, University of Milan, 20129 Milan, Italy
*
Author to whom correspondence should be addressed.
†
These authors contributed equally to this work.
Received: 7 December 2018 / Revised: 11 January 2019 / Accepted: 16 January 2019 / Published: 21 January 2019
Abstract
Exploitation of the potential ability of human olfactory bulb (hOB) cells to carry, release, and deliver an effective, targeted anticancer therapy within the central nervous system (CNS) milieu remains elusive. Previous studies have demonstrated the marked ability of several types of stem cells (such as mesenchymal stem cells (MSCs) to carry and release different anti-cancer agents such as paclitaxel (PTX). Herein we investigate the ability of human olfactory bulb neural stem cells (Hu-OBNSCs) to carry and release paclitaxel, producing effective cytotoxic effects against cancer cells. We isolated Hu-OBNSCs from the hOB, uploaded them with PTX, and studied their potential cytotoxic effects against cancer cells in vitro. Interestingly, the Hu-OBNSCs displayed a five-fold increase in their resistance to the cytotoxicity of PTX, and the PTX-uploaded Hu-OBNSCs were able to inhibit proliferation and invasion, and to trigger marked cytotoxic effects on glioblastoma multiforme (GBM) cancer cells, and Human Caucasian fetal pancreatic adenocarcinoma 1 (CFPAC-1) in vitro. Despite their ability to resist the cytotoxic activity of PTX, the mechanism by which Hu-OBNSCs acquire resistance to PTX is not yet explained. Collectively our data indicate the ability of the Hu-OBNSCs to resist PTX, and to trigger effective cytotoxic effects against GBM cancer cells and CFPAC-1. This indicates their potential to be used as a carrier/vehicle for targeted anti-cancer therapy within the CNS.
View Full-Text
►

▼

Figures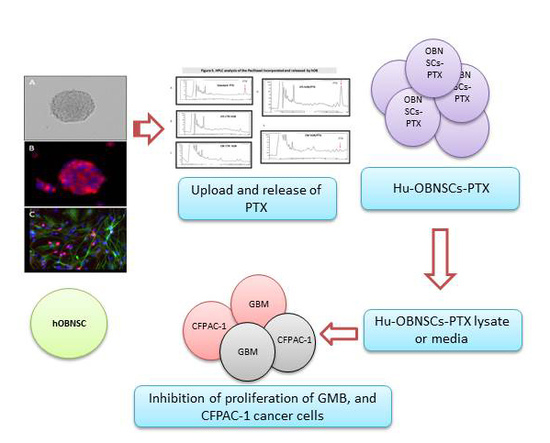 Graphical abstract
This is an open access article distributed under the
Creative Commons Attribution License
which permits unrestricted use, distribution, and reproduction in any medium, provided the original work is properly cited (CC BY 4.0).

Share & Cite This Article
MDPI and ACS Style
Marei, H.E.; Casalbore, P.; Althani, A.; Coccè, V.; Cenciarelli, C.; Alessandri, G.; Brini, A.T.; Parati, E.; Bondiolotti, G.; Pessina, A. Human Olfactory Bulb Neural Stem Cells (Hu-OBNSCs) Can Be Loaded with Paclitaxel and Used to Inhibit Glioblastoma Cell Growth. Pharmaceutics 2019, 11, 45.
Note that from the first issue of 2016, MDPI journals use article numbers instead of page numbers. See further details here.
Related Articles
Comments
[Return to top]