Expression Profiles of Ligands for Activating Natural Killer Cell Receptors on HIV Infected and Uninfected CD4+ T Cells
1
Research Institute of the McGill University Health Center, Montréal, QC H4A 3J1, Canada
2
Division of Experimental Medicine, McGill University, Montréal, QC H4A 3J1, Canada
3
Départment de Médecine Familiale et Médecine D'urgence, Université de Montréal, Montréal, QC H2X 0A9, Canada
4
Centre de Recherche de Centre Hospitalier de l'Université de Montréal, Montréal, QC H2X 0A9, Canada
5
Department of Family Medicine, McGill University, Montréal, QC H4A 3J1, Canada
6
Chronic Viral Illness Service, McGill University Health Centre, Montréal, QC H4A 3J1, Canada
7
Division of Clinical Immunology, McGill University Health Centre, Montréal, QC H3G 1A4, Canada
*
Author to whom correspondence should be addressed.
Received: 18 September 2017 / Revised: 30 September 2017 / Accepted: 2 October 2017 / Published: 12 October 2017
Abstract
Natural Killer (NK) cell responses to HIV-infected CD4 T cells (iCD4) depend on the integration of signals received through inhibitory (iNKR) and activating NK receptors (aNKR). iCD4 activate NK cells to inhibit HIV replication. HIV infection-dependent changes in the human leukocyte antigen (HLA) ligands for iNKR on iCD4 are well documented. By contrast, less is known regarding the HIV infection related changes in ligands for aNKR on iCD4. We examined the aNKR ligand profiles HIV p24
+
HIV iCD4s that maintained cell surface CD4 (iCD4
+
), did not maintain CD4 (iCD4
−
) and uninfected CD4 (unCD4) T cells for expression of unique long (UL)-16 binding proteins-1 (ULBP-1), ULBP-2/5/6, ULBP-3, major histocompatibility complex (MHC) class 1-related (MIC)-A, MIC-B, CD48, CD80, CD86, CD112, CD155, Intercellular adhesion molecule (ICAM)-1, ICAM-2, HLA-E, HLA-F, HLA-A2, HLA-C, and the ligands to NKp30, NKp44, NKp46, and killer immunoglobulin-like receptor 3DS1 (KIR3DS1) by flow cytometry on CD4 T cells from 17 HIV-1 seronegative donors activated and infected with HIV. iCD4
+
cells had higher expression of aNKR ligands than did unCD4. However, the expression of aNKR ligands on iCD4 where CD4 was downregulated (iCD4
−
) was similar to (ULBP-1, ULBP-2/5/6, ULBP-3, MIC-A, CD48, CD80, CD86 and CD155) or significantly lower than (MIC-B, CD112 and ICAM-2) what was observed on unCD4. Thus, HIV infection can be associated with increased expression of aNKR ligands or either baseline or lower than baseline levels of aNKR ligands, concomitantly with the HIV-mediated downregulation of cell surface CD4 on infected cells.
View Full-Text
►

▼

Figures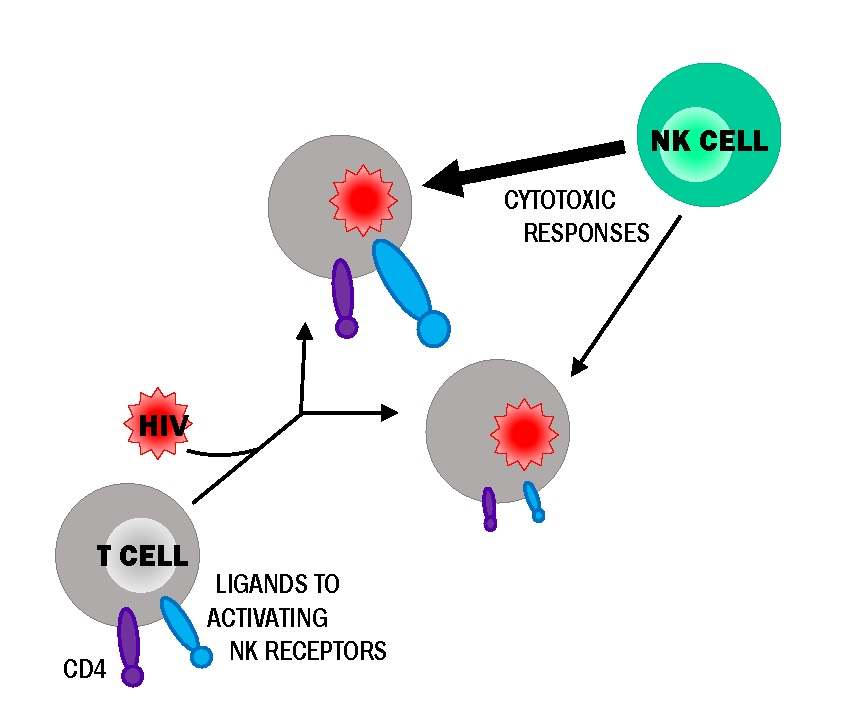 Graphical abstract
This is an open access article distributed under the
Creative Commons Attribution License
which permits unrestricted use, distribution, and reproduction in any medium, provided the original work is properly cited (CC BY 4.0).

Share & Cite This Article
MDPI and ACS Style
Tremblay-McLean, A.; Bruneau, J.; Lebouché, B.; Lisovsky, I.; Song, R.; Bernard, N.F. Expression Profiles of Ligands for Activating Natural Killer Cell Receptors on HIV Infected and Uninfected CD4+ T Cells. Viruses 2017, 9, 295.
Note that from the first issue of 2016, MDPI journals use article numbers instead of page numbers. See further details here.
Related Articles
Comments
[Return to top]