Low Copper and High Manganese Levels in Prion Protein Plaques
1
USGS National Wildlife Health Center, 6006 Schroeder Road, Madison, WI 53711, USA
2
Department of Physics, University of Wisconsin-Madison, 1150 University Avenue, Madison, WI 53706, USA
3
Program in Cellular & Molecular Biology, University of Wisconsin-Madison, 425-G Henry Mall Madison, WI 53706, USA
4
Department of Soil Science, University of Wisconsin-Madison, 1525 Observatory Dr., Madison, WI 53706, USA
5
Centre for Prions and Protein Folding Diseases, AFNS, University of Alberta, Edmonton, Alberta, T6G 2M8, Canada
6
Centre for Prions and Protein Folding Diseases, Department of Biological Sciences, University of Alberta, Edmonton, Alberta, T6G 2M8, Canada
*
Author to whom correspondence should be addressed.
†
Current address: Comet AG, Switzerland.
Received: 8 January 2013 / Revised: 25 January 2013 / Accepted: 7 February 2013 / Published: 11 February 2013
Abstract
Accumulation of aggregates rich in an abnormally folded form of the prion protein characterize the neurodegeneration caused by transmissible spongiform encephalopathies (TSEs). The molecular triggers of plaque formation and neurodegeneration remain unknown, but analyses of TSE-infected brain homogenates and preparations enriched for abnormal prion protein suggest that reduced levels of copper and increased levels of manganese are associated with disease. The objectives of this study were to: (1) assess copper and manganese levels in healthy and TSE-infected Syrian hamster brain homogenates; (2) determine if the distribution of these metals can be mapped in TSE-infected brain tissue using X-ray photoelectron emission microscopy (X-PEEM) with synchrotron radiation; and (3) use X-PEEM to assess the relative amounts of copper and manganese in prion plaques

in situ

. In agreement with studies of other TSEs and species, we found reduced brain levels of copper and increased levels of manganese associated with disease in our hamster model. We also found that the

in situ

levels of these metals in brainstem were sufficient to image by X-PEEM. Using immunolabeled prion plaques in directly adjacent tissue sections to identify regions to image by X-PEEM, we found a statistically significant relationship of copper-manganese dysregulation in prion plaques: copper was depleted whereas manganese was enriched. These data provide evidence for prion plaques altering local transition metal distribution in the TSE-infected central nervous system.
View Full-Text
►

▼

Figures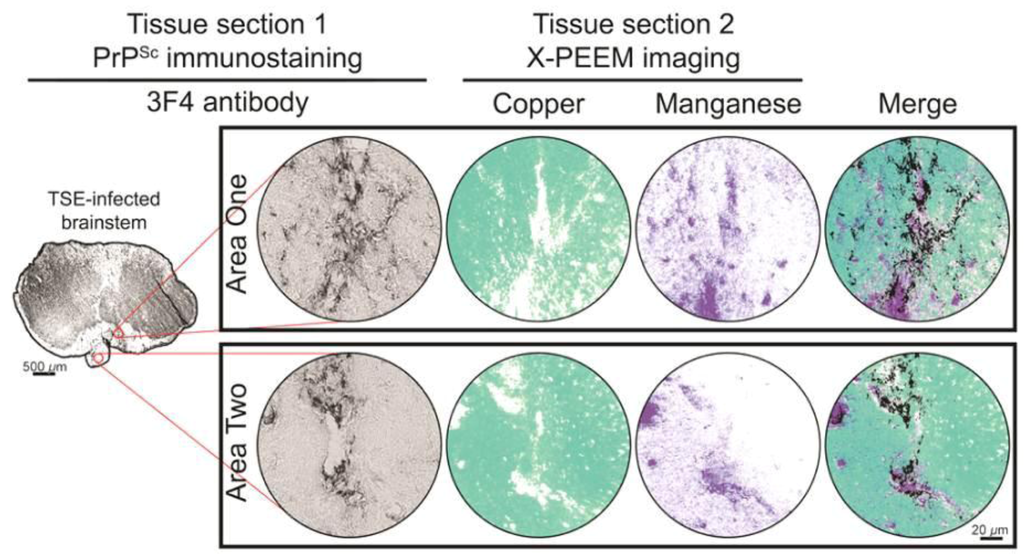 Figure 1

Share & Cite This Article
MDPI and ACS Style
Johnson, C.J.; Gilbert, P.; Abrecht, M.; Baldwin, K.L.; Russell, R.E.; Pedersen, J.A.; Aiken, J.M.; McKenzie, D. Low Copper and High Manganese Levels in Prion Protein Plaques. Viruses 2013, 5, 654-662.
Related Articles
Comments
[Return to top]