A Novel Orthohepadnavirus Identified in a Dead Maxwell's Duiker (
Philantomba maxwellii

) in Taï National Park, Côte d'Ivoire

1

Epidemiology of Highly Pathogenic Microorganisms, Robert Koch Institute, 13353 Berlin, Germany

2

Viral Evolution, Robert Koch Institute, 13353 Berlin, Germany

3

Center for Infection and Immunity, Mailman School of Public Health, Columbia University, New York, NY 10027, USA

4

Institute of Microbiology and Epizootics, Freie Universität Berlin, 14163 Berlin, Germany

5

World Wide Fund for Nature, Dzanga-Sangha Protected Areas, Bangui BP 1053, Central African Republic

6

Laboratoire National D'appui au Développement Agricole/Laboratoire Central de Pathologie Animale, Bingerville BP206, Côte d'Ivoire

*

Authors to whom correspondence should be addressed.

†

These authors contributed equally to the manuscript.

Received: 28 February 2019 / Revised: 11 March 2019 / Accepted: 16 March 2019 / Published: 19 March 2019
Abstract
New technologies enable viral discovery in a diversity of hosts, providing insights into viral evolution. We used one such approach, the virome capture sequencing for vertebrate viruses (VirCapSeq-VERT) platform, on 21 samples originating from six dead Maxwell's duikers (
Philantomba maxwellii
) from Taï National Park, Côte d'Ivoire. We detected the presence of an orthohepadnavirus in one animal and characterized its 3128 bp genome. The highest viral copy numbers were detected in the spleen, followed by the lung, blood, and liver, with the lowest copy numbers in the kidney and heart; the virus was not detected in the jejunum. Viral copy numbers in the blood were in the range known from humans with active chronic infections leading to liver histolytic damage, suggesting this virus could be pathogenic in duikers, though many orthohepadnaviruses appear to be apathogenic in other hosts, precluding a formal test of this hypothesis. The virus was not detected in 29 other dead duiker samples from the Côte d'Ivoire and Central African Republic, suggesting either a spillover event or a low prevalence in these populations. Phylogenetic analysis placed the virus as a divergent member of the mammalian clade of orthohepadnaviruses, though its relationship to other orthohepadnaviruses remains uncertain. This represents the first orthohepadnavirus described in an artiodactyl. We have tentatively named this new member of the genus
Orthohepadnavirus
(family
Hepadnaviridae
), Taï Forest hepadnavirus. Further studies are needed to determine whether it, or some close relatives, are present in a broader range of artiodactyls, including livestock.
View Full-Text
►

▼

Figures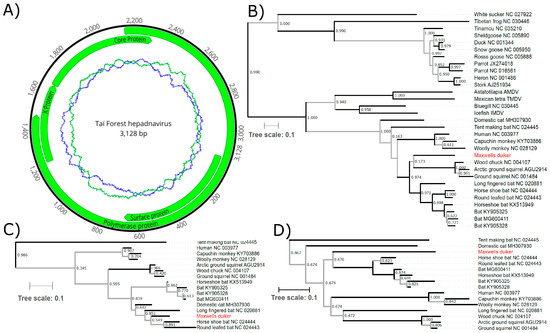 Figure 1
This is an open access article distributed under the
Creative Commons Attribution License
which permits unrestricted use, distribution, and reproduction in any medium, provided the original work is properly cited (CC BY 4.0).

Share & Cite This Article
MDPI and ACS Style
Gogarten, J.F.; Ulrich, M.; Bhuva, N.; Garcia, J.; Jain, K.; Lee, B.; Löhrich, T.; Oleynik, A.; Couacy-Hymann, E.; Fuh Neba, T.; Mishra, N.; Briese, T.; Calvignac-Spencer, S.; Lipkin, W.I.; Leendertz, F.H. A Novel Orthohepadnavirus Identified in a Dead Maxwell's Duiker (Philantomba maxwellii) in Taï National Park, Côte d'Ivoire. Viruses 2019, 11, 279.
Note that from the first issue of 2016, MDPI journals use article numbers instead of page numbers. See further details here.
Related Articles
Comments
[Return to top]