Direct Seeding of
Pinus halepensis

Mill. for Recovery of Burned Semi-Arid Forests: Implications for Post-Fire Management for Improving Natural Regeneration

1

Department of Agroforestry Technology and Science and Genetics, Higher Technical School of Agricultural and Forest Engineering, University of Castilla-La Mancha, Campus Universitario s/n, CP 02071 Albacete, Spain

2

Renewable Energy Research Institute (Section of Environment and Forest Resources), University of Castilla-La Mancha, Campus Universitario s/n, CP 02071 Albacete, Spain

*

Author to whom correspondence should be addressed.

Academic Editors: Xavier Úbeda and Victoria Arcenegui

Received: 20 June 2017 / Revised: 12 September 2017 / Accepted: 14 September 2017 / Published: 20 September 2017
Abstract
Background: In order to maximize the resiliency of
Pinus halepensis
in semiarid forests, we analyzed direct seeding methods to recover burned stands by simulating post-fire soil treatments. Methods: Seeding was done by installing spot seeding (100 seeds in a 50 × 50 cm plot), using five methods: (1) covering seeding with wood chips; (2) seeding in branch piles; (3) seeding along trunks on contour-felled logs (on the shaded side); (4) seeding next to grass (
Stipa tenacissima
); and (5) seeding on the bare ground (control). The experiment was replicated according to aspect (northern and southern aspects). The response variables were seed germination (%), and seedling survival after the summer (measured in autumn 2015 and 2016). Direct seeding was carried out in 32 plots with 160-spot seeding, and data were analyzed using general linear models, including nested random effects. Results: Wood chips as a surface-covering material represented the only treatment that significantly improved seed germination and seedling survival (by 12.4%, and 17.4 seedlings m
−2
in year 2, respectively) compared with the control in the two topographic aspects. Conclusions: Covering seeding with wood chips, and thus chipping wood within the burned stand, form a recommended post-fire treatment to improve regeneration in
Pinus halepensis
semiarid stands.
View Full-Text
►

▼

Figures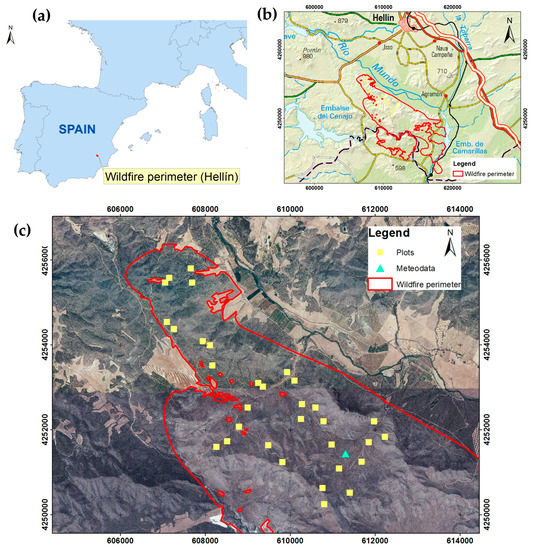 Figure 1
This is an open access article distributed under the
Creative Commons Attribution License
which permits unrestricted use, distribution, and reproduction in any medium, provided the original work is properly cited (CC BY 4.0).

Share & Cite This Article
MDPI and ACS Style
García-Morote, F.A.; Martínez-García, E.; Andrés-Abellán, M.; Caballero, E.R.; Miettinen, H.; López-Serrano, F.R. Direct Seeding of Pinus halepensis Mill. for Recovery of Burned Semi-Arid Forests: Implications for Post-Fire Management for Improving Natural Regeneration. Forests 2017, 8, 353.
Note that from the first issue of 2016, MDPI journals use article numbers instead of page numbers. See further details here.
Related Articles
Comments
[Return to top]