Resiliency of an Interior Ponderosa Pine Forest to Bark Beetle Infestations Following Fuel-Reduction and Forest-Restoration Treatments
1
Pacific Southwest Research Station, USDA Forest Service, 1731 Research Park Drive, Davis, CA 95618, USA
2
Pacific Southwest Research Station, USDA Forest Service, 2480 Carson Road, Placerville, CA 95667, USA
*
Author to whom correspondence should be addressed.
Received: 28 November 2013 / Revised: 9 January 2014 / Accepted: 13 January 2014 / Published: 20 January 2014
Abstract
Mechanical thinning and the application of prescribed fire are commonly used to restore fire-adapted forest ecosystems in the Western United States. During a 10-year period, we monitored the effects of fuel-reduction and forest-restoration treatments on levels of tree mortality in an interior ponderosa pine,
Pinus
ponderosa
Dougl. ex Laws., forest in California. Twelve experimental plots, ranging in size from 77–144 ha, were established to create two distinct forest structural types: mid-seral stage (low structural diversity; LoD) and late-seral stage (high structural diversity; HiD). Following harvesting, half of each plot was treated with prescribed fire (B). A total of 16,473 trees (8.7% of all trees) died during the 10-year period. Mortality was primarily attributed to bark beetles (Coleoptera: Curculionidae, Scolytinae) (10,655 trees), specifically fir engraver,
Scolytus ventralis
LeConte, mountain pine beetle,
Dendroctonus ponderosae
Hopkins, western pine beetle,
D
.
brevicomis
LeConte, pine engraver,
Ips pini
(Say), and, to a much lesser extent, Jeffrey pine beetle,
D
.
jeffreyi
Hopkins. Trees of all ages and size classes were killed, but mortality was concentrated in the smaller-diameter classes (19–29.2 and 29.3–39.3 cm at 1.37 m in height). Most mortality occurred three to five years following prescribed burns. Higher levels of bark beetle-caused tree mortality were observed on LoD + B (8.7%) than LoD (4.2%). The application of these and other results to the management of interior
P
.
ponderosa
forests are discussed, with an emphasis on the maintenance of large trees.
View Full-Text
►

▼

Figures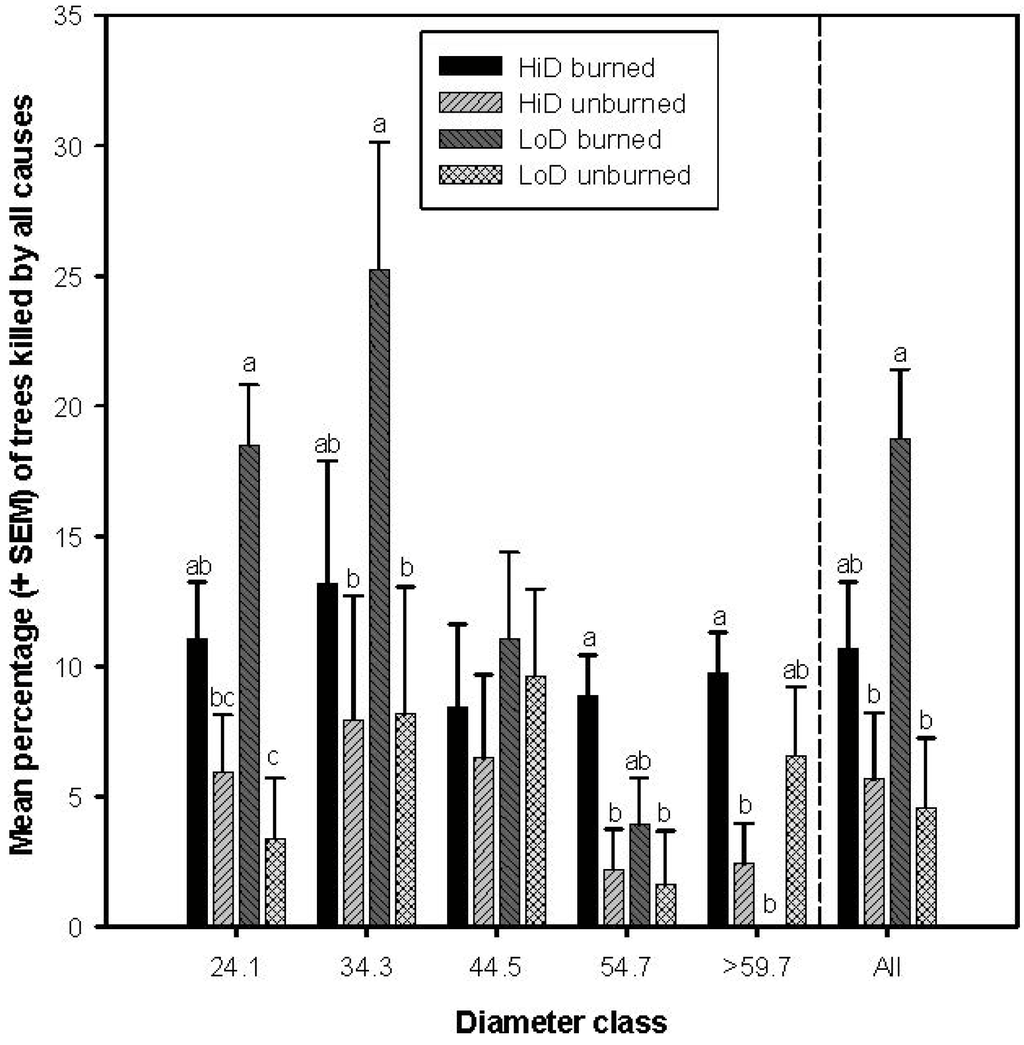 Figure 1

Share & Cite This Article
MDPI and ACS Style
Fettig, C.J.; McKelvey, S.R. Resiliency of an Interior Ponderosa Pine Forest to Bark Beetle Infestations Following Fuel-Reduction and Forest-Restoration Treatments. Forests 2014, 5, 153-176.
Related Articles
Comments
[Return to top]