Patterns of Biomass, Carbon, and Soil Properties in Masson pine (
Pinus massoniana

Lamb) Plantations with Different Stand Ages and Management Practices

1

College of Horticulture and Forestry Sciences/Hubei Engineering Technology Research Center for Forestry Information, Huazhong Agricultural University, Wuhan 430070, China

2

Laboratory of Integrated Forest Management, School of Forestry, Beijing Forestry University, Beijing 100083, China

3

Department of Forestry, Shaheed Benazir Bhutto University, Dir 18000, Pakistan

4

Institute of Nuclear Agricultural Sciences, College of Agriculture and Biotechnology, Zhejiang University, Hangzhou 310058, China

5

Academy of Forest Inventory and Planning, National Forestry and Grassland Administration, Beijing 100714, China

*

Author to whom correspondence should be addressed.

Received: 30 June 2019 / Revised: 24 July 2019 / Accepted: 25 July 2019 / Published: 30 July 2019
Abstract
Masson pine (
Pinus massoniana
Lamb) has been planted extensively in different parts of China for timber production and habitat restoration. The effects of stand age and management of these plantations on biomass, carbon storage, and soil physicochemical properties are poorly understood. In this study, we investigated biomass, carbon storage, and soil physicochemical properties of Masson pine plantations. The plantations were divided into four age groups (9, 18, 28, and 48 years), and into managed (MS) and unmanaged stands (UMS) in Hubei province, Central China. Tree biomass increased with stand age. A growth model indicated that maximum tree growth occurred when the plantations were 17 years old, and the average growth rate occurred when plantations were 23 years old. Tree biomass in managed stands was 9.75% greater than that in unmanaged ones. Total biomass carbon was estimated at 27.4, 86.0, 112.7, and 142.2 Mg ha
−1
, whereas soil organic carbon was 116.4, 135.0, 147.4, and 138.1 Mg ha
−1
in 9-, 18-, 28-, and 48-year-old plantations, respectively. Total carbon content was 122.6 and 106.5 Mg ha
−1
, whereas soil organic carbon content was 104.9 and 115.4 Mg ha
−1
in MS and UMS, respectively. Total carbon storage in the plantations studied averaged 143.7, 220.4, 260.1, and 280.3 Mg ha
−1
in 9-,18-, 28-, and 48-year-old stands, and 227.3 and 222.4 Mg ha
−1
in MS and UMS, respectively. The results of our study provide a sound basis for estimating ecosystem carbon as it relates to forest management activity and stand age.
View Full-Text
►

▼

Figures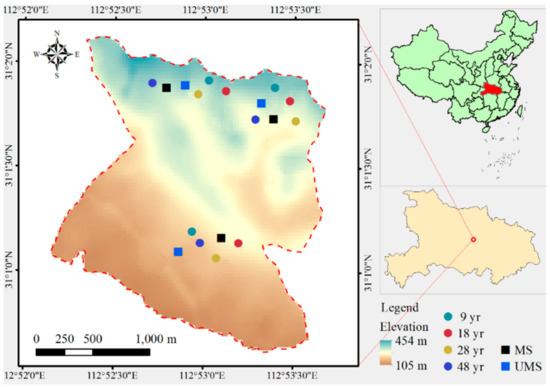 Figure 1
This is an open access article distributed under the
Creative Commons Attribution License
which permits unrestricted use, distribution, and reproduction in any medium, provided the original work is properly cited (CC BY 4.0).

Share & Cite This Article
MDPI and ACS Style
Ali, A.; Ahmad, A.; Akhtar, K.; Teng, M.; Zeng, W.; Yan, Z.; Zhou, Z. Patterns of Biomass, Carbon, and Soil Properties in Masson pine (Pinus massoniana Lamb) Plantations with Different Stand Ages and Management Practices. Forests 2019, 10, 645.
Note that from the first issue of 2016, MDPI journals use article numbers instead of page numbers. See further details here.
Related Articles
Comments
[Return to top]